Contents of This Post:
What Is The Ninja Coffee Bar Brewer?
Ninja Coffee Bar is an all-in-one brewer that allows you to brew a full carafe, half carafe, single cup or travel mug, without affecting the taste or richness of the coffee.
Ninja Coffee Bar gives you 4 coffee brewing options:
Classic Coffee: a smooth and balanced brew.
Rich Coffee: a more intense flavor for times when you prefer a stronger brew or want to add milk or cream to your cup without toning down the richness of the coffee.
Over Ice: for all your iced coffee cravings, this option ups the richness of coffee x2 for a concentrated drink that won't taste watered down.
Specialty Drinks: Cappuccino or Latte, anyone? This option gives you an even more concentrated brew of coffee, that's almost as strong as espresso, for a frothy cup of specialty coffee drink.
Ninja Coffee Bar uses Auto-iQ technology, an intelligent features that draws the right amount of water from the reservoir, depending on your selected brew type and size, for a brew that always tastes good.
Thermal Flavor Extraction, a patent-pending technology by Ninja, automates controls of temperature, pre-infusion, coffee saturation and flavor richness to unlock the true potential of your favorite coffee beans.
Features of Ninja Coffee Bar:
Choose from one cup, travel mug, half carafe or full carafe sizes.
Choose brew type: classic, rich, over ice or concentrated.
Programmable LCD clock with Auto start settings.
Removable water reservoir.
Drip stop feature.
Permanent filter.
43 oz carafe capacity.
Available in glass carafe or stainless steel.
Ninja Coffee Bars Model Difference: CF085Z vs. CF080Z:
The only difference between these models is one has a glass carafe and the other has a thermal carafe.
Common Questions About The Ninja Coffee Bar:
Can The Ninja Coffee Bar Make Tea?
No, it's made specifically to brew coffee and specialty coffee drinks. If you're looking for a brewer that makes tea as well as coffee, have a look at Keurig 2.0 brewers.
Does The Ninja Coffee Bar Use Pods (K-Pods)?
No, it's not a single-serve brewer. It uses coffee ground. However, it has the ability to brew a single-cup only.
Does The Ninja Coffee Bar Grind Beans?
No, it doesn't have a built-in grinder.
What Coffee Filter Size Does the Ninja Coffee Bar Use?
It uses filter #4.
Does The Ninja Coffee Bar Make Espresso?
Well, it is advertised that it makes "specialty coffee". What the Coffee Bar makes basically is a shot of 3x concentrated coffee, where traditionally, an espresso is made using pressure. So you shouldn't expect a traditional cup of espresso from the Ninja Coffee Bar.
Does The Ninja Coffee Bar Grind Coffee Beans?
No, it doesn't. If you're looking for a coffee maker with a built-in grinder, click here for some recommendations. You can also see our recommendations for conical burr grinders here.
Ninja Coffee Bar Compared To Other Coffee Makers:
Ninja Coffee Bar vs. Keurig 2.0 – Which Is Best?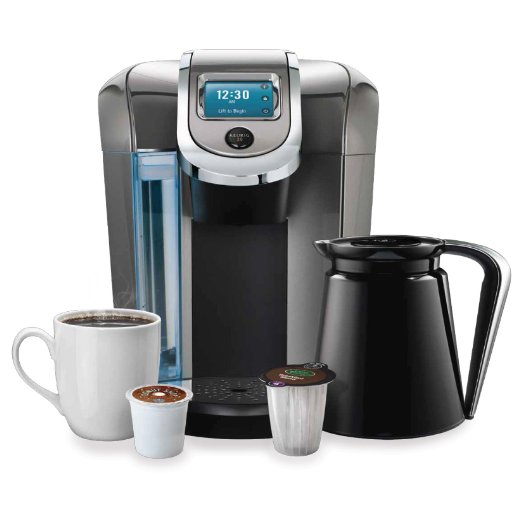 Keurig 2.0 and Ninja are totally different systems. Keurig 2.0, which we've written about in details, is a single-server coffee maker that uses K-Cups (coffee pods) to brew coffee, and now it is able to brew a full carafe as well.
In a Keurig 2.0 Brewer, you can select your cup size (including a travel mug – depending on the model) or a full carafe which brews 4 cups at a time. For your cup sizes, you'll use a K-Cup and for a carafe you'll use a K-Carafe, which holds a larger amount of coffee in it.
A Keurig also gives you the option to adjust the strength of your coffee, so you can tone the boldness of the brew, just like the Ninja Coffee Bar, but not as precisely.
When brewing with a Keurig 2.0, you have the option of using K-Cups or a refillable K-Cup filter, which allows you to use your own coffee ground and cut on your coffee pod expenses. And in addition to coffee, Keurig can brew a variety of drinks like tea, Iced tea, hot chocolate, speciality drinks and more, however for these drinks you'll have to buy the K-Cups.
So should you go for a Ninja Coffee Bar Brewer or a Keurig 2.0?
Here's the edge that a Ninja Coffee Bar has that the Keurig 2.0 doesn't have:
Ninja's brewing options are more diverse and give you a more personalized coffee experience than Keurig 2.0. You select the size you want and the type of brew you want (Classic, Rich, Over Ice or Specialty). These options don't only customize the strength (i.e. longer steep time in Keurig), but the concentration of the coffee brew itself.
Also, the Ninja Coffee Brew with its more traditional design, gives you a classic glass carafe with a hot plate that keeps your coffee warm, or a stainless steel carafe, if you opt for that model. You also get auto start timer, if you'd like to wake up to coffee ready for you to enjoy.
Ninja Coffee Bar vs. Nespresso, Which Is Best?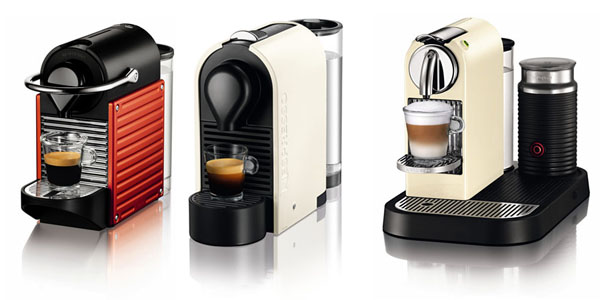 Like Keurig, Nespresso is a single-serve machine that uses pods to brew coffee. However, Nespresso's specialty is espresso and espresso only. With a Nespresso, you'll be able to brew a shot of espresso that you can drink on its own or make it as a specialty drink like a Cappuccino, Latte or Macchiato. a Nespresso machine doesn't brew a regular cup of coffee, the closest thing you'll get to a coffee is an Americano, which is a shot or two of espresso with hot water added to it.
Nespresso uses its own espresso capsules exclusively, which are available in a wide range of blends. There are also other options like Nespresso-compatible pods or refillable pods.
What's the difference between Nespresso and Ninja Coffee Bar then?
Nespresso is for espresso and espresso-based drinks (Cappuccino, Latte… etc.), it uses high pressure to brew a shot of espresso, which you can customize in size or volume.
Ninja Coffee Bar is a coffee maker, much like any other drip coffee maker, with upgraded features that get you more out of your favorite beans. While Ninja Coffee Bar claims to be able to make specialty drinks, truth is, it doesn't make espresso in the traditional sense. Instead, it makes highly concentrated coffee that can be used like espresso.
The choice between these two isn't very hard as both are different things:
If you want espresso, cappuccino, latte, macchiato… a Nespresso machine is for you.
If you're a traditional coffee type of person, you'll love the diversity Ninja Coffee Bar will give you.
Learn more about Nespresso machines here:
Note: Nespresso has the VertuoLine machine which is able to brew espresso as well as coffee, but this system uses its own coffee pods, it doesn't have refillable pods and it doesn't have compatible pods from other brands.
Ninja Coffee Brew vs. Bonavita Coffee Maker: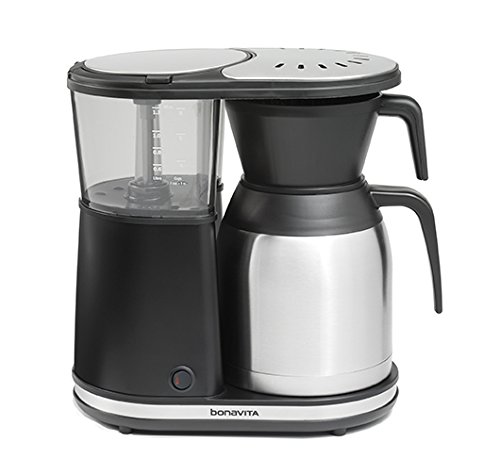 The Bonavita is SCAA-certified (Specialty Coffee Association of America) coffee maker that is guaranteed to make you the right brew at the exact right temperature. The process in which is brews coffee replicates the pour-over method, it has a showerhead water system that pre-infuses the coffee ground to fully saturate it for an even brew.
But here's where the Bonavita is different than the Ninja Coffee Bar:
It doesn't have any brew size options. You can only brew a full pot of 8-cups.
There are no options to change the concentration of richness of the coffee like the Ninja Coffee Bar has.
It is not programmable, however, it is very quick to brew a full pot in about 5 to 6 minutes.
In other words, the Bonavita is a traditional type of coffee maker, but it makes a better cup thanks to its pour-over brewing method. While the Ninja Coffee Bar is able to give you more sizes and more brewing options.
Read more about Bonavita Coffee Maker:
Watch Video Reviews:
Save