Drip coffee makers are not created equal, that's for sure. And if you want the best of the best, then you'll definitely want a SCA Certified coffee maker.
We've covered many SCA certified coffee makers in a lot of our previous posts. So this post will be a roundup of all of them in one page to make it easier for you to find.
What Is a SCA Certified? And Why Is It Great?
SCA stands for Specialty Coffee Association, a non-profit association that does research in the specialty coffee industry. From teaching programs, spreading education and rating coffee and coffee gear, the SCA does all research required to educate you on how you can get the best cup of coffee that is not only great to you, but is also fairly traded, sustainably grown and is fair to the entire industry.
When it comes to coffee makers for home, SCA tests brewers to ensure that they meet special requirements from optimal water temperature, brewing time and the brewers ability to brew a cup that meets the Golden Cup standard. If the machine passes these tests, it will be SCA certified.
Best SCA Certified Coffee Makers: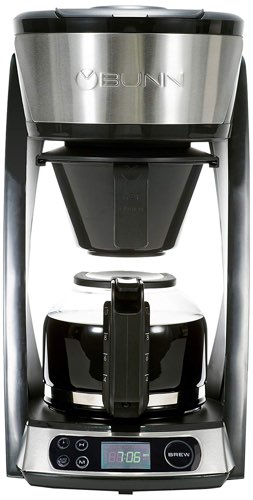 BUNN Heat N' Brew 10-cup coffee maker has its die-hard fans. A classic drip coffee maker that delivers amazing results. This coffee maker brews between 197.6 and 204.8F water temperature, using a commercial-style sprayhead design that ensures the coffee ground in the basket filter is fully saturated. It takes the machine about 10 minutes to brew a full pot of coffee, 6 minutes to bring the water to optimal temperature and 4 minutes to brew the coffee.
Other features include: digital clock, auto on/off, warming plate.
Housing: Plastic with stainless steel accents.
Dimensions: 9.7 x 8.7 x 16.3 inches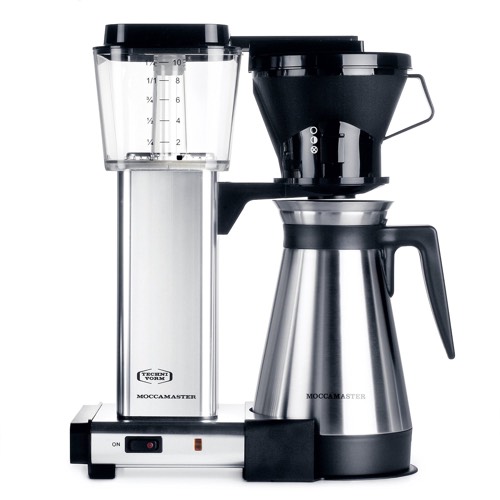 Technivorm's Moccamaster coffee makers are famous for the coffee they brew and for their high quality. If you want a truly high-quality build coffee maker, you have to go for a Moccamaster.
What makes Moccamaster machines unique is the fact that they are handmade with high quality parts in The Netherlands. Every machine is tested for water and electric before it is shipped.
Moccamaster machines meet the European Cofee Brewing Centre and Specialty Coffee Association guidelines. They brew between 196 and 205F, steep coffee grounds for the right amount of time and holds the brewed coffee at the perfect temperature of 175 to 185F without burning it.
There are many models of the Moccamaster coffee maker, and the main differences between them are: volume, carafe type, design and brew basket (manual stop, auto stop or no drip stop).
You can read our full Moccamaster comparisons here.
On the down side (for some people), this machine does not have a digital clock so they can't be programmed to brew automatically.
Housing Material: Mostly stainless steel with some plastic parts.
Dimensions: 15.25″H X 11.50″W X 6.75″D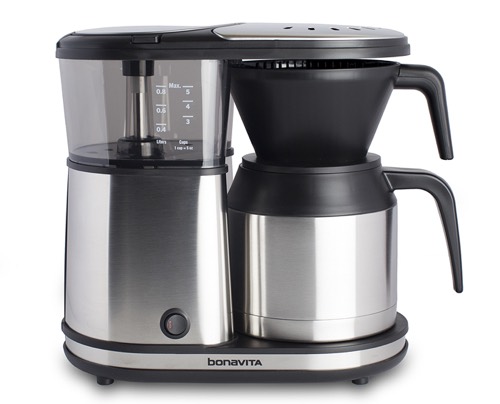 The Bonavita is a simple uncomplicated coffee brewer that brews 8 cups of coffee that meets the SCA standards. With a showerhead spray, pre-infusion and optimal water temperature of 195 to 205F, you'll get the perfect brew every time.
There are several models of the Bonavita: BV1800, BV1900, and BV1901 models, with one of them featuring a digital clock that allows for auto on.
Housing Material: Stainless steel with some plastic parts.
Dimensions: 12.3 x 6.2 x 10.6 inches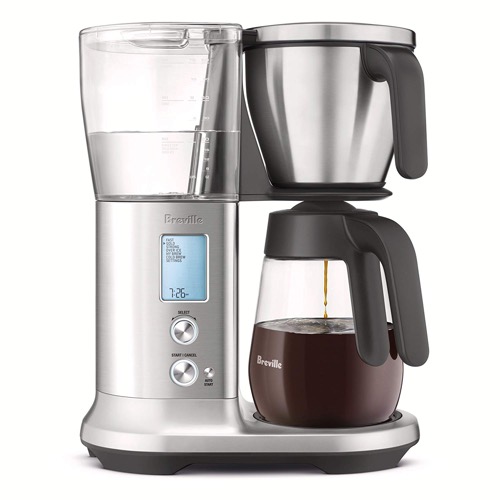 Breville Precision Brewer is a great SCA Certified coffee maker not just because of its specialty coffee certification, but it has so many great features that other coffee makers don't have.
In true Breville fashion, the Precision Brewer gives you many presets as well as a manual override for those times you want to make your own customization.
Presets are Gold Cup (SCA standard), My Brew for setting your own temperature and timing, Pour Over setting allows you to use the machine as an automatic kettle while using your favorite dripper like V60 or Kalita, Over Ice which makes concentrated coffee that won't taste watered down with ice, Cold Brew which makes overnight cold brew, Strong setting for bold tasting coffee and Fast setting, which is an option for making a full 12-cup carafe in under 7 minutes.
If you're looking for diversity in options, you'll love having the Breville Precision Brewer. It includes a thermal 12-cup carafe, a flat bottom filter and cone filter baskets.
Housing Material: stainless steel with some plastic parts
Dimensions: 6-3/4″ L x 12-1/3″ W x 15-2/3″ H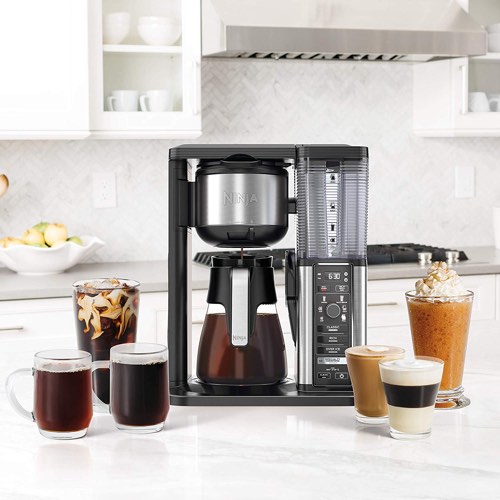 Ninja Specialty coffee maker is another versatile SCA-certified coffee maker that's a big hit among customers. This coffee maker is able to brew many cup serving sizes: Single cup, XL cup, Travel mug, XL travel mug, half carafe and full carafe. This is great as it provides an option for every occasion, whether you're relaxing at home, on your way out or entertaining many people.
When it comes to brewing coffee, it has 4 options: Classic, Rich, Iced and Specialty (in this case, specialty is a espresso-like coffee concentrate, and Classic is your Golden Cup standard). The machine also has a built-in milk frother. It does NOT heat milk, but you'll be able to create milk froth.
There are many Ninja coffee makers available, so please note that the Ninja Specialty coffee maker is the only SCA certified model.
Housing Material: Plastic with stainless steel accents
Dimensions: 11.99 x 8.75 x 15.04 inches