From Breville comes two excellent coffee makers, the Precision Brewer and Grind Control. While both are drip coffee makers, when it comes to features, they're not exactly the same. So let's dive right in…
Breville Precision Brewer vs. Breville Grind Control Coffee Maker:
Breville Grind Control Coffee Maker, 60 ounces, Brushed Stainless Steel, BDC650BSS
Breville Precision Brewer Glass Coffee Maker, 60 oz,Brushed Stainless Steel, BDC400BSS
Specialty Coffee Options (Pour Over, Cold Brew, Over Ice)
Water Temperature Settings
Breville Grind Control Coffee Maker, 60 ounces, Brushed Stainless Steel, BDC650BSS
Specialty Coffee Options (Pour Over, Cold Brew, Over Ice)
Water Temperature Settings
Breville Precision Brewer Glass Coffee Maker, 60 oz,Brushed Stainless Steel, BDC400BSS
Specialty Coffee Options (Pour Over, Cold Brew, Over Ice)
Water Temperature Settings
Breville's Grind Control coffee maker is another great option by Breville. But it's certainly not the same as the Precision Brewer:
It has a built-in coffee grinder. The coffee maker will grind the required amount of coffee for your selected volume of coffee.
You can brew a single cup, or other variety of volumes up to 12 cups of coffee.
Customizations include grind size, strength control, grind time, brew time.
Unlike the Precision Brewer, there's no water temperature settings or flow rate settings.
The Breville Grind Control only makes drip coffee. There's no option for over ice coffee, cold brew or pour over.
The Grind Control coffee maker is a great option for someone looking for a quality coffee maker with built-in conical burr grinder that can make both a full carafe as well as a single cup.
Click here to learn more about Breville Grind Control Coffee Maker.
Features of Breville Precision Brewer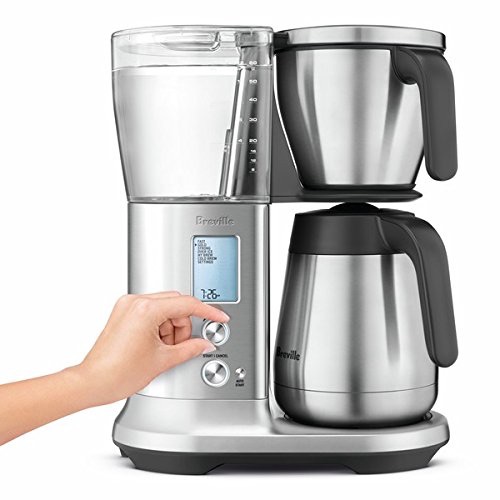 It's not the first time we talk about Breville. In fact, it is one of our favorite brands for coffee makers and kitchen appliances. We've covered many of their espresso and coffee makers, but today, we're going to talk about their Precision Brewer.
Breville Precision Brewer prides itself as the world's first 60 oz coffee maker that is able to make a cup of coffee with total precision, in a fully automatic way. That means, it can prepare coffee in a way that meets SCA's standards (Specialty Coffee Association) of water temperature and brew time. The Precision Brewer, while fully automatic, it also allows you to customize your coffee the way you like it.
Let's look at the features in details.
Features of Breville Precision Brewer:
6 pre-set brewing modes:

Gold Cup: Brews coffee to SCA's gold standards automatically.
My Brew: Choose your own settings for bloom time, water temperature and flow rate.
Pour Over: Use this setting to use the machine with your favorite pour over dripper like Hario's V60 or Kalita Wave. Use the machine to customize the water temperature, flow rate and bloom time, use the adapter to hold your dripper and let the machine do the rest.
Over Ice: Makes a more concentrated brew that you can use over ice.
Cold Brew: Set and forget setting for preparing delicious cold brew over night.
Strong: Create a bold tasting coffee using higher temperature and more contact time.
Fast: this setting is used to make a full carafe of 12 cups in under 7 minutes.

Three filter attachments:

Brew basket for a flat bottom filter for brewing 8 to 12 cups – Included
Cone filter basket for brewing 2 to 8 cups – Included
Pour Over adapter for pour over drippers like Hario V60 or Kalita Wave – Sold separately.

Includes a brushed stainless steel vacuum carafe for 12 cups.
LCD display with rotary switch for easy programmability.
Stainless steel housing.


Breville Precision Brewer with Glass Carafe: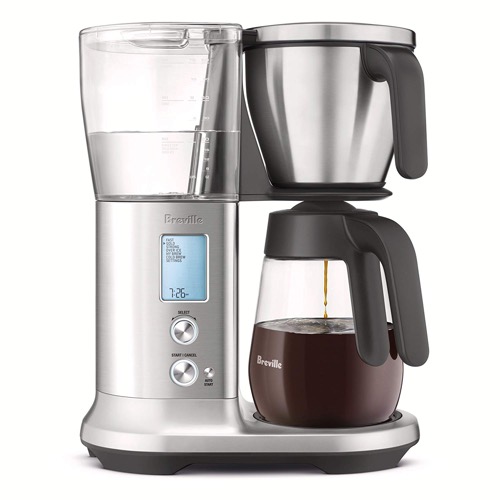 Not a fan of thermal carafes? You can now get your Breville Precision Brewer with a glass carafe instead. And of course, it is equipped with a hot plate to keep the coffee hot.
What Sets The Precision Brewer Apart From Other Brewers: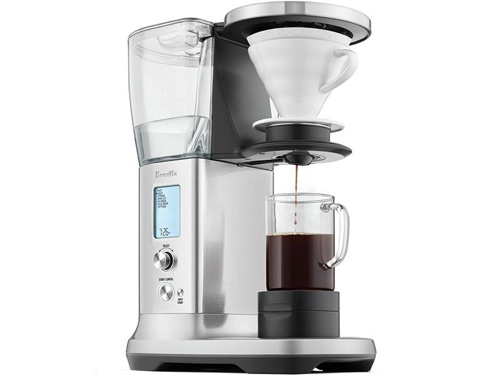 Customizable or Standard Brewing: using the Precision Brewer, you have a choice of customizing your cup to your liking or using the golden standard for specialty coffee.
Flow Rate Selection: One of the special features of the Precision Brewer is the flow rate option. While some other coffee makers can allow you to customize the temperature or brew time, the Breville Precision Brewer gives you the option to also select flow rate speed.
Special Design of the Carafe: The coffee pour into the carafe through the lid without the need to remove it. This means no heat loss during brewing. Most speciality coffee makers from other brands require that you remove the lid as the coffee brews, which leads to some loss of heat.
Easy To Use Control Panel: The LCD display makes option selection and customization very easy and quick.
What You Get From Your Breville Precision Brewer:
The Precision Brewer from Breville gives you a lot of versatility without losing quality. Using it, you can make drip coffee with customized settings, a Gold cup, cold brew, iced coffee or pour over. And you can trust your Precision Brewer to make your coffee with true precision, either in water temperature, bloom time or flow rate.
Breville Precision Brewer Comparisons:
Breville Precision Brewer vs. Technivorm Moccamaster: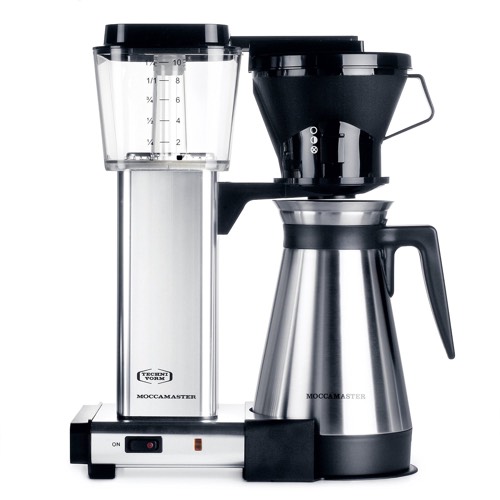 Technivorm Moccamaster is considered to be an automatic pour-over coffee maker that is certified by SCA. The quality of the machine is superior, and to this day, it is still hand made in the Netherlands. There are many models of the Moccamaster and you can read our comparisons of it here.
In general though, the Moccamaster automatically makes coffee (up to 10 cups) that meets the Specialty Coffee Association standard. However, there's no special customization you can apply to your brew. In fact, the only button the Moccamaster has is the switch on/off button.
Features of the Moccamaster include:
Brew temperature of 175F to 185F. Cannot be changed.
Brews up to 40 oz carafe in 6 minutes.
9-hole water outlet ensures full coffee ground saturation.
Available with a glass carafe or thermal.
Available in many colors (depending on model).
Breville Precision Brewer vs. Bonavita: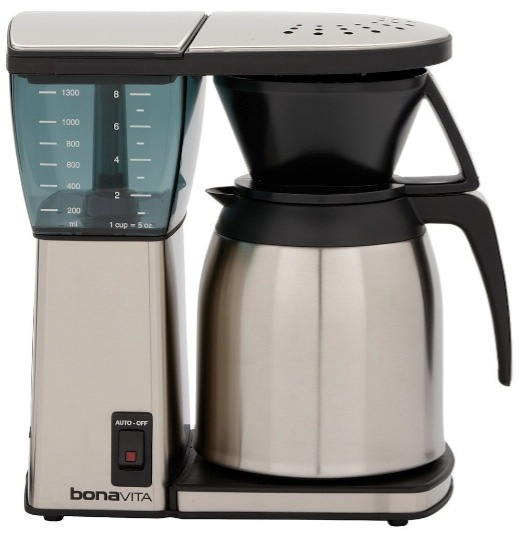 The Bonavita coffee maker is a lot similar to the Moccamaster. It's a 'one button operation' kind of coffee maker. The machine is programmed to brew to SCA standards, but nothing can be reprogrammed.
It can brew up to 8 cups, or 5 cups on another model.
It has a showerhead type of water outlet for full coffee saturation.
Brewing temperature is 195F to 205F and cannot be changed or reprogrammed.
Optional Pre-infusion (Blooming) mode.
Bonavita is available with a thermal carafe, glass carafe or double-walled glass carafe.
Read our Bonavita comparisons here.
Which Coffee Maker Do You Buy?
If you're looking for precision and versatility, the Breville Precision Brewer has everything you need. Using it, you're truly in control of your cup. But for those days that you don't feel like tweaking and just want a good cup, you'll find pre-sets on the machine to be perfect for that. And the fact that it can brew coffee in different methods (drip, cold brew, over ice or pour over), gives you a lot of room experimenting and enjoying different styles of coffee using a single machine.
If you simply want a good cup of coffee without all the bells and whistles, you can pick between the Bonavita and Moccamaster as both operate the same way. However, the Moccamaster is built to higher standards and is still handmade in the Netherlands, which is something Technivorm prides itself with. The Bonavita is the more affordable option, but it is made in China.
Video Reviews:
Grinder Recommendations To Pair with Your Breville Precision Brewer:
Need a grinder to pair with your Breville Precision Brewer? Here are a few of our favorite burr grinders: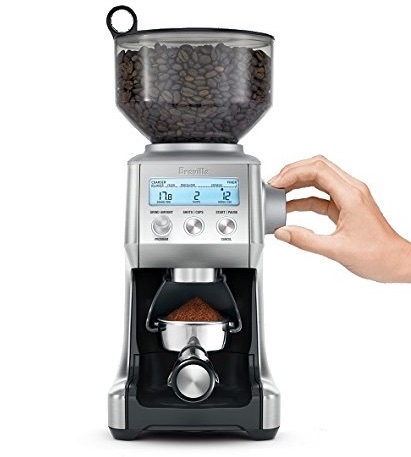 Breville Smart Grinder Pro is a user-friendly burr grinder with lots of features. It's great for grinding beans for any type of brewing methods, from espresso to french press. It has 6 precise grind settings, a timer with 0.2 second increments. The LCD display guides you through your settings for easy customization. And if you're grinding for espresso, you can use the included portafilter holder for handsfree grinding.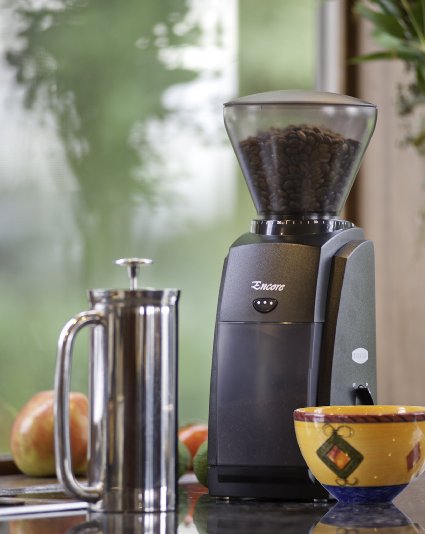 Baratza Encore is the most popular entry-level burr grinder. It's my grinder of choice, actually! It has 40 grind settings to select from. It does a great job grinding for drip coffee and french press, but does not provide the best results for espresso grind. So, if you need a grinder that will also grind for espresso, go for the Baratza Preciso (40 settings, with micro-adjustments) instead, or the Breville Smart Grinder Pro mentioned above, which have more grind settings that allow you to get precise grind for espresso.