The Bonavita coffee maker is one of the SCAA (Specialty Coffee Association of America) approved brewers for home. It provides you with excellent coffee at the most optimal temperature and it's sold at a relatively affordable price than other SCA approved coffee makers.
Features of the Bonavita BV1900TS Coffee Maker
Sale
8-cup brewing capacity.
Optional Pre-infusion function soaks up your coffee ground before brewing to de-gas it for the best flavor.
Showerhead completely saturates coffee for a full and even extraction.
Double-walled stainless steel thermal carafe.
1500-watts power.
Maintains optimal brewing temperature of 195°-205°F (91°-96°C)
All plastic parts in the machine including: carafe lid, showerhead and filter basket are BPA-free and dishwasher safe.
Also available to buy from: 1stInCoffee.com

What Is The Difference Between Bonavita BV1900 vs. BV18000?
Power:
BV1900: 1500-watts
BV1800: 1400-watts
Carafe:
BV1900: Stainless steel lined thermal carafe.
BV1800: Glass lined Stainless steel thermal carafe.
Brew Basket:
BV1900: Flat bottomed basket provides a better and more even extraction.
BV1800: V-shaped basket.
Which One To Buy?
The BV1900 is an improvement over the BV1800. The redesigned brew basket on the BV1900 will provide you with a better, less bitter and less acidic coffee. It's also easier to clean than the V-shaped, which could have some beans stuck to it. The stainless steel lined carafe is definitely considered a big improvement from the glass lined one on the BV1800. The glass lined carafe had the risk of imploding at times, either due to user error (either shocking the carafe with cold water while still hot), or for apparent reason at time. The stainless steel lined carafe with the BV1900 model doesn't have this issue. Although, the BV1800 is available with a stainless steel lined carafe instead of the glass lined.
Overall, we do recommend the BV1900 over the BV1800 for its many improvements. However, if the BV1900 is not available, you can buy the BV1800 and rest assured you'll get the same great results – you'll have to handle the carafe with care.
Watch This Side by Side Comparison of the Bonavita 1800 vs 1900:
Bonavita BV1800 – What Makes It a Great Option…
Bonavita BV1800TH 8-Cup Coffee Maker with Thermal Carafe
The Bonavita coffee maker was engineered in way that allows the machine to brew coffee in the freshest and most aromatic way. A mixture of the perfect water temperature, contact time and coffee saturation result in the most delicious brew of coffee you'll ever make at home.
Features of Bonavita BV1800:
Brews up to 40 ounces of coffee (8-cups).Fast brew;
brews 8 cups of coffee in 5 to 6 minutes.
One of the coffee makers that hold SCCA (Specialty Coffee Association of America)
Certification for exceptional brewing.1400W heater brings water to the perfect temperature.
Precise water and coffee ground contact time. Optimal coffee extraction is ensured by specially designed shower head.
Stainless steel thermal carafe keeps coffee hot for long hours. (also available in glass).
Why The Bonavita BV1800 Is One of The Best Coffee Makers Available?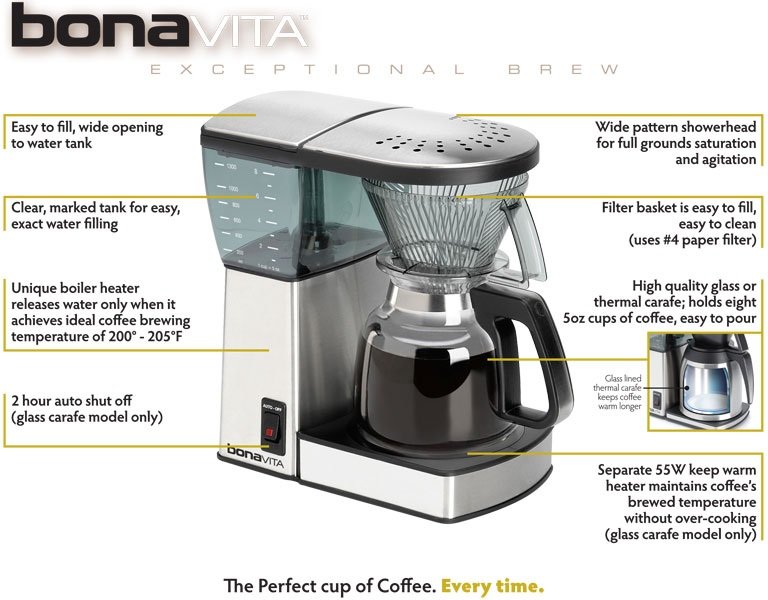 Apart from its exceptional performance, there's one reason why people are in love with this Bonavita coffee maker and that is its simplicity! This is a straight-forward machine that makes the best coffee ever. It does not have a ton of features that you'll never use, it only has the features it needs to does its job in the best way possible. It has one of the best thermal carafes, lined with glass and topped with a lid that will keep your coffee hot for hours.
Should You Buy The Bonavita BV1800 Coffee Maker?
You should buy this machine if:
You're looking for a straight-forward coffee maker with exceptional results.
If you want your coffee FRESH and HOT.
If you want a quick machine. This one will have your brew ready at 5 to 6 minutes.
An easy to clean and maintain coffee maker.
Any Cons to the Bonavita Coffee Maker?
If you're someone who is looking for features like: brew pause, programmable settings and such, the lack of these features is considered a con, and we'd advice you have a look at these coffee makers with built-in burr grinders that have all those advanced features. Otherwise, this machine does EXACTLY what it says it does, and it does it very well. When opting for the thermal carafe, it could be lined with glass instead of double-walled steel. In that case, you'll have to handle it with care and hot wash it while it is still hot to avoid cracking the glass lining.
Bonavita BV1800 vs. BV1800TH, Is There a Difference?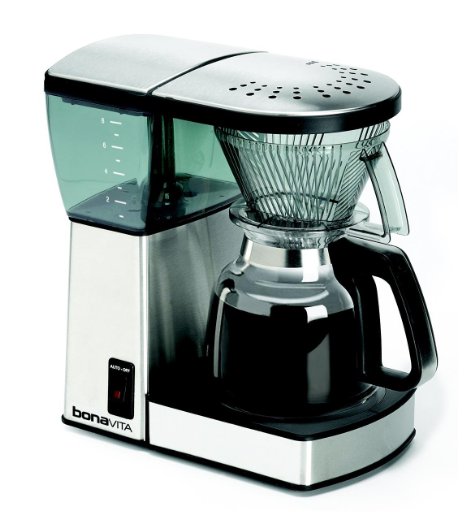 You might notice two models of the Bonavita: BV1800 and BV1800TH and wonder if there's a difference between them. Technically, there isn't any difference apart from the material used in the machines:
The BV1800 has a glass carafe, and therefore features a burner. It also has a clear filter holder.
The BV1800TH has a thermal carafe and no burner with a dark filter holder.
And that's the ONLY difference. So your choice is simply between a glass carafe or thermal carafe, with a price difference of around $30.
Bonavita Coffee Maker vs. Bodum Bistro Coffee Maker, Which Is Best?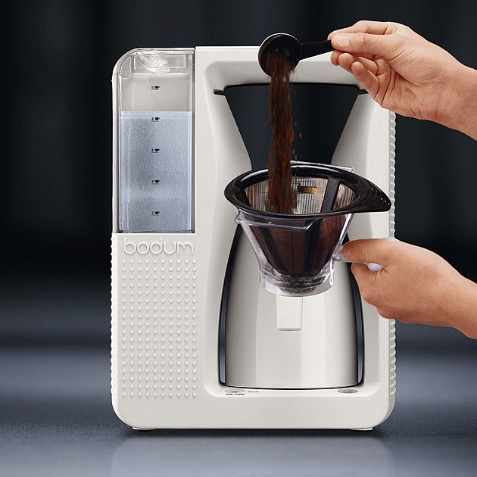 The Bonavita is often compared to the Bodum Bistro coffee maker, as both are similar in the way they prepare coffee. The Bodum Bistro, although NOT SCCA certified like the Bonavita, features a similar shower-head for coffee saturation and a takes a pour-over method to coffee preparation. Here are some of Bodum's Bistro features:
1450Watts heater.
40 oz water rank.
Insulated coffee carafe.
Titanium-plated, fine-meshed stainless steel filter.
Brew temperature 202 to 204.
Brewing process can be watched via the machine's transparent back.
Watch how the Bodum Bistro Coffee Maker works:

How It's Different from the Bonavita BV1800:
Slightly higher wattage.
Slightly higher brew temperature.
Uses gold-tone filter instead of paper filter.
as a plus, the design is more attractive.
Although the Bodum seems to have better elements, the Bonavita has received higher customer reviews constantly. Customers have reported that although it makes great coffee, the construction of the Bodum Bistro b. Pour-over coffee maker isn't all that well. So we truly believe that the stainless steel construction of the Bonavita will offer more value than the Bodum.