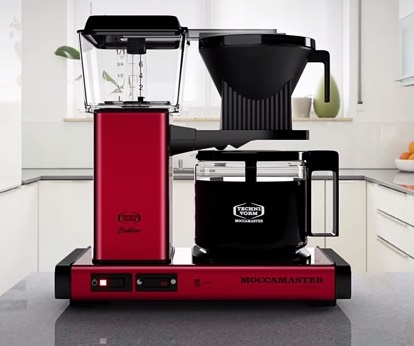 The Moccamaster is one of the SCAA (Specialty Coffee Association of America) approved coffee maker that you can trust to make you the best coffee at the exact right temperature with the best flavor. When I came across Technivorm's Moccamaster coffee makers, I was surprised to see a large number of models available. I immediately felt overwhelmed by the available choices, which has led me to research and write this post.
Deciphering the Moccamaster Model Names

Moccamaster is available in two series:
Series K, which includes models: KBT, KBGT, KBG…
Series C, which includes models: CDGT, CDG, CD and more.
The areas in which these models are different are:
The body: Rectangular housing or Round housing (Aesthetic difference only)
The type of brew basket: manual adjust drip sto, auto drip stop or no drip stop. Model names with G in it refers to auto drip stop.
The type of carafe: glass or thermal. Model names with T in it refers to Thermal.
The capacity: 10-oz (Cup-one), 1-liter (32oz/8-cup), 1.25-liter (40oz/10-cup), 1.8-liter (60oz/15-cup)
Design
| | |
| --- | --- |
| Letters | Feature |
| CD | Cylindrical body |
| KB | Rectangular body |
Features
| | |
| --- | --- |
| Letter | Feature |
| G | Auto Drip Stop |
| T | Thermal Carafe |
| V | Brew Volume Selector |
| S | Small Capacity carafe |
So, for example: Model KBG refers to a a rectangular body machine with auto stop drip. KBGT means it's a rectangular body machine with auto drip stop and a thermal carafe.
Main Features of Moccamaster Coffee Brewer (features included in all models)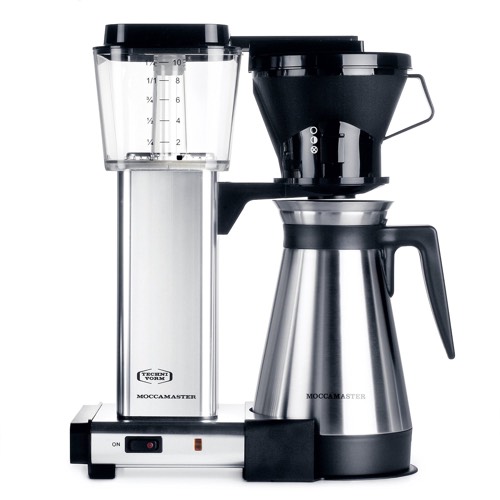 SCAA- certified coffee maker.
Brews at an optimal hot water temperature of 196 to 205 F.
Brews a full pot in 6 minutes.
Each Moccamaster Brewer is handmade in The Netherlands.
Click here to learn more about Technivorm Moccamaster, read the customer reviews and buy it.
Also available to buy from: 1stInCoffee.com
Understanding Moccamaster Features
CD vs KB – Does the Shape of a Moccamaster Make a Difference?
We all know that the shape of a machine can in no way affect the taste of the coffee, that's a given. But what you have to keep in mind while choosing a shape is your space and capacity of carafes.
What is Auto Drip Stop? How Much Does It Matter?
Auto drip stop, also known as Brew Cycle Pause on other coffee makers, is what allows you to pour yourself a cup mid-cycle, before the machine has brewed the coffee fully.
By pulling the carafe, while the machine is still brewing, it will pause and stop dripping, allowing you to pour a cup of coffee. Putting the carafe back should let the machine continue with the remaining brew cycle.
Without Auto Drip Stop, you get a manual selector with three options to control the brewing speed. You can let it flow completely until your carafe is full, or switch the selector to half position, this restricts the water flow and slows the brew speed. The last position is to completely stop the flow, which allows you to pour yourself a cup before the full brew is done.
Brew Volume Selector – What Does It Mean?
As you know, most drip coffee makers will pretty much brew whatever you fill in to the water tank. So before you start your brew, you'll have to fill up the water tank with your desired amount of coffee brew, which is clearly marked on the tank.
With a Brew Volume Selector, you'll find a button on the machine that allows you to brew a full carafe or half a carafe. So basically, it will brew either the entire amount you filled into the water tank or half of it.
S for Small – How Small Is It?
The small capacity for Moccamaster is 32 oz capacity, which is about 1 Liter or what they consider an 8-cup coffee maker. This is the smallest size they have for a carafe coffee maker.
Moccamaster Glass vs. Thermal, Which Do You Choose?
When it comes to choosing between a glass carafe or a thermal carafe, first thing to think about is heat retention and how long each keeps the coffee hot.
Buying a Moccamaster (or any coffee maker) with a glass carafe means that the machine will have a hot plate for the carafe to stay on and keeps the coffee hot. On the Moccamaster, the hot plate will maintain a temperature of 176-185 F. This is slightly cooler than the 196-205 F brewing temperature, but it's the ideal temperature for serving. The hot plate will remain on for 100 minutes before automatically shutting off.
On the other hand, the double-walled thermal carafe does not need a hot warming plate. According to Technivorm, their carafe keeps the coffee hot for up to an hour. Using the included travel lid, you'll be able to prolong this time for a bit more. Speaking of, one of the cool things about having a thermal carafe is that it's great for take-away. Whether you're enjoying your coffee in your backyard or on a picnic in the park. Using the lid secures your coffee and keeps it hot for a while.
The other thing about glass vs thermal carafes is durability. Glass is always prone to accidents and it's easily breakable. Thermal carafes are rather durable and you can't worry about knocking them out.
When it comes to cleaning, both should be easy to clean. But, the design of Moccamaster's 10-cup thermal carafe has a bit of a narrow top, which can make it a bit harder to reach inside the carafe to clean.
Comparing Best Selling Moccamaster Models
Moccamaster KB 741 vs. KBG 741, What's The Difference?
Technivorm 59691 KB Coffee Brewer, 40 oz, Brushed silver
Technivorm Moccamaster 59616 KBG Coffee Brewer, 40 oz, Polished Silver
Technivorm 59691 KB Coffee Brewer, 40 oz, Brushed silver
Technivorm Moccamaster 59616 KBG Coffee Brewer, 40 oz, Polished Silver
Brew Basket:
KB 741: Manual drip-stop.
KBG 741: Auto drip-stop.
Carafe:
Both models have a glass carafe with auto-off hot warming plate.
Capacity:
Both are a 10-cup capacity.
Colors:
Moccamaster KBG 741 is available in 13 colors.
Moccamaster KBT vs. CDT:
Technivorm Moccamaster 79112 KBT Coffee Brewer, 40 oz, Polished Silver
Technivorm Moccamaster 39340 CDT Grand Coffee Maker, 60 Ounce, Silver
Brew Basket:
Both models have a manual drip-stop brew basket.
Carafe:
Both models have thermal stainless steel carafes.
Capacity:
CDT has a 15-cup capacity.
KBT has a 10-cup capacity.
Design:
The CDT features a round housing.
The KBT features a rectangular housing.
Carafe designs are slightly different since the CDT holds more volume than the KBT.
Colors:
KBT is available in polished silver or black.
Moccamaster CD Grand vs. CDT Grand:
Brew Basket:
CD has an auto drip stop.
CDT has a manual auto drip.
Carafe:
CD has a glass carafe.
CDT has a thermal carafe.
Capacity:
Both have a 15-cup capacity.
Moccamaster Cup One
If you want the great quality of a Moccamaster but in a compact size, the Cup One is an option. This is Moccamaster's single-serve coffee maker with a capacity of 10 oz only. Built from the same durable materials of every Moccamaster, Cup One is a fuss-free coffee maker that makes one 10 oz cup of glorious coffee at a time using pre-immerision for that perfect bloom and natural pulse action for a full extraction.
Moccamaster KBGV Select
Moccamaster 53949 KBGV Select Coffee Maker, Stone Grey, 40 ounce, 10-Cup, 1.25L
Note: 1)Too coarse a grind, too little coffee, or insufficiently tamping the grounds before brewing can all lead to inadequate pressure for a proper brew. 2)It is important to note that the amount of espresso extracted will vary depending on the grind size and amount and reprogramming may be needed when the size and amount are adjusted
Perfect Coffee Every Time: This pump-free coffee maker heats water to the correct temperature for coffee extraction
Brew-Volume Selector switch for brewing half or full carafes
Easy to Use: The Moccamaster brews a full 40 oz pot of coffee in 4-6 minutes using one switch
Quiet and Safe: The Moccamaster Select quietly brews your coffee and automatically turns off after 100 minutes
The KBGV Select is practically the same as the KBG model, except for one thing: This model, which allow has the name Select, has a selector button that allows you to brew either a full carafe or half a carafe (40 oz or 20 oz).
While with other models, you can still brew less than a full carafe, the machine won't adjust brew time to go with the fewer volume. The Select model actually extends the brew time even when you select half a carafe, so it takes the same time to brew as a full carafe.
Moccamaster Compared to Other Brands
Moccamaster vs. Breville Precision Brewer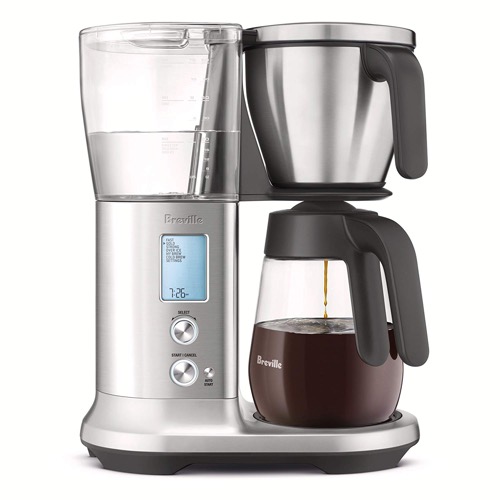 Breville's Precision Brewer offers a customizable experience that the Moccamaster does not have. It has 6 pre-sets to choose from, but if you want, you can customize the temperature, flow rate and bloom (pre-infusion) time. It has a larger capacity of 12 cups that it can brew in 7 minutes. It includes two filter baskets: a cone-shape and a flat bottom filter. And if you want, you can purchase a pour-over adapter that allows you to do V60 or other pour-over style coffee automatically. Unlike the Moccamaster, this brewer has auto-on feature. Click here to read the full review and comparisons of Breville Precision Brewer.
Moccamster vs Bonavita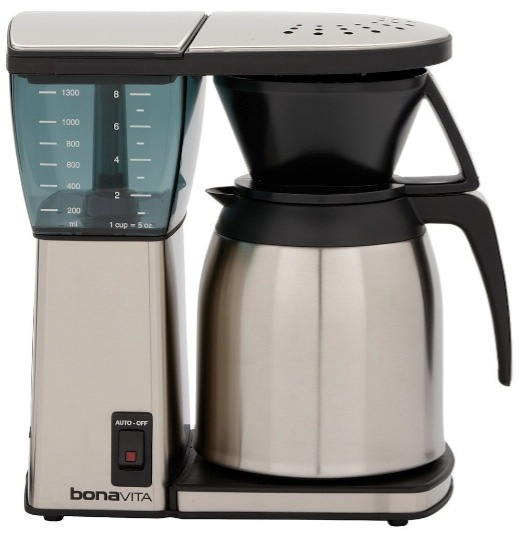 Bonavita, similar to the Moccamaster, is great coffee maker without any of the fancy features. It has a simple on/off button and it will brew a pot to the Golden standard of Specialty Coffee Association. There are a few differences, though:
While Moccamaster brews to temperature range of 196F to 205F, Bonavita brews slightly hotter at 200 to 205F.
The Bonavita is sold as an 8-cup capacity, and the Moccamaster as a 10-cup capacity, however both coffee makers have a 40 oz water reservoir. Click here for Bonavita's full post.
Does Moccamaster Grind Coffee? What Is The Best Grind Setting? Grinding Coffee For Your Moccamaster:
Since Moccamaster is an automatic pour-over coffee maker, then you'll want to use a medium-fine grind for the perfect brew.
If you need a coffee grinder, you can read our post on the best burr grinders to buy.
Moccamaster have also created a grinder especially made to accompany their coffee makers…
Technivorm Moccamaster 49312 KM4 TT Grinder, 14 oz, Polished Silver Finish
Stainless steel blade, aluminum housing, BPA/BPS/bpf & phthalate free plastics
Turbo motor with fan cooled grinding chamber prevents overheating of beans
Simple, easy to use, push-button operation
Factory adjusted to the grind suitable for filter Coffee
Hopper holds approximately 14oz of whole Coffee beans
However, for its price, I can safely say that it is certainly not recommended for many reasons:
It is a steel blade grinder and not a burr grinder.
It is factory adjusted, which means you cannot change the grind setting for any brewing method other than drip coffee.
What makes the Moccamaster grinder on the higher price end is the fact that it is made in The Netherlands, just like their coffee makers. So the best part about this grinder is its high quality build.
What I would recommend instead is either the Baratza Encore (best suited for manual and auto drip methods) or Baratza Virtuoso (drip coffee and espresso). You can read about Baratza's grinders here.
How Much Coffee Do You Put in a Moccamaster?
How much coffee you need to use will depend on the capacity of coffee you want make. You can start with a 1:16 ratio, that's 1 gram of coffee per 16 grams of water.
If you're brewing to the 6 cup mark (that's 4 oz per cup, so 6 cups translate to about 24 oz), that's 750g of water, which means you'll need about 47g of coffee.
Brewing the full 10 cup capacity, which is 1.25L, you will need 78g of coffee.
If the brew turns out to be less satisfactory that you'd like it, then alter the ratio. A ratio of 1:15 would give you a stronger cup, ratio of 1:17 would give you a smoother cup.
You can also alter your grind settings to fine-tune the taste of your brew.
Common Questions about Moccamaster Coffee Brewer
– Is The Stainless Steel Thermal Carafe Lined with Glass?
No, it's double-stainless steel with no glass lining, which is comforting since glass-lined thermal carafes tend to shatter sometimes.
– What Kind of Filter Does Moccamaster Use?
Flat-bottom filters are used, paper filters are recommended over the use of permanent filters since mesh filters can retain oils and clog easily.
– Does Moccamaster Have Auto-Start Feature?
No, none of the Moccamaster models has an auto start feature.
Does the Moccamaster Turn Off Automatically?
Yes, in most models, it will automatically turn off after 100 minutes. Except for the Moccamaster Cup One, which turns off automatically after the reservoir is emptied.
Where Is Moccamaster Made?
All Moccamaster machines are still made in the Netherlands.