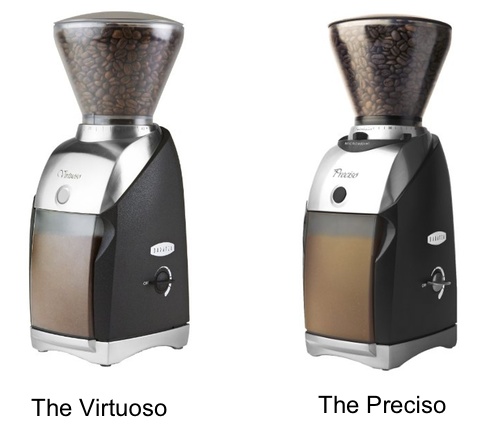 If you've been researching coffee grinders by Baratza, you've probably came across these two models: The Virtuoso and Preciso, and most likely got quite confused over them. The two grinders look identical in every way, yet they're two different things, why is that? That's exactly what we'll cover in this post.
What Is The Difference Between The Baratza Virtuoso and Preciso?
| | | |
| --- | --- | --- |
| | Virtuoso | Preciso |
| Burrs Material | stainless steel | Stainless steel |
| Grind Settings | 40 | 40 |
| Macro Grind Settings | Yes | Yes |
| Micro Grind Settings | No | Yes (11 Settings) |
| Portafilter Holder (handsfree grinding) | No | Yes |
| Bean Hopper Capacity | 8 oz | 8 oz |
| Grounds Bin Capacity | 5 oz | 5 oz |
| Timer | 60-seconds | 60-seconds |
| Speed Control | Yes | Yes |
| | Check Price on Amazon | Check Price on Amazon |
Both coffee grinders are almost identical in most features:
Professional grade conical burr grinder.
40 adjustable grind settings.
Ability to grind directly into a portafilter or a bin.
Bean hopper capacity: 8 oz
Ground coffee bin capacity: 5 oz
Plastic and stainless steel exterior.
60-second timer switch.
Speed control: ability to control the rotation of the burr to 500 RPM.
The difference lies in two features that Preciso has over the Virtuoso:
Macro and Micro Grinder: Beyond the 40 grind settings already available in both grinders (Macro adjustments), the Preciso offers Micro adjustments, which divides each of those 40 grind settings into 11 additional settings, giving you even further control over your grind.
The Portaholder: The Preciso allows you to grind into a portafilter hands-free.
Which Is Best To Buy? The Baratza Virtuoso or Preciso?
Getting the Preciso over the Virtuoso will only make a difference to someone who is quite precise about their grind (now doesn't the name Preciso make a lot of sense?). Otherwise, it wouldn't make a difference which one you get.
Please note that the Preciso seems to be no longer available.
Baratza Virtuoso vs. Virtuoso+ , What's The Difference?
Baratza Virtuoso - Conical Burr Coffee Grinder
Baratza Virtuoso+ Conical Burr Coffee Grinder with Digital Timer Display
Baratza Virtuoso - Conical Burr Coffee Grinder
Baratza Virtuoso+ Conical Burr Coffee Grinder with Digital Timer Display
Virtuoso+ is the updated version of the Virtuoso. So both are the same, with some improvements on the Virtuoso+ model.
The Plus model now has a digital clock timer. The 40-second timer is adjustable to a tenth of a second. The Virtuoso+ also has a backlit coffee ground bin.
When it comes to grind settings, both models have 40 adjustable grind settings that allow you to grind from french press to espresso grinds and anything in between.
Is There a Difference Between The Baratza Encore vs. The Virtuoso and Preciso?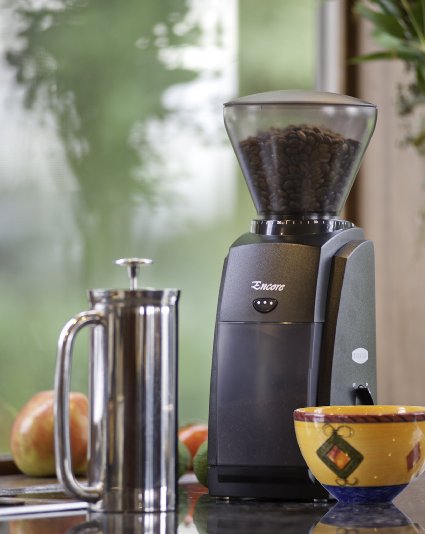 Yes, there certainly is. The Encore is more of an entry-level coffee grinder, and is suitable for anyone in the market for a grinder under $200.
It's fully plastic exterior makes it less expensive than the other models, and possible less durable.
Offers the same 40 grind settings, same bean hopper capacity (8 oz) and ground bin (5 oz).
It does NOT have a timer.
It does NOT have a portafilter holder.
Suitable for all coffee brewing methods. However, it is not the best for espresso grind.
Frequently Asked Questions
Can I Grind Espresso in a Baratza Virtuoso?
Yes, it can be used to grind for Espresso brewing. Preciso's expanded settings though would give you better results.
Are Baratza Encore and Virtuoso Grind Settings the Same?
Yes, they are. The difference is Virtuoso can offer you time based grind using the 60-sec timer, while the Encore does not have a timer.
Are the Bean Hoppers Made of Glass or Plastic?
They are made of BPA Free plastic. The darker shade of the hopper reflects light to keep your beans fresh.