In this post, we'll be talking about Keurig coffee brewers in terms of sizes and capacity. A small Keurig brewer is perfect for a single user either at home or office. While a Keurig with a largest reservoir makes the perfect addition for a family's kitchen.
The Smallest Keurig Brewer
If you're looking for a quick answer, here it is:
Smallest Keurig with a water reservoir is: K-Express
Smallest Keurig with Strong setting: K-Express
Smallest Keurig with Large Reservoir: K-Slim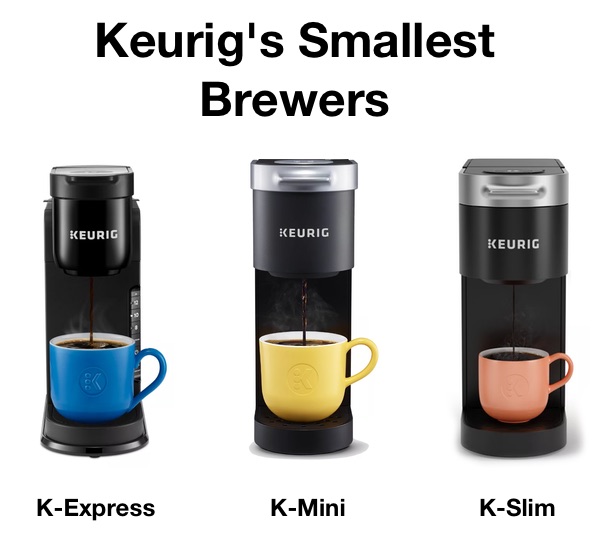 Keurig has three space-saving designs: K-Mini, K-Slim and K-Express… so it's between these three. Let's have a look at their features and dimensions…
Dimensions
| | K-Mini | K-Slim | K-Express |
| --- | --- | --- | --- |
| Width | 4.5" | 4.76" | 4.56" |
| Height | 12.1" | 12.14" | 12.63" |
| Depth | 11.3" | 15.2" | 12.87" D |
Typically when looking for the smallest Keurig, first thing we'd look at is the width of the machine. As you can see from the table above, the width of all three models is nearly identical. It's the same when it comes to height, not that much difference. However, if we look at the depth, there's a clear winner, and it's the K-Mini.
What contributes to the depth of the machine? It's the water reservoir. So next step, let's look at the size of each model's reservoir:
Reservoir Size
| K-Mini | K-Slim | K-Express |
| --- | --- | --- |
| No reservoir - Add fresh water every brew | 46 oz | 42 oz |
It is now clear why the K-Mini has the smallest depth out of three models, it's because there's no water reservoir at the back. Instead, you'll fill the internal tank with fresh water up to the amount of coffee you want to brew. The tank is clearly marked with each cup size, and the machine will draw all the water you fill for every brew.
Second place is the K-Express, which has 12.83″ Depth and a 42 oz reservoir, reasonably sized and enough for multiple uses.
The K-Slim follows with a 46 oz reservoir and 15.2″ depth. So it's about 2″ difference between it and the K-Express, in exchange for an additional 4 oz reservoir capacity.
Now we've got an idea of the dimensions of each model, let's have a look at their full features.
Features of Keurig K-Mini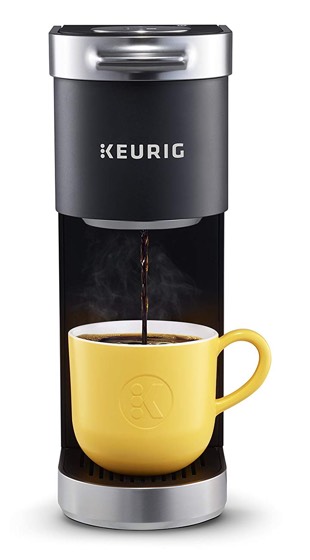 K-Mini is one of Keurig's earliest slim brewers. And it's quite a popular machine among anyone looking for a space saving design.
It has four serving sizes: 6, 8, 10 and 12 oz. And it has only one simple brew button. Since the machine does not a reservoir, it will brew whatever amount of water you fill at each use. Simply fill up the tank to serving size you want to brew and hit the brew button.
It's available in two version, K-Mini and K-Mini Plus, which you can learn all about here.
This is one of those no-fuss Keurig brewers with an adequate number of brew sizes in a great compact design.
---
Features of Keurig K-Slim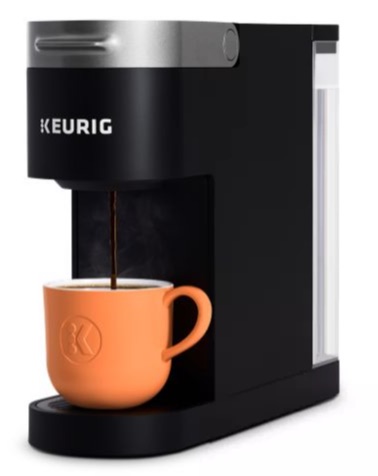 The K-Slim is fairly similar in design to the K-Mini. There are a few function differences though:
K-Slim comes with three serving sizes instead of four: 8, 10 and 12 oz.
And because this model has a reservoir, you'll find a dedicated button for each serving size, so you'll first select the serving size then hit the brew button.
The K-Slim feature's Keurig's Multi-Stream technology, which is a puncture needle with multiple streams of water that promises to fully saturate the K-Cup, as opposed to a single stream of water.
Features of Keurig K-Express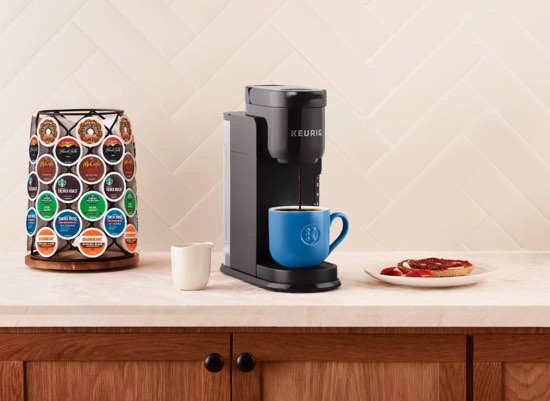 Just like the K-Slim, the K-Express comes with Keurig's three most popular cup sizes: 8, 10 and 12 oz. And because it's a model with a reservoir, you'll find an individual brew button for each serving size on the side of the machine.
One extra feature that the K-Express has is the Strong button, which gives you a bolder brew.
You can learn more about the K-Express and how it compares to the K-Mini here.
Conclusion
All of these are quite small and compact in size, but which you pick would come down to your favorite feature, whether you prefer a reservoir or not or if you need the Strong Brew option.