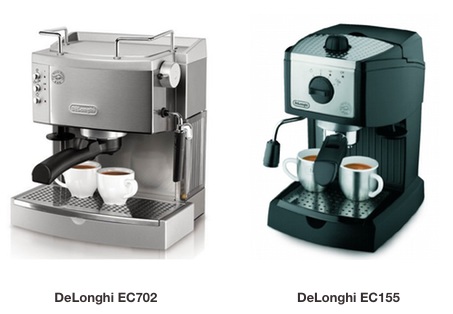 The DeLonghi EC155 is one of the best selling espresso makers for its really budget-friendly price, but we can't say that it's one of the best espresso machines out there. This model goes head to head with another DeLonghi machine, the EC702. Despite the price difference, these two machines are normally shortlisted by buyers and they usually get confused over which one to buy. In this post, we'll be comparing these two espresso makers to help you make a better long term decision instead of saving you some cash in the short run.
DeLonghi EC702 vs. EC155: What Is The Difference?
At first glace, you can see that the DeLonghi EC702 looks better built than the EC155. But that's not what we're basing our opinion on. Before we get into the design features, let's talk about the common features between these machines:
15 bar pressure pump.
Self-priming for quick start and operation.
Portafilter with different baskets for single or double shots and for e.s.e pod use.
Built-in tamper.
Steam wand for milk frothing.
Stainless steel boiler.
1100 Watts input power.
What Is The Difference?
The EC702 is constructed from stainless steel exterior vs. the plastic exterior of the EC155, which makes it more durable and simple to wipe clean.
The EC702 has a better designed milk frother than the EC155.
The control panel on the EC702 features push buttons that replace the EC155's dial control.
The EC702 has a larger cup warming tray on top to keep your cups hot and ready to use.
Water tank capacity for the EC702 is 44 oz. vs. 35oz for the EC155
Which Should I Buy? The DeLonghi EC702 or EC155?
If you're on a tight budget, you'll naturally choose the EC155 as your machine as it is half the price of the EC702. However, the EC702's stainless steel construction alone is worth paying double the price. When you're making espresso everyday, a lot of heat comes in contact with the body of the machine, this can lead to the plastic body of the EC155 cracking or breaking in some way. This is not a concern when it comes to the EC702.
DeLonghi EC155 vs. BAR32, Is There a Difference Between Them?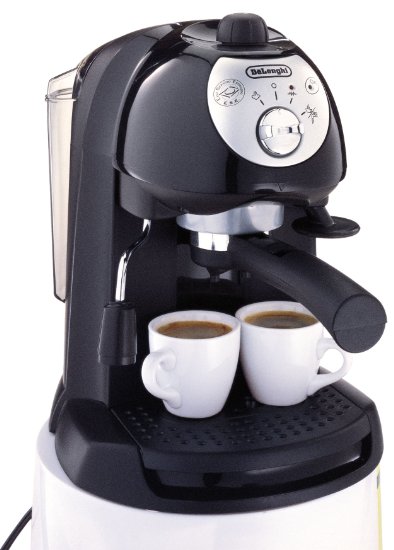 You might have noticed the DeLonghi BAR32, which might feel similar to the EC155. Is there a difference between the two?
The difference between the two espresso makers isn't major. Overall, the EC155 has a better design, better shape and space on top that serves as a cup warming tray. As for everything else, they're pretty much the same.
Watch Them In Action:
A demo of the DeLonghi EC155:
A Demo of the DeLonghi EC702: