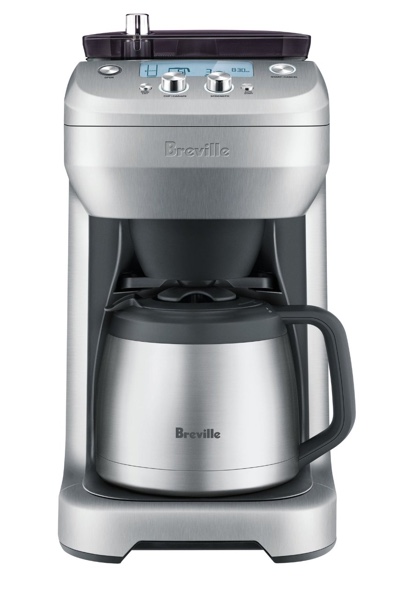 Breville has recently released the Grind Control coffee maker, which looks like a duplicate of the Breville YouBrew. Fact is, the Grind Control is a newer version of the YouBrew, so while it does look similar, it has many upgraded features that are worth having.
Features of the Breville Grind Control:
Choose from 6 grind settings, select the best grind for light or dark roast beans.
Set your pre-brew temperature.
Calibration function adjusts the grinder to suit the type of bean you're grinding.
LCD screen for real time feedback on water level, grind size, strength selection, grinding time, brewing time, and selected settings.
Built-in grinder with stainless steel burrs.
0.5 lbs bean hopper.
12 cup capacity carafe.
Can brew a single cup of different sizes, including a travel mug.
Steep and Release technology ensures the best cup of coffee no matter what size you select.
Click here to learn more about the Breville Grind Control, read the customer reviews and buy it

How's the Breville Grind Control Different Than the Breville YouBrew?
The Breville Grind Control gives you 6 grinding settings that can be calibrated to suit the type of beans you're brewing. YouBrew doesn't have this feature.
When it comes to strength selection (amount of coffee brewed) and flavor settings (time coffee steeps), both models have the same selection.
The Grind Control also features pre-brew temperature control that the YouBrew doesn't have. This feature allows you to bring the cool water in the reservoir to a certain temperature before the actual brewing process. However, you can't select the brew temperature.
The biggest difference between the Grind Control and YouBrew is the grind settings on the Grind Control. Because every type of coffee roast requires a different grind, the calibration feature on the Grind Control ensure that the type of coffee is taken into consideration when it grinds the beans, which results in a better cup of coffee.
More Articles To Read:
Watch The Videos:
Overview of the Breville Grind Control:

Review of the Breville Grind Control: