*Note: Breville YouBrew has been discontinued and replaced with Breville Grind Control. Read our comparison between Breville Grind Control vs Cuisinart Grind and Brew here.
We've previously compared two excellent grind and brew coffee makers, the Cuisinart vs the Capresso Grind and Brew coffee makers, as both are similar features and price wise.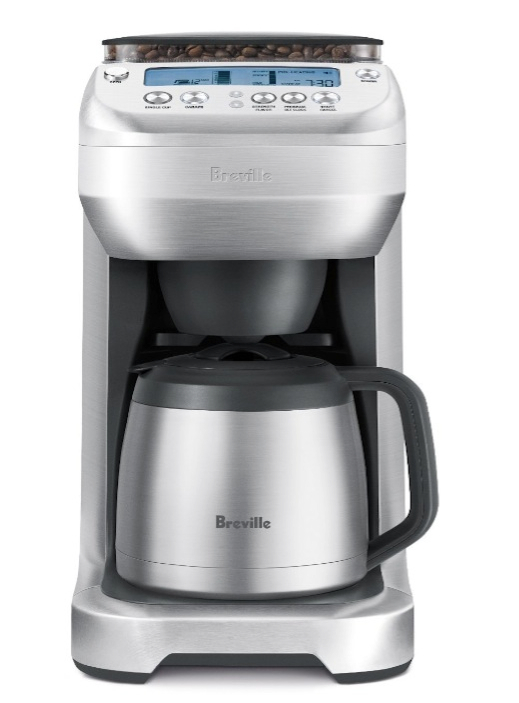 Another popular choice for a Grind and Brew coffee maker is the Breville YouBrew Coffee Maker, which is around $100 more expensive than the other two. Many people wonder if that much in extra cash makes a difference performance wise, or is just all just a hype? In this post, we'll be comparing the YouBrew to the Cuisinart Grind and Brew to find out.
You can read full features of both machines in the following post: The Best Coffee Makers with Built-in Grinders.
What's The Difference Between The Breville YouBrew and Cuisinart Grind and Brew?
Both are excellent coffee makers with built-in grinders that prepare fresh and delicious coffee. But the Breville YouBrew is way ahead when it comes features and performance:
[apc id="8″]
The Cuisinart Grind & Brew is fully programmable with auto shut off/ timer options, double-walled insulated carafe that holds up to 12 cups of coffee and an automatic conical burr grinders with 8 oz bean hopper. The strength and grind are fully adjustable, so you'll get your coffee as you like it.
The Breville YouBrew also has the same features of automatic grinder, a bean hopper with 0.5 lbs capacity and fully adjustable coffee strength and grind.
So, what's the difference between the two machines?
The Breville YouBrew features a backlit LCD display that makes customizing your coffee a lot easier.
With the YouBrew, you have the option to brew from 2 cups and up to 12 cups. But you can also brew a single cup of coffee and select from 3 sizes, including a travel mug, which fits perfectly under the coffee dispenser. The Cuisinart only allows you to select from 2 to 12 cups.
The Breville YouBrew allows you to choose from 7 grind settings for any of your cup selections. You can also choose from 5 flavor strength (steeping time). The Cuisinart Grind and Brew features a grind selector but it automatically adjusts the grind to the amount of cups you've selected, giving you less coffee customization.
Which Should I Buy, The Breville YouBrew or Cuisinart Grind & Brew?
If you care about a truly customized cup of coffee, the YouBrew is what you want. The Single Cup brew feature is also another great plus, not many coffee makers offer that. The design and control panel of the machine is clear to read and easy to use. It offers great value for your money.
Breville YouBrew Thermal vs. Glass: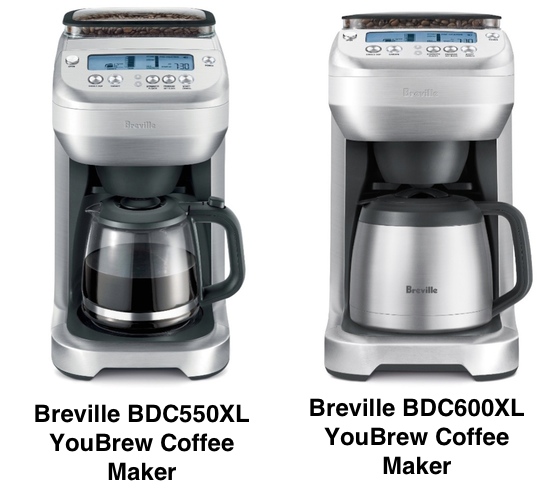 Convinced that the YouBrew is the right coffee maker for you? Great! The second decision you'll have to face is between two YouBrew models: the BDC600XL (Thermal) vs. BDC550XL (YouBrew Glass). Both work almost the same way, the difference is only in the carafe material, double-walled insulated thermal carafe or a glass carafe with heating element on the machine. Read the difference between these two in detail in this post: The Difference Between the Breville YouBrew 600 vs 550
Breville YouBrew vs. Keurig Coffee Makers, Is There a Difference?
As Keurig is a popular name in the coffee maker market, people often try to compare the Breville YouBrew to Keurig coffee makers, but there's absolutely nothing to compare. As of now (late 2014), Keurig does not have a coffee make with a built-in grinder. It does have many single-cup coffee makers, but it's not the same as the YouBrew at all.
Save