Whether it's a hot summer or a breezy fall, some people just prefer their coffee iced. If you consume a lot of iced coffee and buy it from your local cafe, you know those dollars add up to a whole lot by the end of the month.
Making your iced coffee at home is a lot easier than you think. In fact, if you have any coffee maker sitting on your countertop, you can start making your iced coffee right now at no extra costs!
Many people ask 'what is the best coffee maker for iced coffee'? The truth it, you don't really need any special tools to make iced coffee, you can use any coffee tools available at your home to replicate your favorite coffee house recipes. However, there are some coffee makers and tools that will make things easier for you. Also, what you might need will depend on the type of iced coffee recipe you want to make. So, keep reading to find out if you actually need new tools to make your favorite iced coffee or if you don't, how to make it.
Can You Make Iced Coffee Using Any Coffee Maker?
To answer this question, you need to know how your favorite iced coffee drink is made…
Types of Iced Coffee Drinks:
There are several kinds of iced coffee drinks and each uses different kind of method to prepare. I know the term 'iced coffee' is used to refer to any cold coffee drink, so here are some popular orders and what they actually are:
Iced Coffee usually refers to black coffee cooled down with ice. Some like it mixed with milk or flavored syrup. This coffee can be made using any drip coffee maker at home, or a Keurig machine. Also, a french press can be used to make the coffee manually.
Iced Latte: a Latte is an espresso based drink. It's made using either a single or double shots of espresso mixed with milk. Flavors can be added to taste. To make an iced latte, you will need an espresso machine. If you have a Nespresso machine or any kind of espresso machine, you're good to go!
Cold Brew: I know many people that confused cold brew for regular iced coffee. Truth is, they are entirely different. Cold Brew is coffee that has been brewed using cold water instead of hot water. The cold water interacts differently with the ground coffee than when using hot water. To start, it takes a lot of time to get the brew ready – at least 8 hours and up to 24 hours and more! The results of this slowly brewed cold coffee is a smooth yet bold tasting cup of coffee. Some people choose to make a cup of half cold brew half cold water or milk. Others choose to let the ice melt into the strong brew to balance the bold taste.
Making cold brew at home requires a special tool that is luckily inexpensive and easy to buy.
Best Iced Coffee Makers:
Now that we've cleared up the different kind of coffee makers and how they're made, let's look at some recommended coffee makers for each type of iced coffee drink:
Best Coffee Maker for Cold Brew:
There are two ways to make cold brew coffee at home:
Manual Cold brew maker: An affordable way to make a traditional batch of cold brew. The only downside to manual brewing is that it takes a lot of time, 8, 12 or 24 hours.
Automatic cold brew coffee maker: Buying an automatic cold brewer, although more expensive than the manual tool, it will have your brew ready in as little as 25 minutes!
Let's start with the manual cold brew coffee makers:
Airtight Cold Brew Iced Coffee Maker and Tea Infuser with Spout - 1.0L / 34oz Ovalware RJ3 Brewing Glass Carafe with Removable Stainless Steel Filter
➤ SMOOTHER COFFEE, EVERY TIME – Cold brewing is 70% less acidic than hot brewing. And richer in taste. Our cold brewer extracts coffee concentrate which can be stored and mixed with an endless variety of beverages to create your own perfect, personal cup of joy. Recommended grind size: Coarse
➤ LOCKS IN FRESHNESS AND FLAVOR FOR UP TO 2 WEEKS – Airtight seal. Easy-access handle. Engineered to perfectly fit within your fridge shelf. Experience refined craftsmanship you can always count on
➤ QUALITY YOU WON'T REGRET – 18/8 rust-free superfine laser cut filter, medical-grade stainless steel filter & lid cap. Extra-thick, lab-tested borosilicate glass. BPA-Free silicon airtight seal. Dishwasher safe. New upgrade: Non-slip rubber cushion base for extra protection. Professional home brewing has never been this easy: just mix and pour
➤ ICED AND HOT TEA COMPATIBLE – Great for loose-leaf tea. Or tea bags. Brew it hot like a traditional teapot, or brew it cold in the fridge. Take your brewing & hosting skills to the next level
➤ WE WANT YOU! TO BE HAPPY – Choose OVALWARE if you care about quality and customer service. We have great confidence in the quality of our products, and we have the best customer service here on Amazon - which is why we are offering you a Risk-Free purchase. In the unlikely event our product fails to meet or exceed your expectations, you may return our product within 30 DAYS post-purchase to receive a FULL refund
The Airtight cold brew coffee maker is as simple as it gets. It's a glass pitcher with a filter inside it. All you have to do is fill the stainless steel filter with ground coffee and fill the pitcher with either cold or room temperature filtered water. Then, place the filter inside the pitcher, cover it with the airtight cap and place it in the fridge to cool and steep for at least 12 hours.
The jug is clearly marked with measurements for the amount to coffee you'd want to brew. However, it is recommended that you brew a full pitcher since it takes time to prepare and it can stay cool in the fridge for up to 2 weeks.
Airtight Cold Brew coffee maker is available in two sizes: 1L (34 oz) and 1.5L (51 oz).
OXO BREW Compact Cold Brew Coffee Maker:
Sale
OXO Brew Compact Cold Brew Coffee Maker
Brew low-acid coffee concentrate for hot or iced coffee
24-oz brewing container makes enough concentrate for up to seven coffee drinks
Compact size is ideal for brewing on countertops or in refrigerators
Draining starts automatically when brewer is placed on carafe
Rainmaker evenly distributes water over coffee grounds
This brewer is designed in a way that makes cold brew concentrate that is usually mixed with water or milk when consumed. The OXO is a compact cold brew coffee maker that sits either on your countertop or in the fridge. It is made up of two compartments:
The brewer – which is where the coffee ground and water distribution happened.
The carafe, where the cold brew concentrate is stored.
To make the coffee, fill the brewer with your coffee ground to the marked line and then attach it to the carafe. The second step is to fill the water on the top part of the brewer, which OXO calls the 'Rainmaker', since it's designed to 'rain' over the grounds and saturate it with water evenly.
You can let the brewer stay on your countertop or in the fridge. The brewing process takes up to 24 hours.
Now for the automatic cold brew coffee maker, Cuisinart DCB-10:
Sale
Cuisinart DCB-10P1 Automatic Cold Brew Coffeemaker with 7-Cup Glass Carafe, Black/Stainless
7-cup glass carafe with removable stainless steel filter lid makes ready-to-drink cold brew Coffee in as little as 25-45 minutes
Strength Selector for mild (25 min), medium(35 min) and bold(45 min)
Clear brewing chamber; removable water tank and Coffee filter basket for easy filling and cleaning
Coffee release lever with indicator light. MC Cubic Feet: 1.569
Glass carafe can be used to store Coffee in refrigerator for up to 2 weeks
This automatic cold brew coffee maker promises to make you up to 7-cup of cold brew in 25 minutes to 45 minutes for bolder brews. It does this by using a spinning technology that's able to drastically cut the time to prepare the cold brew.
The cold brew coffee maker looks kind of similar to a drip coffee maker, but it operates differently since it uses cold or room temperature water.
To use this machine, you're going to fill up the filter basket with ground coffee the fill the water reservoir. It will look similar to the cold brew pitcher. But this is where things get interesting:
Now all you have to do is select your brew strength: mild, medium or bold. Once you've selected your desired strength, the machine will go to work and start the process: the filter basket start spinning to speed the process of brewing. It will take anywhere from 25 minutes to 45 minutes depending on the strength you selected.
The carafe has another filter inside it, so when the coffee is dispensed into it, it is filtered for a second time. It is also designed to keep the cold brew stored in it for up to 2 weeks in the fridge.
How To Make Iced Coffee Using a Keurig Coffee Maker: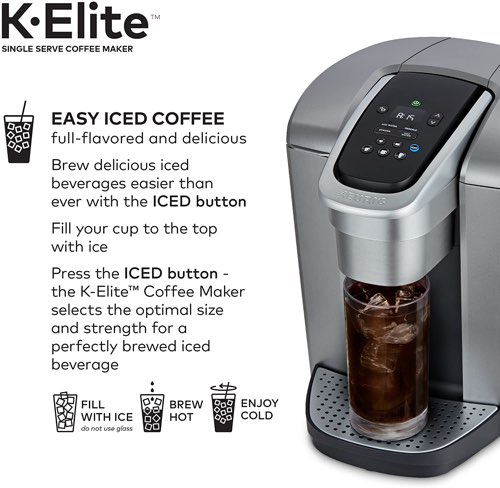 If you already have a Keurig coffee maker, you're all set to make your favorite coffee iced. Some Keurig models have an Iced drink option where it will slightly alter the temperature and serving size of the coffee so it doesn't taste watered down when ice melts. One of the popular models that has this feature is the K-Elite. It's okay if your machine does not have this feature, we can make a few changes to make up for it.
What You'll Need:
Your choice of K-Cup will make a lot of difference here. It is recommended that you use a dark roast or use the Strong Brew button if you have that option. The stronger your coffee taste the better, this is what will stop your coffee from tasting watered down with ice.
Optional: Milk, Creamer or additional flavors.
How To Do It:
There are two ways to do it:
You can fill up your cup with ice and then brew directly over it. If using a glass, you'll want to be careful as some glass cups shatter due to temperature shock.
The second way to do it would be to brew the coffee as usual. And in a separate cup, put in the ice. Let your coffee cool for a few minutes then pour it over the ice.
If you like your iced coffee black, then that's it, you've made it! Otherwise, you can add anything you want to your cup at this point:
Flavored syrup – cold milk – sweetened creamer – get as creative as you like!
NOTE: This same method works when using any drip coffee maker, too.
How To Make Iced Coffee Using a Nespresso Machine:
Nespresso machines are perfect for making iced lattes. Whether you have an Original Line or a Vertuo Line, you can make quick shots of espresso to create your iced latte.
How To Do It:
Pick a strong capsule (if you prefer a milder taste then go for it). Nespresso has some capsules made especially for iced drinks.
Fill a tall cup with ice.
Fill the cup with your choice of milk. If you have a frother, this would be the step where you create cold froth then add it to the glass.
If you want your Iced latte flavored, it's recommended you add the flavored syrup to the glass before the milk.
Now it's time to brew your shot. You can use a single shot (one capsule) or a double shot (two capsules). If using a Vertuo machine, then you can use one Double Espresso capsule.
Brew directly over the ice, or brew your shots separately then slowly pour them into the cup.
Recommended Ingredients:
Sale
Torani Variety Pack Caramel, French Vanilla, Vanilla & Hazelnut, 25.4 Ounces (Pack of 4)
Coffee Flavor Variety Pack: Perfect for making your own flavored lattes, mochas, cappuccinos and more, this variety pack includes 1 bottle of each: Caramel, French Vanilla, Vanilla and Hazelnut
Flavoring Syrups: Made with pure cane sugar, natural flavors and cold-filtered water, Torani Original Syrups provide gold-standard flavors and vibrant colors to create amazing drink experiences
Authentic Coffeehouse Flavor: From caramel to French vanilla to hazelnut—and everything in between—our syrups and sauces are here to help you create tantalizing lattes, cappuccinos, cold brews and frappes
Find Your Recipe: We are here to help you create tantalizing drinks for every taste, occasion, and mood; Mix up some magic with caramel, lavender, pumpkin pie, hazelnut, chocolate, and many more flavors
Flavor For All: Discover how Torani can help you make truly creative flavored teas, lemonades, smoothies, milkshakes, Italian sodas, coffees, cocktails, mocktails, snow cones, sparkling waters and more
Starbucks Variety Syrup 4pk, Variety Pack
Bring home signature Starbucks café flavor with Starbucks Naturally Flavored syrups and sauces. Elevate your morning coffee
Starbucks Naturally Flavored Vanilla Syrup has a sweet and rich flavor, Caramel Syrup has a smooth and buttery flavor, and Hazelnut Syrup has a rich and nutty flavor flavor
Starbucks syrups and sauces pair perfectly with your favorite Starbucks coffee
Add one tablespoon to your 12-oz. coffee for a splash of smooth and buttery caramel flavor
This variety pack includes two bottles of Vanilla, one of Hazelnut and one of Caramel flavored coffee syrup
Starbucks Liquid Coffee Creamer, Caramel Flavored Creamer
Inspired by Starbucks Caramel Macchiato - One (1) bottle of Starbucks Caramel Flavored Liquid Coffee Creamer SNAP and EBT Eligible item
Flavored creamer with layers of sweet, buttery caramel and hints of vanilla flavor
A tasty alternative to milk, half and half, and regular creamer in your morning cup
Pairs well with any brand of coffee, including your favorite Starbucks roast
Delicious in hot and cold coffee drinks, tea and other beverages
Almond Breeze Dairy Free Almondmilk, Unsweetened Original, 32 FL OZ
Contains 1 32 ounce shelf stable container
A deliciously creamy alternative to dairy and soymilk
Only 30 calories per serving
Low on the glycemic index, making it an ideal choice for people who want to avoid sugar
Non GMO Project Verified, lactose free, soy free, gluten free, calcium enriched
Califia Farms - Toasted Coconut Almond Milk, 48 Oz, Dairy Free, Plant Based, Vegan, Gluten Free, Non GMO, Sugar Free, High Calcium, Smoothie, Coconut Milk
DELICIOUSLY DRINKABLE: Toasted Coconut Almondmilk is a smooth and creamy blend of almond milk and coconut cream with the blissful flavor of toasted coconut. It's sugar-free, but still totally delicious. Always plant-based, always dairy-free
EXCELLENT SOURCE OF CALCIUM: Toasted Coconut Almondmilk is an excellent source of calcium. Plus it's only 45 calories and 0g of sugar* per serving. *not a low calorie food
SIMPLE PLANT-BASED INGREDIENTS: Califia Farms plant milks are made with plant-based, dairy-free ingredients that are Non-GMO Certified, Kosher, vegan, and free from carrageenan
GREAT FOR BAKING: Toasted Coconut Almondmilk is perfect for baking and making your favorite dessert recipes. Pour over cereal, blend into smoothies, add to coffee, or drink it straight from a glass. This plant milk is deliciously versatile
Flavor: Almondmilk with notes of toasted coconut
How To Instantly Cool Coffee:
Let's say you made a hot coffee and want to cool it instantly to turn it into iced coffee drink. What do you do? Even placing it in the fridge or freeze will take some time to chill it.
Believe it or not, there's actually a really nifty tool just for this…The HyperChiller!
Sale
HyperChiller HC2 Patented Iced Coffee/Beverage Cooler, NEW, IMPROVED,STRONGER AND MORE DURABLE! Ready in One Minute, Reusable for Iced Tea, Wine, Spirits, Alcohol, Juice, 12.5 Oz, Black
Note: 1)Too coarse a grind, too little coffee, or insufficiently tamping the grounds before brewing can all lead to inadequate pressure for a proper brew. 2)It is important to note that the amount of espresso extracted will vary depending on the grind size and amount and reprogramming may be needed when the size and amount are adjusted.Please refer to user guide or user manual or user guide (provided below in PDF) before first use
NEW, IMPROVED,STRONGER AND MORE DURABLE! We listen to our dedicated "Chillers", so HyperChiller is constantly improving. We've also added new colors for you to choose from!
IMPROVED V2 PRODUCT - the easiest, most cost effective way to chill your favorite beverages! Our Patented design uses regular water to chill and because there are no chemicals or Gels, all parts of the HyperChiller are dishwasher safe!
SAVE TIME, NO ICE NEEDED - Having to hit the floor running this morning and don't have time to prepare your iced Coffee? HyperChiller will chill your Coffee in less than 60 seconds! Take the edge off a hectic morning by enjoying an Iced Coffee on the go
COMPATIBLE AND ADAPTABLE - It works with ALL types of coffee makers whether you use a single brew or a K-Cup by brewing directly in to your HyperChiller! Drip style model, no problem, simply pour the Coffee from the carafe and you are Iced in 60 seconds!
HyperChiller cools any beverage in less than under a minute. One of its perfect uses is to chill coffee almost instantly without diluting it.
How does it work?
For this to work, you have to keep your HyperChiller in the freezer always so its ready for next use.
It has a patented multi-chamber design, these chilled chambers, made of stainless steel, hold the beverage between them to rapidly cool it.
HyperChiller is the only way I can think of that will instantly cool your coffee without the need to even ice to it – all in under a minute.