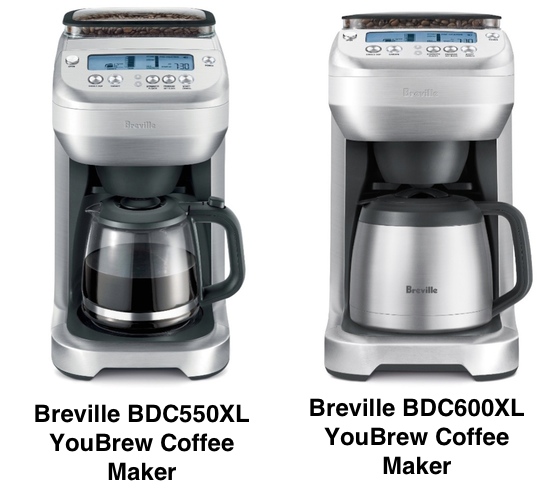 In a previous post, we have suggest a few excellent coffee makers with built-in conical burr grinders. We happened to mention the Breville YouBrew coffee maker in that post, but we also found that there are two available YouBrew coffee makers by Breville: BDC550XL and BDC600XL, which might confuse you. So we're dedicating this post to telling the difference between these two models.
What Is The Breville YouBrew Coffee Maker:
Let's start by telling you more about the YouBrew coffee maker in general, here are some of its amazing features:
A drip coffee maker with built-in conical burr grinder.
Automatically grinds as much coffee as needed for your required amount of coffee, ensuring the freshest pot of coffee, always.
Choose from 7 adjustable coffee strength (amount of coffee ground) and 5 flavor settings (steeping time).
Brews up to 12 cups capacity.
Beautiful stainless steel housing, durable and easy to clean.
Bean hopper holds up to 0.5 lbs of coffee.
Can accommodate a single cup or a travel mug as well as the included coffee pot.
LCD display allows you to easily program and select options.
Auto-start option.
What Is The Difference Between the Breville BCD550XL and BCD600XL?
There are only a few differences between the two, but could amount to a lot depending on your use:
The BCD550XL, also known as the YouBrew Glass, has:
a glass 12-cup carafe.
a warming plate, which has a 2 hours auto-off or can be shut manually.
it does NOT allow you to select less than in the tank (you must brew a full pot or a single cup).
As for the BCD600XL, it has the following features:
A double-walled thermal carafe that can keep coffee hot for hours.
It does NOT have a warming plate (it's not needed since the thermal carafe can keep the coffee hot for hours).
You can select to brew a single cup, full carafe or less (brewing full tank is NOT necessary).
Common Questions About The Breville YouBrew Coffee Maker:
What Accessories Are Included with the Breville YouBrew Coffee Maker?
Gold tone filter.
Cleaning brush for the coffee and grinder chute.
Can You Use Pre-Ground Coffee with the Breville YouBrew Coffee Maker?
Yes you can! Say you want to use a coffee blend different that the one you have in the bean hopper. You can do that by adding your ground coffee in the coffee basket and it will brew nicely. Just make sure you're using a drip coffee ground (not a fine espresso grind, for example). Also make sure to select the pre-ground setting in the machine.
What Is The Difference Between Choosing Grind Settings and Flavor Settings?
Grind settings in this machine will refer to the amount of coffee brewed, while Flavor settings will refer to how strong the coffee is. The stronger the flavor you choose, the more the coffee will steep, therefore, producing a stronger flavor.
Does The Breville YouBrew Require Paper Filters? What Kind?
No, the machine already comes with a gold-tone filter. However, you can use a paper filter if you prefer.
Is The YouBrew Programmable?
Yes, both the BCD550XL and BCD600XL are fully programmable.
Which Is Best To Buy, The Breville YouBrew BCD550XL or the YouBrew BCD600XL?
To answer this question you have to decide on:
how long you want to keep your coffee hot? The BCD600XL with thermal carafe should keep your coffee hot for up to 2-hours, which is something the BCD550XL does NOT offer.
With the BCD550XL, you have to option to brew a single cup or a 12-cup carafe.
With the BCD600XL, you can brew a single cup, pause a brew whenever you want or brew a full carafe.
Given that the price difference is around $40 or so, I personally would opt for the BCD600XL as it offers better brewing options.