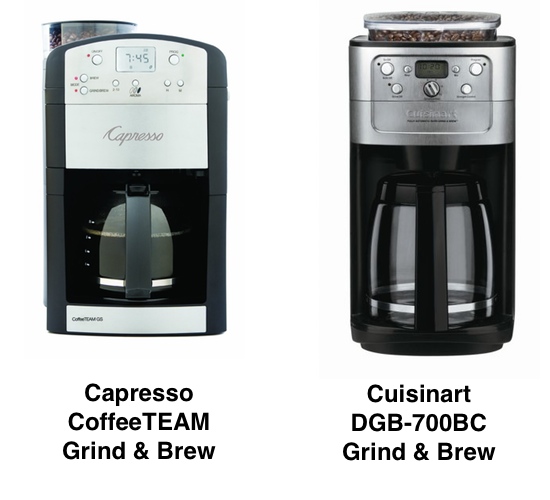 While we are at the subject of comparing coffee makers with built-in grinders, here are two options that are usually compared to each other: the Capresso Coffee TEAM 10-Cup coffee maker and the Cuisinart DGB-700BC 12 cup coffee maker. We'll look at their features, differences and which might be best for you.
A Comparison Between the Capresso and Cuisinart Grind & Brew Coffee Makers:
What Do They Have in Common?
a built-in conical burr grinder.
programmable, with auto-start, a clock, coffee grind and brew selection.
Automatic coffee grind dosing for selected coffee amount.
Both machines can be used with or without the grinder, you can use pre-ground coffee instead.
Warming plates to keep coffee hot.
What Is The Difference Between the Capresso Coffee TEAM and Cuisinart Grind and Brew?
Water Capacity:
The Capresso makes up to 10 cups.
The Cuisinart makes up to 12 cups.
Bean Hopper Capacity:
Capresso: 6 ounces
Cuisinart: 8 ounces
Grind settings:
Capresso: choose from 5 grind settings
Cuisinart: choose from 3 grind settings
How Is The Capresso and Cuisintart Grind & Brew Coffee Makers Compared to the Breville YouBrew?
Now that's a good question! The Capresso and Cuisinart Grind & Brew coffee makers are at the same level, while the Breville YouBrew is at the next level. It is more expensive, but it offers more brewing options, especially if you go with the YouBrew BDC600XL:
It can brew a single cup, a full 12 cup carafe or can pause your brew at anytime.
Single cup options vary from small to extra large cup size.
It offers more flavor and grind settings (7 settings)
It's almost fully stainless steel, with very little plastic parts.
The Capresso and Cuisintart Grind and Brew coffee makers do not have a single cup option, however, they can pause brewing process.
Grinder Cleaning Process:
Whether on the Capresso or Cuisinart, cleaning a built-in coffee grinders is fairly easy:
The grinders on either machine are not detachable. You cannot take them out to clean. However, to maintain the fresh taste of your coffee, you will have to clean out the chute at least once a week, maybe twice if you're using oily type of beans (dark roast) as those tend to clog chutes easier.
A cleaning brush is included with your machine. All you have to do is brush out any stuck coffee grounds or beans. In the case of stubborn beans, you might have to flip the machine and give it a bit of a shake to get those out. And that's about it.
Common Questions About the Capresso or Cuisinart Grind and Brew Coffee Makers:
Can You Use a Thermal Carafe Instead of the Included Glass Carafe?
No, you can't, as they have an active warming plate which can damage your thermal carafe.
Can You Make Less Than the Full 10 or 12 Cup Capacity for the Capresso or Cuisinart Grind & Brew?
Yes, you can. For the Capresso, you can make a 2, 4, 6, 8 or 10 cups. For the Cuisinart, it goes from 2 to 12 cups, too. You just can't make a single-cup brew.
Can You Use Pre-Ground Coffee with the Capresso and Cuisinart Grind and Brew Coffee Makers?
Yes, you can. Both machines have an included reusable coffee filter, or you can use a paper filter to brew a pre-ground coffee.
You can learn more about all available Capresso CoffeeTeam coffee makers here.