One of the easiest way to prepare a creamy and frothy cup of Cappuccino or Latte is by using an electric milk frother that heats and froths up the milk in minutes. Aeroccino is a milk frother by Nespresso, and it is available as a stand-alone machine, bundled with a Nespresso espresso maker or built-in as with the CitiZ & Milk for example.
In this post, we'll look at two of Aeroccino's models: the Aeroccino 3 and Aeroccino 4. We'll look at their features and the difference between them.
Quick Comparison
| | | | |
| --- | --- | --- | --- |
| | Aeroccino 3 | Aeroccino 4 | Breville Milk Cafe |
| Housing | Plastic | Stainless Steel | Stainless steel |
| Interior | Teflon | Ceramic coating | Stainless steel |
| Adjustable temperature | Hot/cold | Hot/Cold | cold stir, warm, 120F, 140F, 160F |
| Add Ingredients | No | No | Yes |
| Capacity | One serving | One serving | 750 MLS |
| Dishwasher Safe | No | Yes | Yes |
Aeroccino 3 vs. 4, What's The Difference?
Best Pick
Nespresso Aeroccino4 Milk Frother, One Size, Chrome
Nespresso Aeroccino3 Milk Frother, One Size, Black
Best Pick
Nespresso Aeroccino4 Milk Frother, One Size, Chrome
Nespresso Aeroccino3 Milk Frother, One Size, Black
The Aeroccino 4 has been updated from the Aeroccino 3 to include features for better operation and easier cleaning.
Design:
Aeroccino 4 has a better design, with a nice stainless steel body, a handle and a base with more option buttons.
Aeroccino 3 has nonstick interior but plastic exterior, no handle and only a single button.
Froth Options:
Aeroccino 4 offers more froth options: Airy froth, Dense froth, Hot Milk or Cold. Each option has a dedicated button on the base. No need to switch whisks, a single whisk does all frothing options.
Aeroccino 3 has two froth options: Dense foam for Cappuccino or lighter foam for latte or hot chocolate. It includes a single whisk, but if you want less foam, you'll have to remove the whisk and operate the frother without it.
Cleaning:
Both Aeroccino frothers can be easily hand washed.
But, only Aeroccino 4 is dishwasher safe.
Aeroccino 3 is NOT dishwasher safe.
Which Should You Pick?
Aeroccino 4 is the better pick here, for sure. It has a better ceramic coating, which is known to last longer. It is dishwasher safe and overall easier to clean. It also has more froth options. But on the downside, it's not budget-friendly. So just keep that in mind if you're on a tight budget. If not, it's definitely the best pick.
Aeroccino Capacity
Both models froth for Cappuccino or Latte, they both have the same capacity for each, too.
The capacity for Cappuccino is 4oz (120ml) and for Latte, 8 oz (240ml).
Features of Nespresso Aeroccino 4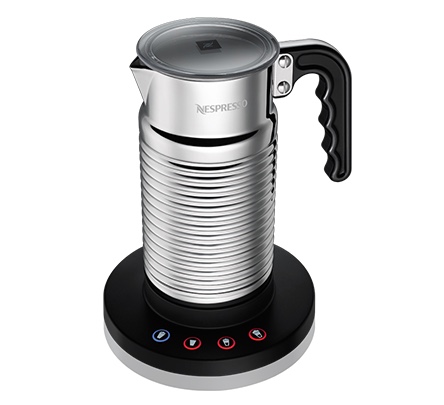 Electric milk frother, detachable from base, that heats and froths milk.
Stainless steel housing
Can create hot or cold froth.
Choose from 2 type of hot froth: Airy (perfect for Cappuccinos) or Dense (Perfect for Macchiato). Another Hot Milk option is used for Latte or Hot Chocolate.
Base has 4 buttons: cold froth, hot milk, Dense Foam, Airy Foam.
Convenient handle for easy pouring.
Includes a single whisk for all froth preparation.
All parts (apart from base) are dishwasher safe.
Click here to learn more about Aeroccino 4, read the customer reviews and buy it. If not available, check Nespresso website.
Nespresso has updated the design of the Aeroccino 4 (as of 2022) and pictured above is the new design. It works exactly like the older one. The only difference is where the buttons are located. They are now located at the buttom of the frother jug, making the base smaller than the older version. The new model still has the same features and is still dishwasher safe.
Features of Nespresso Aeroccino 3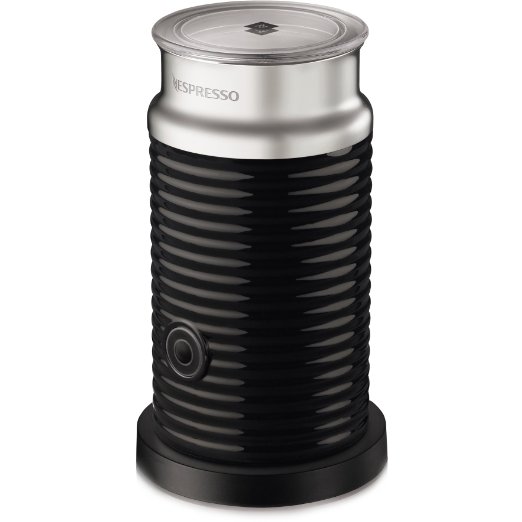 Stainless steel pitcher with plastic housing.
Single button operation.
Can make hot or cold froth.
Includes a single whisk. For heavier foam (for Cappuccino) froth with whisk, for a lighter foam (for Latte), remove the whisk.
Click here to learn more about Aeroccino 3, read the customer reviews and buy it.
Also available from: Target
Is Aeroccino 3 Dishwasher Safe? How To Clean It?
No, it's not diswasher safe and it should not be immersed in water. You can clean in by simply rinsing the inside of the frother with water and soap and discarding. You should be careful of water reaching the electric elements on the bottom. If some water splashed into it, make sure to dry it immediately and don't use it until it is thoroughly dry.
If you want to learn more about Aeroccino possible issues and how to care for it, here's our full Aeroccino troubleshooting guide.
Other Comparisons
Aeroccino 4 vs. Breville Milk Cafe, What's The Difference?
Breville BMF600XL Milk Cafe Milk Frother
Latte frothing disc for smooth and silky milk. Please review the Product Videos under the images before use.
Cappucino frothing disk for thick and creamy froth
Hot chocolate maker, by simply adding drinking chocolate powder, flakes or syrup to the warming milk
On-board disc storage
Product uses induction heating, you can simply place the jug in the dishwasher for easy cleaning.
The Breville Milk Cafe (also available from Breville) is definitely one of the best choice for an electric milk frother, despite it being a bit more costly than other options, it's still one of the best selling frothers because it offers a lot of value for its money. The Breville Milk Cafe is actually a step (or two!) up from the Aeroccino, here's how:
It uses induction heating for making consistently great froth.
Stainless steel exterior and interior – no teflon or any non-stick lining.
Temperature control: choose how warm or hot you want your milk froth.
Can prepare cold froth, too.
Includes two frothing whisks: one for Cappuccino and another for Latte.
You can add ingredients directly into the frothing as it's whisking the milk: add chocolate syrup, chocolate powder or shavings.
Large capacity. Makes up to 3 cups of froth at once.
So, as you can see, it's quite different in how it operates in comparison to both Aeroccino 3 and 4. It has a large capacity pitcher, it has temperature control and ingredients can be added directly to it…. these are the type of features that set it apart from other frothers.
Video Reviews
Aeroccnio 4 – How To Use:
Making a Cappuccino Using Aeroccino 3:

Breville Milk Cafe Review:

General Questions About Electric Milk Frothers
How Do I Froth Almond Milk Using an Electric Milk Frother?
Using any of the milk frothers listed above (Aeroccino or Breville Milk Cafe), you should be able to froth Almond Milk just fine. However, due to the consistency of almond milk (as well as other alternative milks), it doesn't froth the same way as whole milk. If your almond milk is not foaming, then try switching brands.
Does a Milk Frother Heat Milk?
Electric milk frothers like the Aeroccino or Breville Milk Cafe do heat milk. Simply add the cold milk and let them do their magic. If you decide to go for something like a hand held milk frother, then no, these don't heat milk but only froth a milk that's already been heated.
Can I Froth Milk Creamer instead of Milk?
Frothing a milk creamer won't likely won't work due to its ingredients and consistency. However, you can milk a little bit of creamer with your milk or try using half and half, which should work way better than a creamer.
Is Using an Electric Milk Frother the same As Using a Steam Wand?
When you order your coffee at a cafe, they prepare the milk froth using the steam wand attached to the espresso machine. The milk is heated and textured using steam injected into the milk to create that creamy texture. Your electric milk frother doesn't inject steam into your milk, but instead, it whisks the milk with air to create that beautiful foam. The results are not the exactly the same, but an electric frother is the best you can do at home.
Save