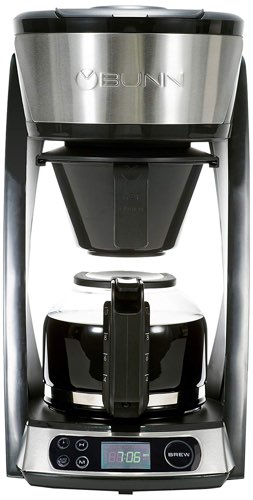 BUNN has always made some of the best commercial coffee makers out there. It makes pretty good home coffee maker, too. BUNN's machines are of few that are certified by SCA (Specialty Coffee Association), which means it brews coffee at the optimal water temperature of 197.6º F. This HB Heat N' Brew model is slightly different than other Bunn coffee makers for home. It finally has the feature that has always been missing from previous models which should get Bunn fans really excited.
Features of BUNN Heat N' Brew Coffee Maker:
SCA certified coffee maker that brews the perfect coffee at an optimal temperature between 197.6º F and 204.8º F
Commercial style, lime-tolerant 6-stream sprayhead design that saturates coffee ground completely to extract full flavor.
Maintains the ideal contact time between water and coffee grounds for proper extraction.
Digital programmable clock for auto-start.
Digital display shows you indicators of each stage of coffee brewing.
Brews up to 10 cups (50 oz)  of coffee in 6 to 10 minutes.
Does not have a water reservoir. Simply fill the tank for the amount of coffee you want to brew.
Drip-free glass carafe design.
Automatic warming plate turns on while brewing and turns off after 2 hours.
What's New In The BUNN Heat N' Brew Coffee Maker?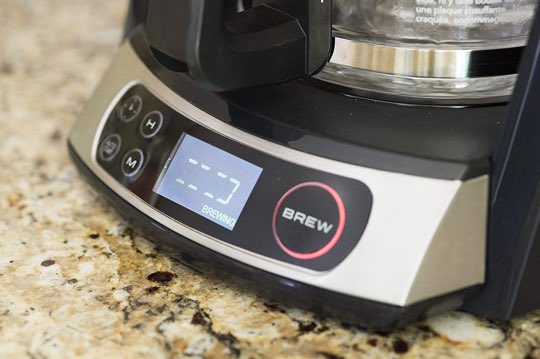 The best part about the Heat N' Brew model, and it's basically what's been missing from all other BUNN models, is the digital clock and display:
The digital clock is not there just to display time, of course. You can use it to set your machine to automatically start brewing any time you want.
The display will show you different stages of the brewing process when the machine is working. Whether it's heating water or brewing, you'll find what stage the machine is on written on the display.
Yet, what's still missing from Bunn's coffee makers is a pause and pour feature that allows you to pause the brewing cycle before it ends.
Brewing Stages of BUNN Heat N' Brew Coffee Maker:
As soon as you hit the Brew button, the first stage start, which uses Heat N' Release technology of the machine. This technology uses the thermometer to measure when the water reaches the optimal temperature for brewing. The valve opens for the brewing to start only after the water has reached 197.6º F. This stage takes about 6 minutes.
The second stage is brewing. Heat and Release now works to maintain the optimal contact time between water and coffee grounds to meet SCA standards. The 6-stream sprayhead releases water in a way that will ensure all coffee grounds is fully covered and saturated in water and extracts the full flavors from your beans. This stage takes about 4 minutes.
Dimensions and Materials Of BUNN Heat N' Brew: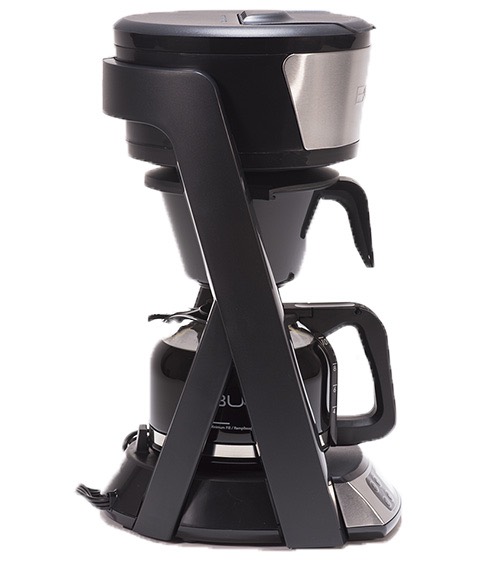 The machine has approximate dimensions of 9.7 x 8.7 x 16.3 inches. It weight about 8.5 pounds. While the machine isn't exactly large, it is slightly higher than average, which can make it a bit of a problem for someone with lower cabinets.
Material wise, it has a plastic body with some metal accents.
The included carafe has 50 oz capacity. It"s made of glass with a plastic handle and drip-free plastic lid. All plastic parts are BPA-Free.
Using the marked measures on the water tank, you can make 4, 6, 8 or 10 cups of coffee.
The warming plate can maintain temperatures 176-185°F for 2 hours before automatically shutting off.
What Are the Cons of BUNN's Heat N' Brew Coffee Maker?
So far, everything we've mentioned about the Heat N' Brew is quite great. Here are some of the few cons:
No Pause and Pour feature – this is still missing from all Bunn machines. Some automatic drip coffee makers have a pause feature that allows you to stop the brewing process before it finishes to enjoy a cup. In the case of Heat N' Brew, you have to wait for the full brewing process to finish.
Taller than your average countertop coffee maker – in comparison to other BUNN (or other brands) coffee maker that range between 9 to 14 inches in height, Heat N' Brew stands at 16-inches tall. So if you plan to place it under a cabinet like most of us do, make sure to measure the height of your cabinets first. You'll need a few extra inches of clearance that will allow you to freely open the lid to add the water to the tank.
No Bloom (Pre-infusion) stage – this isn't as important of a stage to everyone, but it would be great to have as an option. Blooming is a step that de-gasses freshly ground coffee beans for even more flavor to your cup.
BUNN Heat N' Brew Compared To Other BUNN Coffee Makers:
Two of the most popular BUNN models are Velocity Brew and Speed Brew coffee makers. How does the Heat N' Brew compare to them?
There are obvious design differences that we will not get into. How they work is more important, and all models actually work exactly the same way, but differ in speed.
However, the Heat N' Brew is the only model that has a digital clock for auto start. If you want your brew to start automatically at a set time, the Heat N' Brew is the only BUNN model to do it.
Speed wise, Heat N' Brew is the slowest. It takes up to 10 minutes to brew a full pot. While Speed Brew and Velocity Brew take 3 to 4 minutes.
Video Overview of BUNN Heat N' Brew Coffee Maker: