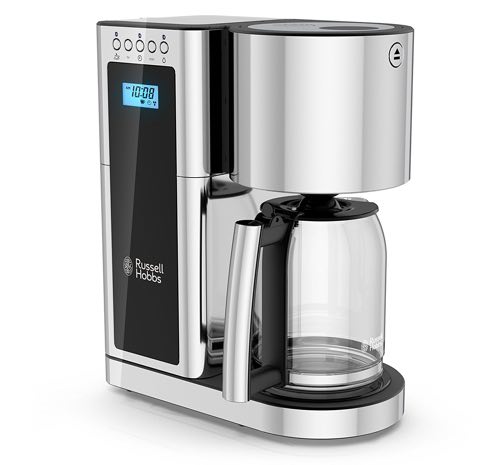 Russell Hobbs is a well known brand coming from the UK that has been manufacturing home appliances since the 1950s. While it's been a loved brand in UK and Europe, it's been making a good impression in the US, too.
In this post, we want to look at their nicely designed glass series 8-cup coffee maker. It looks great, no doubt there, but do the features match the design? Read on to find out…
Features of Russell Hobbs Glass Series 8-Cup Coffee Maker:
Fast brew technology. 40% faster brewing than previous Russell Hobbs coffee maker model.
Advanced Showerhead brew technology: the showerhead is designed to fully saturate the coffee ground for a full bodied flavor and perfect extraction.
Fully programmable: Set a timer for auto start.
LCD Display for easy machine programmability, timer setting and time display.
Pause and Pour feature allows you to pause the brewing cycle before it is finished allowing you to pour a cup.
Glass carafe with 42 oz capacity.
Hot warming plate keeps coffee hot.
Premium stainless steel exterior.
Click here to learn more about Russell Hobbs Glass Series Coffee Maker, read the customer reviews and buy it.

What Is Showerhead Technology?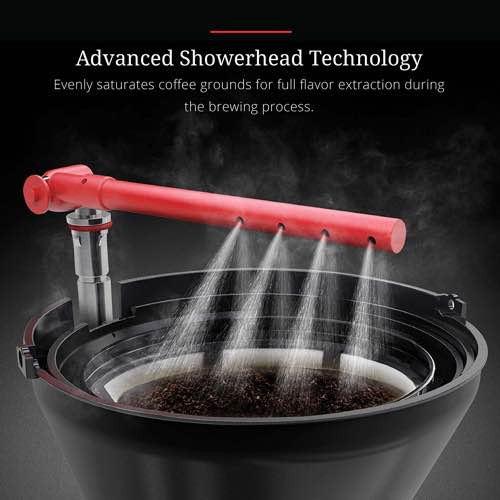 In older generation of coffee makers, the spout where the hot water comes down to saturate the coffee ground would be usually a really small spout. That usually resulted in coffee ground around the edges of the filter not getting wet at all, or not wet enough to extract fully. Showerhead technology was created to fix this issue. Now, the spout has more holes and sprays water evenly around the entire filter, leaving no coffee ground unsaturated. This type of water spraying evenly covers and wets all coffee ground, giving you full flavor extraction from your coffee ground.
Other coffee makers that have this feature include OXO On Barista Brain, Bonavita, Cuisinart Pure Precision Pour Over, KitchenAid Pour Over and Technivorm Moccamaster.
Russell Hobbs Glass Series vs. Russell Hobbs CM7000S, Which Is Best?
The CM7000S model is the previous one to the Glass Series we reviewed above. It has a similar design with beautiful and sleek stainless steel finish. However, it lacks some features:
No showerhead: CM7000S has a traditional spout for water. Which means you won't be getting the same even extraction that you'd get from the Glass Series coffee maker.
Not programmable: The CM7000S has no programmability function, so you can't set it to auto start.
The Glass Series coffee maker is 40% faster than the CM7000S.
Click here to learn more about Russell Hobbs CM7000S, read the customer reviews and buy it.

Which One Do You Buy?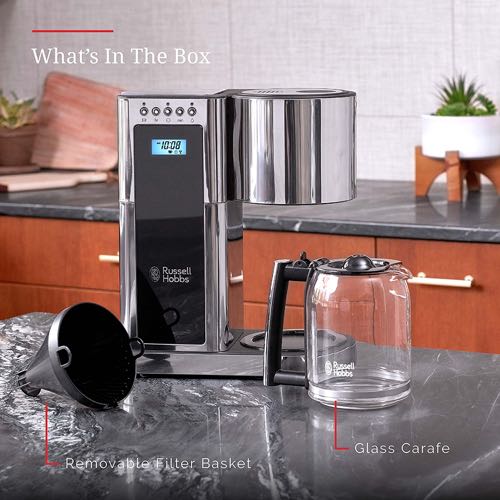 Of course, we prefer the Russell Hobbs Glass Series to the CM7000S model for the advanced features. Especially that the price difference between them is not big (as of the time of writing this post, at least). So we definitely believe you should go for the newer model instead of the CM7000S.