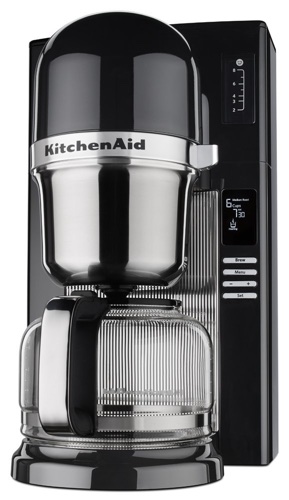 KitchenAid's automated pour over coffee maker is one of the few SCAA (Specialty Coffee Association of America) certified coffee makers. This coffee maker gives you the flavorsome cup of coffee that a pour-over makes with the convenience of an automatic coffee maker.
Features of KitchenAid Pour Over Coffee Maker:
Fully automatic and programmable coffee maker.
8 Cup capacity.
Mimics the method of manual pour-over brewing.
Progress bar on the LCD display shows you each step of the brewing process.
Advanced heating technology heats water up to 198°F -204°F at the top of the brewer to minimize heat loss while brewing.
Roast Selector option allows you to choose between Medium and Dark roast settings to bring out the best flavors of the roast you're brewing.
Select from 2 to 8 cup brew.
Brew basket clip holds paper filters (size #4) and provides dosage recommendations.
Includes a glass carafe.
Available black, silver and red.
Need a grinder to go with your Kitchenaid pour-over brewer?
Check out our post on the Kitchenaid Burr Grinder and how it compares to the Breville Smart Grinder Pro. 
What's The Difference Between an Pour Over Brewer and a Drip Coffee Maker?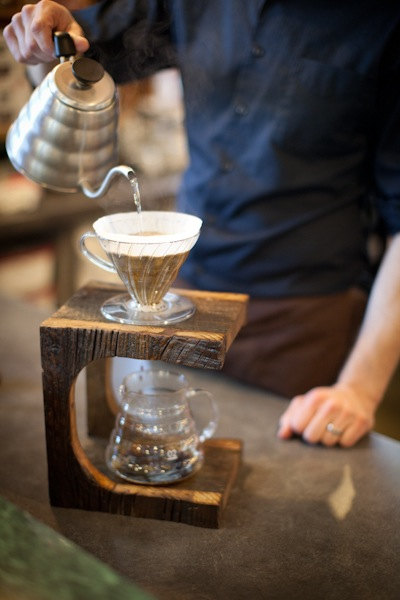 With drip coffee makers, the coffee is brewed by mixing hot water with the coffee ground, then the coffee basically starts dripping into the carafe.
Pour Over is a manual brewing method where hot water is slowly poured over the coffee ground. The coffee ground is usually coarse, so the water goes slowly through it. In Pour Over, it's all about contact time between water and coffee ground, the slower your brew, the better. This results in a very crisp and flavorful cup of coffee.
Manual Pour Over usually requires more time than drip to prepare the coffee, so while it's great, it's not very convenient for someone who's rushing out to work for example.
In an automated pour over brewer, the manual process is duplicated but automatically. The water in a pour over brewer is showered over the coffee ground, unlike traditional coffee makers that pour the water all at once.
An auto pour over maker gives you the convenience of automation with the aromatic and bold flavor of pour over.
Comparison: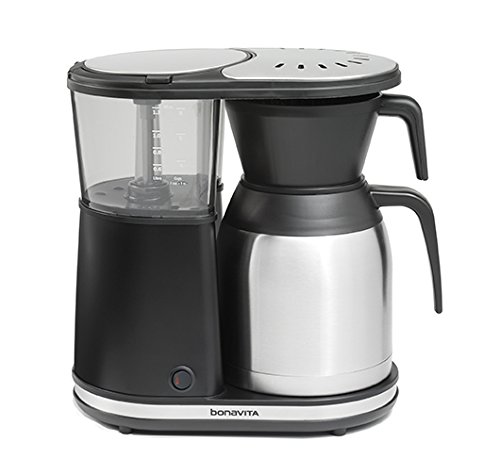 Click here to read our comparison between Kitchenaid Pour Over vs. Bonavita.
Watch a Video Review of the KitchenAid Pour Over Brewer:
Common Questions About KitchenAid Pour Over Coffee Maker:
– Can I Brew Less Than a Full Carafe (8 Cups)?
Yes, you can. While other automatic pour over brewers only brew a full carafe, the KitchenAid brewer has a cup selector feature that allows you to select from 2, 4, 6 or 8 cups. So even if your water reservoir has 8 cup of water, the brewer will only brew your selected numbers of cups.
– Can I Get the Brewer with an Insulated Stainless Steel Carafe?
Unfortunately, it is only available with a glass carafe.
– Is It Programmable?
It is 24hr programmable with auto start.
– Any Downsides to the KitchenAid Pour Over Coffee Maker?
There are a few complaints from customers that the coffee doesn't stay hot for too long after brewing even though the glass carafe sits on a hot warming plate. So we would recommend brewing only as many cups as you'd like to drink at a time.
There's no pre-infusion or blooming process. In manual pour-over, this is an important step where you saturate the coffee ground with only enough water to wet it, this leads to de-gassing the coffee and produces a better brew. However, the coffee is still evenly saturated when brewing.
It is considerably large in size, so make sure you have enough space before buying it.
Other SCAA Certified Coffee Makers To Check Out: