Features of KitchenAid Burr Grinder: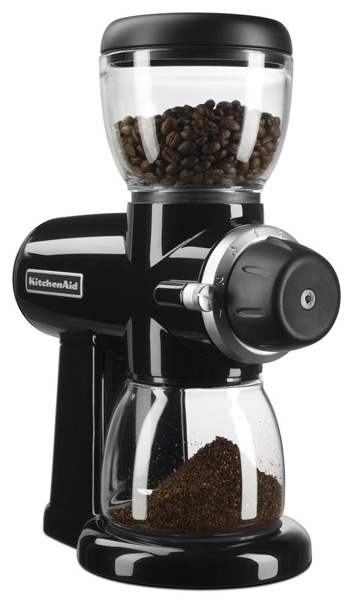 Controlled grinding, choose from 15 grind settings with lower grinder temperature and excellent consistency.
Stainless steel burrs.
450 rpm burr speed.
7 oz bean catcher jar, made of glass to minimize coffee static or "jumping beans"
Beautiful design available in 3 colors: red, silver and black.
Includes coffee scoop and cleaning brush.
Available in 3 colors
Features of Breville Smart Grinder Pro: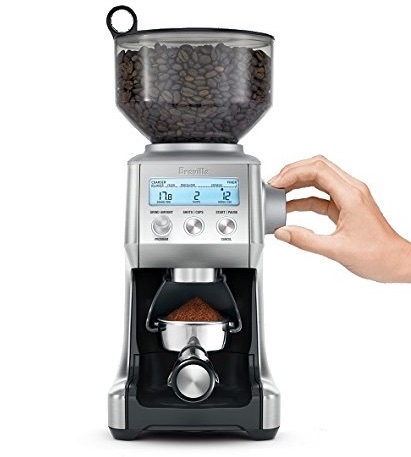 Choose from 60 precise grind settings.
Stainless steel burrs minimize heat in the grinder process to preserve oils and flavors.
Precision Electronic Timer allows you to adjust grinding time in 0.2 second increments for the most consistent grind every time.
LCD display allows you to enter your customization easily.
16 oz bean hopper capacity.
Ability to grind directly into a portafilter.
Also can grind directly into a grind container (included), gold-tone filter basket or paper filter.
Available in 3 colors.
Click here to read about the difference between the Breville Smart Grinder vs. Smart Grinder Pro
Click here to learn more about the Breville Smart Grinder Pro, read the customer reviews and buy it

What Is The Difference Between The Kitchenaid Burr Grinder vs. Breville Smart Grinder Pro?
Grind Settings:
Breville Smart Grinder Pro gives you a lot more grinder settings than the Kitchenaid, with 60 precise settings from fine to coarse.
Kitchenaid grinder offers only 15 grind settings.
Programmability:
The Breville Smart Grinder Pro has a clear and easy to read display that allows you to enter all your settings, from grind settings, number of cups, timer, and more.
The Kitchenaid Burr Grinder doesn't have and LCD display as it's not as programmable as the Breville. You can set your grind setting from an external dial and it should be all set.
Grinding Process:
With the Breville Smart Grinder Pro, after you've entered all your settings, hit the start button and it should start grinder. The grind can go into a container, directly into your portafilter if you're grinding for Espresso, or into a gold-tone or paper filter if you're grinding for drip.
With the Kitchenaid, after you've selected your grind setting, flick a switch for the grinder to start its job. The grinder can only grind into the container as it doesn't have a holder for holding a portafilter.
Should You Buy The Kitchenaid Burr Grinder or Breville Smart Grinder Pro?
If you're looking for value in return for your purchase (and who isn't!), then the Breville Smart Grinder Pro is the smart choice:
First of all, there's no comparison to the amount of grind settings the Breville offers vs the Kitchenaid. 60 grind settings vs. 15, you can only imagine the precision the Breville will offer you.
The LCD display is an excellent way to customize your grind even further, in a very simple way.
If you grind for different methods of coffee brewing, then you'll be happy with the fact that Breville Smart Grinder Pro can grind directly into a portafilter for Espresso or gold-tone filter or paper filter, if you're brewing for drip.
The Breville Smart Grinder allows you to set the number of cups you're brewing for. This way, the grinder automatically stops the grind when it reaches the correct amount of coffee ground. Using the Kitchenaid Burr grinder, you'll have to stop the grinder manually.
We're not saying that the Kitchenaid Burr Grinder is a bad grinder, not at all. However, for its price, you don't get that much out of it. For the same features and less in price, we'd recommend the Baratza Encore or Bodum Bistro instead.
Videos – Watch How They Work:
Kitchenaid Burr Grinder:

Breville Smart Grinder Pro: