We've written a lot about Bonavita's popular coffee makers models BV1800 and BV1900. Today, we're coving another version of the famous Bonavita, the BV1500.
Features of the Bonavita BV1500: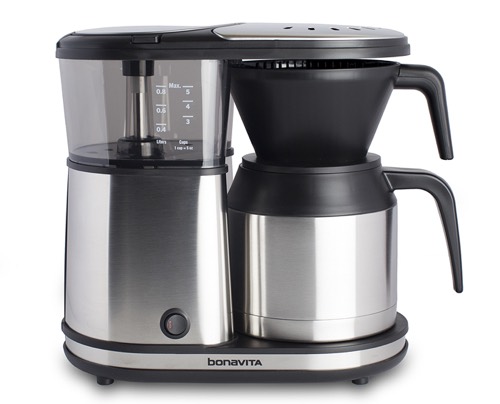 5-cup capacity, 5 oz per cup.
Coffee maker replicates the process of pour-over automatically.
Optional Pre-infusion mode saturates coffee ground to bloom (degas) and extracts more flavor.
Heater maintains water at optimal brewing temperature of 195F to 205F
Specially designed showerhead allows for ideal extraction in small batches.
Includes a thermal, stainless steel lined carafe.
The Bonavita is available in two models: BV1500TS and BV1500TD.
Click here to learn more about the Bonavita BV1500, read the customer reviews and buy it.
Also available to buy from: 1stInCoffee.com
What Is The Difference Between BV1500TS vs. BV1500TD?
There's one major difference between the TS and TD models, which not only makes a difference between these two, but also other Bonavita brewers.
The BV1500TD has a digital display with programmable auto-start timer. This isn't available in the BV1500TS or BV1800 and BV1900.
Who Should Buy the Bonavita BV1500?
The BV1500 was created as an alternative to the larger 8-cup models, the BV1800 and BV1900. As the Bonavita requires you to brew a full carafe each time, if you're a single user, or  prefer to brew a small batch at a time, the 5-cup BV1500 is the best choice for you. Although labeled as 5-cup, in reality, as most of us use large cups, a full carafe would provide you with 2 to 3 full size mugs.
Does Bonavita Make a 10-cup or 12-cup Coffee Maker?
No, as of now (2016) it doesn't. The largest capacity is 8-cups and it's available in the BV1800 and BV1900 models.
Watch How It Works:
Bonavita Comparisons Worth Reading: