When it comes to Bonavita or Bunn, you know for sure that these two names are tied up with quality coffee at home. This is why it could get quite confusing when choosing between the two brands. In this post, we'll look at the features and qualities of each brand, specifically, we'll look at the models Bonavita BV1900 and compare it to Bunn Velocity Brew, as both these brewers are at the same level.
Features of the Bonavita BV1900: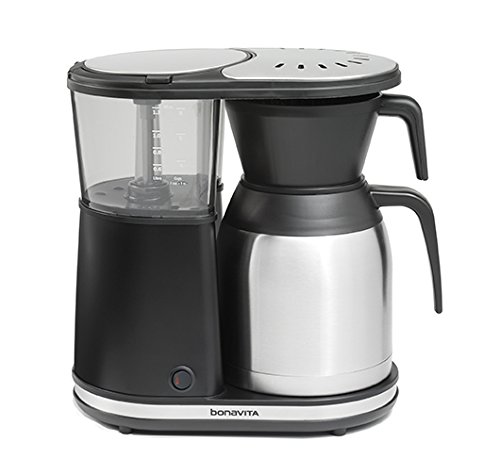 8- cup capacity coffee maker, 40 oz full capacity.
1500watts water heater keeps temperature at the optimal 195F to 205F.
Optional Pre-infusion cycle for coffee ground blooming (degassing).
Showerhead style sprayer and flat-bottom filter, both allow for an even extraction.
Includes a thermal carafe with stainless steel lined interior.
Click here to learn more about the Bonavita BV1900, read the customer reviews and buy it.
Features of BUNN Velocity Brew: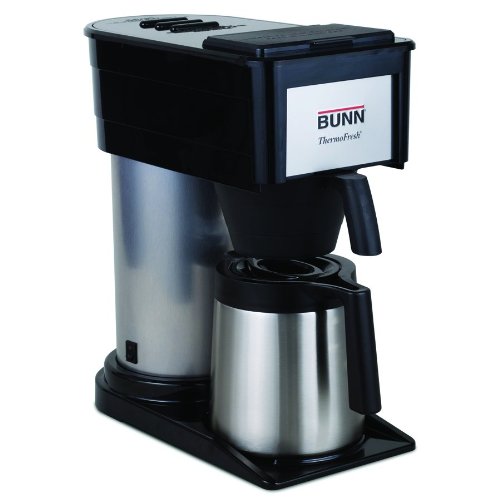 Brews from 4 to 10 cups, 50 oz  full capacity.
Brews a full carafe in just 3 minutes.
Stainless steel internal hot water tank brews coffee at 200F
Any remaining water can stay hot and dispensed for other uses like brewing tea, or making instant meals.
Showerhead sprayer with flat bottom filter basket.
Double-walled, vacuum sealed stainless steel carafe keeps coffee warm for up to 2 hours.
800-watts water heater.
Click here to learn more about BUNN Velocity Brew, read the customer reviews and buy it.
What's The Difference Between Bonavita and BUNN?
Brewing Method:
Both the Bonavita and Bunn are basically automated Pour-Over coffee makers. They brew coffee at an optimal temperature of 195 to 200, which gives them SCAA-certified label. However, the Bonavita gives you the option to run a Bloom cycle (pre-infusion or degassing, where the coffee ground is wet with a little bit of water before a full brew) and the Bunn doesn't.
Both brewers also use a flat bottom filter and a showerhead, which ensures full saturation of the coffee ground and an even extraction.
Capacity:
The Bonavita brews 8 cups of coffee with a full capacity of 40 oz.
The Bunn Velocity Brew brews from 4 cups to 10 cups, with a full capacity of 50 oz.
How Much to Brew at Once?
As with most coffee makers, the brewer will brew as much as you put into it. With the Bonavita, the marking starts at 2 cups, but those are 5 oz per cup measurement, so you'll have to make up your own measurement, if you will.
Same goes for the Bunn, if you want to brew less than a full pot, you can do that by using your favorite cup as a measurement to get the actual number of cups you want. The markings on the Bunn, like the Bonavita, are 5 oz per cup, which is smaller than the average user's cup size. Once you fill up the tank, the brewer will brew that full tank.
Water Heater:
The Bonavita has a powerful 1500-watts water heater that maintains a 195F to 200F temperature.
The Bunn has a 800-watts heater, but it's able to keep the water hot at 200F, just like the Bonavita. Additionally, it has a water reservoir that keeps hot water available for other uses.
Thermal Carafe:
The Bonavita has a thermal carafe with stainless steel lining on the inside.
The Bunn has thermal, stainless steel lined carafe as well. It advertises that it keeps coffee warm for up to 2 hours.
Brewing Time:
The Bonavita takes about 6 minutes to brew a full pot.
The Bunn Velocity takes about 3 minutes.
Which One Makes the Best Choice? Bonavita or Bunn Velocity Brew?
It is tough choosing between these two, we have to admit! The Bunn Velocity Brew seems to have a lot more customer reviews, so it's obviously more popular than the Bonavita. After all, the Velocity Brew is less expensive, quicker to brew and has a larger capacity, so it makes sense that it's more popular. Also, from our research, it seems that the Velocity Brew carafe is able to retain heat better that Bonavita's.
Comparisons To Read:
Watch Video Reviews: 
Review of BUNN Velocity Brew:

Review of Bonavita BV1900:
Note: in this video, you'll notice the reviewer using his Bonavita with a Chemex carafe, which is a pretty cool hack to the Bonavita! Learn more about Chemex here.