If you appreciate a good cup of pour-over coffee but don't have to make it everyday, then automatic coffee makers such as the Bonita BV1900 or Kitchenaid Pour Over Brewer are a great choice for you as they replicate the process of pour-over brewing in a fully automated way.
However, the choice between the two brewers can be a little hard. Which one to go for and why? That's what we'll be answering in this post.
First, let's look at the features of each coffee maker then we'll compare them to each other.
Features of the Bonita BV1900 Coffee Maker: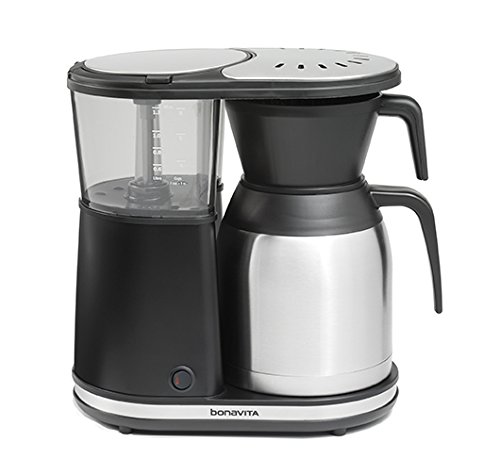 8-cup capacity coffee maker with thermal carafe.
One-Touch operation with auto-off option.
Brews coffee at the optimal temperature of 195 to 205F, which is the recommended temperature by the SCAA (Specialty Coffee Associate of America).
Pre-infusion mode wets the coffee ground before brewing to ensure full saturation (also known as blooming)
Large showerhead and flat-bottom filter basket ensure even saturation and extraction.
Features of Kitchenaid Pour-Over Brewer: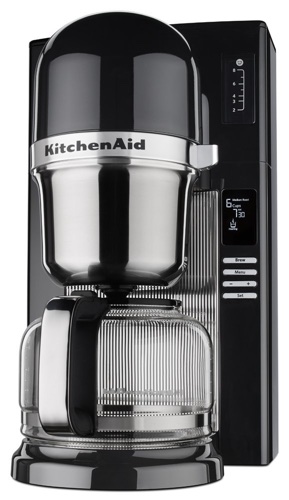 Approved by the SCAA, meets the Gold Cup Standard.
Replicates the process of pour over in a fully automatic way.
8-cup capacity with glass carafe.
Heats water and holds temperature at 198 to 204F.
LCD display displays each step of the brewing process (heating, pouring, steeping…)
Special brewing settings for medium or dark roast coffee to bring out special flavors of each roast.
24hr programmable with auto start.
What's The Difference Between Bonavita vs. Kitchenaid Pour Over?
Brewing Process:
Both the Bonavita and Kitchenaid replicate the process of pour-over without any manual work on your part (other than loading the coffee grounds and hitting the brew button, of course).
Both brewers are able to hold the temperature at an optimal brewing temperature of 198 to 205F or so, which is what the SCAA recommends.
Settings:
The Bonavita is a fairly basic coffee maker. There are no special settings, no auto start timer, and you can't brew less than what's in the water reservoir. If you want to brew less than 8 cups, then you'll have to manually adjust the measurements of water and coffee.
The Kitchenaid Pour Over is more advanced in this matter. It has an LCD display that displays the brewing process, this is shown in icons that refer to each step of the process: heating, steeping, pouring and so on. It also has an automatic number of cups selector, and it has a programmable 24hrs timer.
Another special setting about the Kitchenaid is it's accommodation of the type of roast you're brewing, whether it's dark or medium. This setting helps bring out special flavor profiles of each type of roast.
Type of Brew Basket:
The Bonavita uses a flat bottom filter, which is a better choice when it comes to coffee ground saturation.
Kitchenaid uses #4 cone filters.
Carafe:
Bonavita has a stainless steel lined thermal carafe.
Kitchenaid has a glass carafe.
Design:
The Bonavita has a basic coffee maker design with stainless steel finish.
The Kitchenaid has a much more attractive design that is both retro in the sense of every Kitchenaid appliance with a touch of modern. It is available in three colors: silver, black or red.
Which One To Buy?
The price difference between the Bonavita and Kitchenaid isn't huge at all, about $20 (as of the time or writing this post). This is great news as it allows you to choose based on the features rather than the budget.
As both brewers follow the same brewing process, both are SCAA-certified, then you can rest assured that both will deliver a quality cup of coffee every time.
The Kitchenaid's advantage is its settings: it has an auto start that allows you to wake up to coffee ready for you to enjoy. It has an automatic cup number selector and it has a handy LCD display that displays time and tells you what your machine is doing (process of brewing).
On the other hand, the Bonavita is a straight forward coffee maker that works by simply switching a button. No settings, no auto start, nothing. Many people prefer the simplicity of it.
What you choose is of course up to you and your usage, but we do believe the extra $20 for the Kitchenaid's advanced settings is absolutely worth it.
Videos:
Our Reviews of SCAA-Approved Coffee Makers: