Features of the Zojirushi Fresh Brew Plus: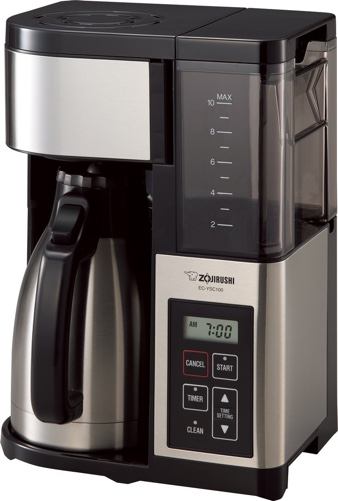 10-cup coffee maker with thermal carafe.
Thumb activated pouring helps keep the temperature in and hot for hours.
Guaranteed brewing temperature over 200F ensure the best flavors
Shower head water distribution ensures the best saturation.
Automatic clean cycle.
Removable water reservoir.
24 hrs programmable timer.
Swing filter basket for easy filling and easy cleaning.
Minimum brew is 2-cups.
Click here to learn more about Zojirushi Fresh Brew Plus, read the customer reviews and buy it.

How's The Zojirushi Fresh Brew Plus Different Than the Fresh Brew Coffee Maker?
[apc id="55″]
The Fresh Brew is an old version from Zojirushi. In the Fresh Brew Plus, the design and features have been revamped to give you a better brewing experience.
The old Fresh Brew doesn't have a removable water reservoir.
Optimal brewing temperature of 200F isn't guaranteed with the Fresh Brew like it is with the Fresh Brew Plus.
Fresh Brew Plus uses flat bottom filters, this type of filter ensures better coffee ground saturation and therefor better extracted flavor. The Fresh Brew uses a cone filter.
The control panel on the Fresh Brew Plus is overall very well designed, with larger buttons and a clearer display than that on the Fresh Brew.
The thermal carafe on the Fresh Brew Plus is thumb activated, this ensures the best heat retention and a much better lock mechanism than on the carafe of the Fresh Brew.
Watch How It Works:
Common Questions About the Zojirushi Fresh Brew Plus:
How Long Does The Carafe Keep the Coffee Hot?
Customers reported that it remains hot for up to 4 or 5 hours.
Can The Fresh Brew Plus Make Only One Cup?
No, the minimum amount is 2 cups. If you'd like a coffee maker that can brew a single cup, you can check out the Breville YouBrew.
Can You Pour Coffee Before the Brewing Cycle is Done?
Yes, the Pause to Brew feature on the Fresh Brew Plus works a little differently though. There's no button to press, however, the brewing will stop if you pull the carafe out of its cradle and will continue once you return it.
Can The Machine Brew Directly Into a Travel Mug?
No, it's been designed to work best when brewing into the carafe.
Where Is The Zojirushi Fresh Brew Plus Made?
Although the brand is Japanese, the machine is made in China.