Cuisinart is a brand that is leading in the coffee maker world. We've reviewed and compared many of their coffee makers like the Cuisinart Grind and Brew, Cuisinart DCC-3200 vs DCC-2650, Cuisinart DGB-900BC and more. All of these make a great drip coffee maker, but none of them so far makes pour-over coffee, not until the model we'll be focusing on today.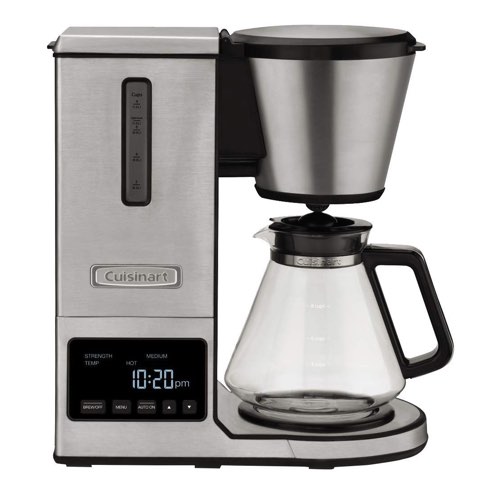 The Pure Precision (CPO-800 & CPO850) is an automatic pour-over coffee maker from Cuisinart that is SCAA-certfied. That means it meets the requirement for a home brewer that Specialty Coffee Association of America has set, that includes brew time and temperature.
Features of the Cuisinart Pure Precision Coffee Maker
Premium pour over coffee maker with coffee strength and temperature control
Precision brewing technique mimics manual pour-over brewing method in a fully automated operation.
Pre-wet coffee grounds for an even saturation and extraction, and to bloom freshly ground coffee.
Choose from three flavor strength: mild, medium, bold.
Choose from two temperature settings: hot and extra hot.
Includes an 8-cup carafe.
Brew-Pause feature allows you to pour a cup before brewing cycle is complete.
24-hour programmable with auto start and adjustable auto off.
Includes charcoal water filter, laser-etched stainless steel permanent filter and #4 paper filter starter pack.
Click here to learn more about Cuisinart Pure Precision, read the customer reviews and buy it.
Cuisinart Pure Precision CPO-800 vs. CPO-850, Is There a Difference?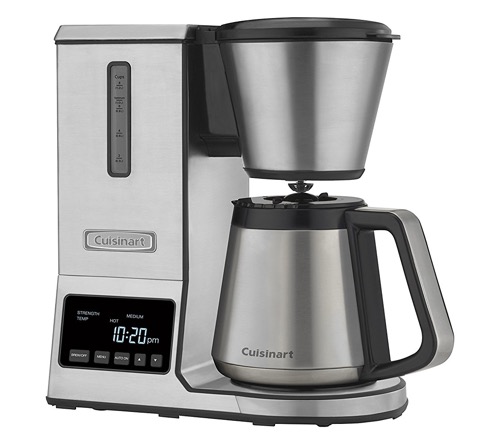 The only difference between the CPO-800 and CPO-850 models is the carafe. Both carafes are 8-cup capacity, but the CPO-800 is a glass carafe and the CPO-850 is a thermal carafe.
Why You Should Consider the Cuisinart Pure Precision Pour Over Coffee Maker
You've probably heard many coffee snobs rave about pour over coffee and how it is a lot better than any coffee a drip machine can ever make. Guess what? They are absolutely right. Pour Over produces a cup of coffee that is better than any home coffee maker because of two things: temperature and how the coffee ground is saturated.
With automatic pour-over coffee makers, the coffee maker is able to bring the water temperature up to 205F, which is the optimal brewing temperature.
The other thing is the brewing method itself. In drip coffee makers, you have a single stream of water going down through the coffee ground to fill it up with water. But that doesn't always guarantee that it will fill up the entire basket of coffee ground, so sometimes you end up with coffee ground that isn't fully saturated and therefore, not fully extracted. A pour-over coffee maker has a showerhead-like water action, the shower water first blooms your coffee, meaning it wets it before the full extraction to ensure that it is all wet and saturated and release any gas from fresh coffee beans. After that, the brewing process starts with the same showerhead water action that fully covers and extracts a flavorful cup of coffee.
One of the biggest downsides to the pour-over brewing method is that it is time consuming and it is not the best choice for someone who wants to rush out with a cup of coffee in hand. This problem is solved with an automatic machine like the Cuisinart Pure Precision.
How Long Does The Cuisinart Pure Precision Take to Make Coffee?
It is hard to estimate how long it will take to brew your coffee because it is fully reliant on your settings. For example: Extra Hot and Bold coffee will take longer to make than a Hot Medium or Mild coffee. Coffee strength refers to how long the coffee steeps in the machine, so the strong the coffee the longer it takes. We can guess though, based on customer feedback, that it shouldn't take longer than 7 minutes.
Which Cuisinart Pure Precision Has a Hot Plate?
As with other coffee makers, only models with a glass carafe have a hot plate to keep your coffee hot. So, with the Cuisinart Pure Precision, the CPO-800 model is the one that comes with a glass carafe and features a hot plate that can stay on for up to 2 hours. The CPO-850 model has a thermal carafe, so there's no hot plate on it as it is not needed.
Other Automatic Pour Over Coffee Makers To Consider
Like we said, we've covered many automatic pour over coffee makers in the past. But the Pure Precision is the first to come from Cuisinart. If you want to have a look at pour-over coffee makers from other brands, here are some suggestions:
Video Reviews