Like every Keurig owner, you probably love the convenience of your coffee maker. Whether you make just a single cup a day or a lot more, knowing that your favorite beverage is just a press of a button a way is always comforting.
But you also know that those pod costs can pile up. Although you're still saving a lot of money by making your coffee using a Keurig machine, as opposed to visiting a coffee shop, it would still be great to save as much as possible on the cost of your K-Cup pods!
This is what we're going to focus on in this post. We'll show you the best options for cheap K-Cup pods, whether you're looking for coffee packs, tea packs or variety pack. We'll also answer common questions about K-Cup pods.
Are K-Cup Pods Recyclable?
This is one of the most common questions about K-Cup pods. People love their K-Cup coffee, but they are also concerned about the environmental impact of plastic. Unfortunately, the majority of big brand K-cup pods are still not recyclable. But there are some smaller ethical brands that are offering recyclable as well as compostable K-Cup pods.
We've already talked about recyclable K-Cup pods in a previous post. And we've mentioned Intelligent Blends K-Cup pods as a great option to get recyclable as well as cheap K-Cup pods. Intelligent Blends uses fully recyclable pods. They offer different coffee roasts -some are Organic-, tea – also with organic options, flavored coffee and many variety packs. Their coffee is Kosher-certified. And since you'll be shopping factory-direct, you can buy them for as low as $0.39 per pod. Intelligent Blends K-Cup pods are compatible with all Keurig brewers, including Classic Keurig, Keurig 2.0 and K-cup compatible coffee makers.
What Is The Cheapest Price Per K-Cup Pod You Can Get?
This is something we cannot guarantee for sure, as prices are changing constantly. But as of the time of writing this post, the cheapest pods we could find are as low as $0.25 per pod. Some of Victor Allen coffee K-Cup pods seem to be one of the cheapest available.
What Is The Best Dark Roast K-Cup Variety Pack?
Maud's Dark Roast Variety Pack includes three type of dark roast coffee: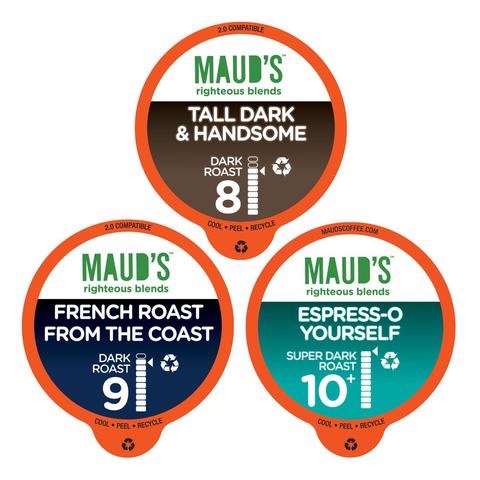 Tall, Dark and Handsome: Their most popular roast, with roast level 8. It's a strong, full-bodied blend with notes of toasted nuts.
French Roast from the Coast: Very dark roast (roast profile 9). It's the boldest roast, with burnt undertones. Produces a bold and flavorful cup of coffee.
Espress-O Yourself: here, you've reached the highest level of dark roasts (level 10). This very dark roast will remind you of a classic cup of espresso. It's the darkest and boldest blend Maud has created.
This variety pack is available in 72 ct or 144 ct. You can buy it as a single-time purchase or subscribe to save even more on its price.
Click here to learn more about this Dark roast variety pack and buy it.
Bold and Dark Roast Variety Pack: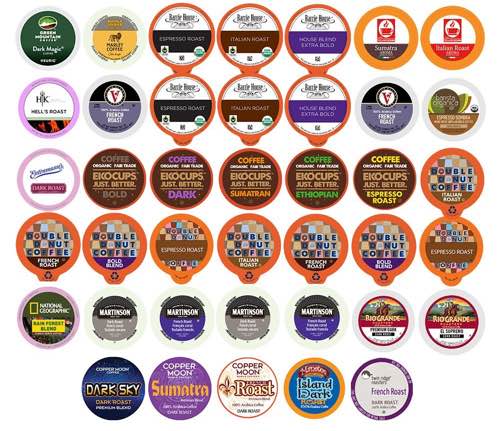 This pack includes Dark roast and Bold flavors from different brands. It has a total of 40 K-Cups.
Click here to learn more about this variety pack and buy it.
What Is The Best Flavored K-Cup Variety Pack?
Another great variety pack by Maud's is their flavored pack. Their flavored pack includes a number of gourmet flavored coffee:
French Toast Roast: cinnamon with a taste of maple syrup and butter.
Sister Hazelnut: smooth flavor of toasted hazelnut and vanilla.
Gone Banana's Fosters: Subtle notes of banana and vanilla ice cream with buttery brown sugar, cinnamon and dark rum.
Raspberry Choco-Latte: taste of raspberry blended with chocolate flavor and powdered sugar.
Hottie Biscotti Vanilla Almond: notes of Vanilla Ice cream with toasted almonds.
Jamaican Rum Yum: Notes of sweet molasses, caramel coconut and vanilla.
As most flavored coffee, the roast is medium. The pack is available in 100ct for $0.44 per pod.
Click here to learn more about this flavored variety pack and buy it.
Are There Organic K-Cup Pods? Where Can I Buy Them?
Yes! Luckily, there are many brands that offer organic K-Cup pods.
Maud's Organic Variety Pack K-Cups: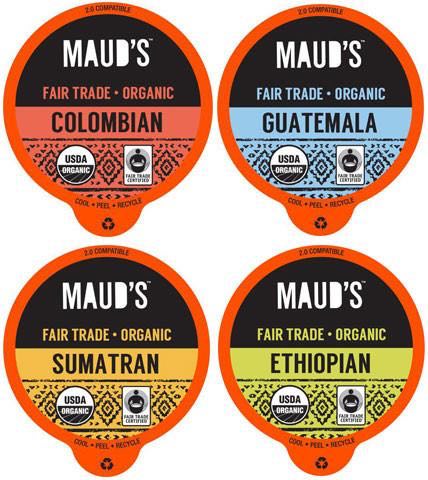 This premium K-Cup pack includes 4 single-origin, USDA organic coffee. They are also Fairtrade certified and they contain %30 more coffee!
This variety includes:
Colombian – Guatemala – Sumatran and Ethiopian. Total of 96 ct.
Click here to learn more about this Organic coffee variety pack and buy it.
San Francisco Bay OneCup Organic Rainforest Blend:
This brand of K-Cup pods, known as OneCup, promises to give you French Press-like experience, thanks to its mesh filter pod. It contains USDA certified coffee, and this specific blend contains a mix of medium roasted coffees from Colombia, Mexico, Guatemala, and Indonesia. Some parts of OneCup pods are compostable.
Click here to learn more about this K-Cup pack and buy it.
Green Mountain Single Origin Organic Sumatran Coffee: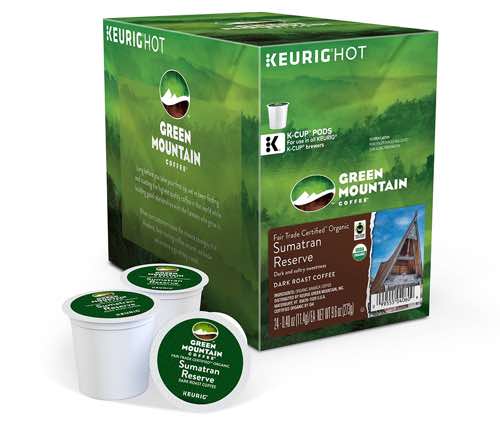 This pack from Green Mountain features organic FairTrade single-origin coffee from Sumatra. The coffee is dark roasted with notes of spice and brown sugar. These pods, however, are not recyclable.
Click here to learn more about this K-Cup pack and buy it.
Best Tea K-Cup Variety Pack:
Prefer tea to coffee? We got you!
Maud's Organic Tea Variety Pack: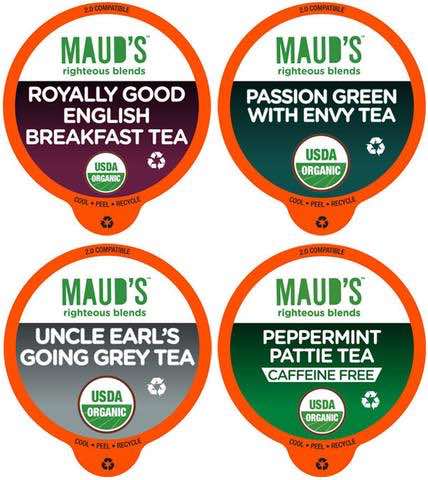 This variety pack of gourmet tea will appeal to any tea lover. It has different blends of teas for you to discover and enjoy.
Royally Good English Breakfast: Classic english breakfast tea that contains a blend of Assam, Ceylon and Kenyan teas. This full bodied blend can be enjoyed on its own or mixed with some milk and sugar.
Organic Passion Tea with Envy: Green tea blended with sweet tropical fruits for a refreshing and healthy blend.
Uncle Earl's Going Grey: the humorous name for this blend is not the only thing to smile about, but also the smoothness of this classic Earl Gray black tea.
Organic Peppermint Pattie: Peppermint tea is the perfect choice for relaxing at the end of the day. It's also highly recommended for the support of the digestive system. This blend has a highly aromatic taste and cooling sensation.
Click here to learn more about this organic tea variety pack and buy it.
Celestial Seasonings Tea Sampler: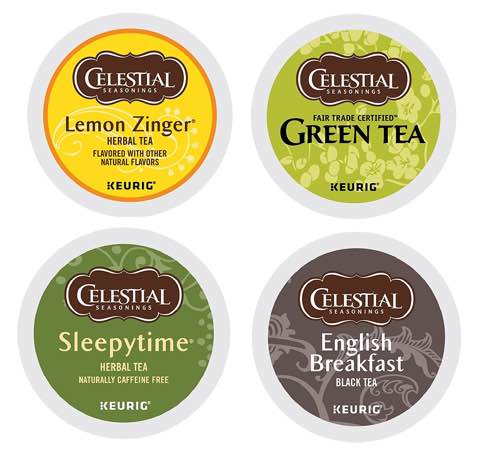 This pack includes a count of 22 K-Cup that include:
Lemon Zinger herbal tea.
Fair Trade certified Green Tea
Sleepy time Herbal Tea
English Breakfast black tea.
Click here to learn more about this tea variety pack and buy it.
Two Rivers Assorted Tea Sampler: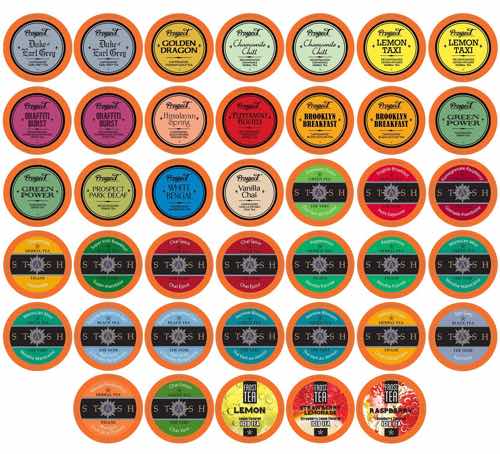 Includes a 40 count of 29 different tea flavors. However, please note that this sampler is only compatible with Classic Keurig machines and not Keurig 2.0 machines.
Click here to learn more about this tea variety pack and buy it.
K-Cup Pods vs. Soft Pods, Are They The Same?
K-Cup pods are often referred to simply as 'coffee pods'. But for the longest time, that name was used to describe another type of coffee pod, which is also known as the soft pod. And that's where the confusion comes from.
A soft coffee pod and a K-Cup Pod are entirely different things:
A coffee pod (soft pod) is a flat pod containing coffee ground in a round paper filter. These pods cannot be used in a Keurig machine, but designed for other brewers. You can use them in some espresso machines as well as some single-serve brewers, but they have to state that they are compatible with 'soft coffee pods'. These pods are available as tea pods, too.
K-Cup coffee pod: that's the plastic pod you've been using all along (if you already own a Keurig coffee maker). K-Cup pods work in Keurig and K-cup compatible coffee makers.
Keurig machines only brew K-Cup pods and you cannot use a soft pod with them.