If you're looking design, form and function in a coffee maker, Wilfa Svart is something to consider. Centered around Nordic coffee tradition, where coffee is almost a religious ritual, the design of Svart is beautiful, simple and gives you an experience that you will truly enjoy.
Svart mimics the method of pour-over for brewing coffee. And unlike other automatic pour over coffee makers, Svart actually gives you the ability to control the flow rate of the coffee brew, so you can either have it drip right away, or have the coffee steep for a little bit before dripping.
Features of Wilfa Svart Precision Coffee Maker: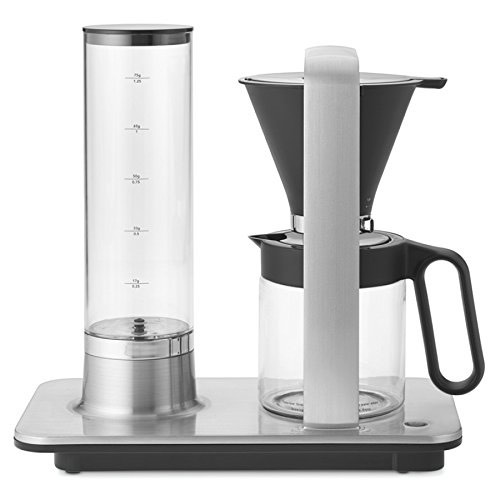 Automatic filter brewer with precise temperature and water control.
Precise heating system delivers water at 197º-205ºF temperature, which is the optimal temperature for coffee brewing.
Detachable water reservoir with marked measurements for water to coffee ground ratio.
Flow control: adjust the flow rate of coffee.
Includes a glass carafe.
Hot Warming plate to keep the coffee hot in carafe.
Brushed stainless steel finish.
LED display with kitchen timer and clock
Wilfa Svart Precision vs. Technivorm Moccamaster, What's The Difference?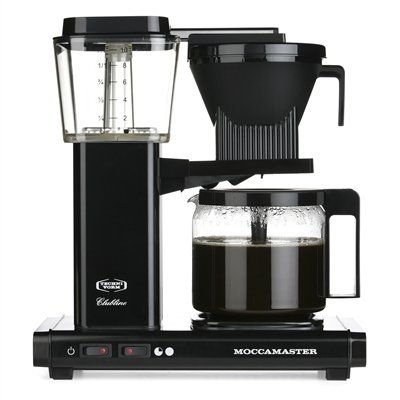 One of the most popular automatic pour over coffee makers is the Technivorm Moccamaster, which is an artful machine that is handmade and individually tested in the Netherlands. You can read our full article on the Moccamaster here.
The Wilfa Svart and Moccamaster do have some features in common, starting with the brewing method. Both machines do coffee pour-over style, with their showerhead water action and optimal temperature of 196 to 205 F. But let's look more into the differences between these two machines:
Design:
Both machines have rather beautiful designs. Svart has a unique design, where the pump and boiler all sit in the base of it. Moccamaster has an iconic retro design that many people like to have on display on their kitchen counters.
The Svart has some details that are rather interesting:

First, the water tank is detachable. Making it easier to simply pick up the tank and fill it up.
Second, the measurement on the water tank show the best coffee measurement to water ratio. This makes it easier for beginners to get the coffee to water ratio correctly.
The Carafe:
Svart has a glass carafe as well as a hot warming plate to keep the coffee hot.
Moccamaster is available with a glass carafe/warming plate or a thermal carafe model.
Both coffee makers have up to 10 cups capacity, about 40 oz to 42 oz.
Manufacturing:
Moccamaster is full handmade and tested in the Netherlands, which ensures every brewer is up to the highest standards possible. It is also available in different colors and finishes.
We're not sure where Wilfa Svart is made as the information is not available on their website.
Flow Control:
One of the great features of the Wilfa Svart is the flow control and steeping feature, which allows you to control the rate of which the brew drips.
Moccamaster does not have a Flow Control option.
Which Is Best To Buy?
Although both coffee makers can brew an exceptional cup of coffee, we do prefer the Technivorm Moccamaster for these reasons:
Technivorm Moccamaster 79312 KBGT Coffee Brewer, 40 oz, Polished Silver
Note: 1)Too coarse a grind, too little coffee, or insufficiently tamping the grounds before brewing can all lead to inadequate pressure for a proper brew. 2)It is important to note that the amount of espresso extracted will vary depending on the grind size and amount and reprogramming may be needed when the size and amount are adjusted
It is more popular. Although this isn't a popularity competition, but what we mean here is that since the Moccamaster is more popular, then any replacement parts you might need can be more accessible. Which is an important thing to keep in mind.
Glass/Thermal Option: with the Moccamaster, you can choose to either get a glass carafe or a thermal carafe model. Svart can only offer a glass carafe.
Moccamaster comes with an industry leading 5-year warranty.
Some Moccamaster models are available in many colors.
Handmade and individually tested in Netherlands. This adds to the quality standards of the coffee maker.
Videos:
Review of Wilfa Precision Coffee Maker:

Review of Technivorm Moccamaster: