Now you've learned the basics of a Nespresso machine, let's dig deep into each of its three popular models:
The Nespresso U, Nespresso Pixie and Nespresso CitiZ.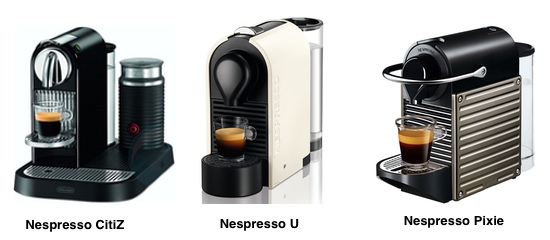 Each of the three machines stand out in a different way:
The Nespresso U, as its name suggests, is made for U! It has the best memorization features for custom drinks.
The Nespresso Pixie, although it has the smallest water tank, it is the only Nespresso machine that is made in Switzerland. (Some newer Pixie machines may not be made in Switzerland, please check before buying)
The CitiZ, a personal favorite of mine, is the best in regards of having the largest water tank and a built-in milk frother.
So let's look at the features of each machine in details:
The Nespresso U: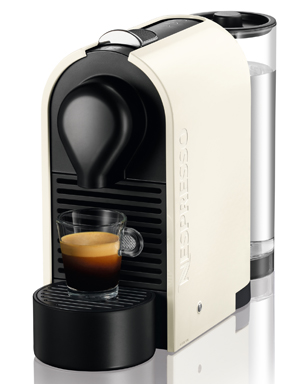 19-bar pressure pump.
Repositionable water tank. You can swivel the water tank to position it left, right or on the back, whichever suits your space best.
27 ounce water tank.
Automatic memorization of three cup sizes, espresso, lungo or ristretto.
Magnetic drip tray makes it easy to adjust the drip tray for any cup size.
Light indicator for an empty water tank.
Used capsule drawer holds up to 12 capsules.
Measures: 14 1/2″ x 4 1/4″ x 9 3/4″ high
Available in black, cream or orange.
Nespresso Pixie: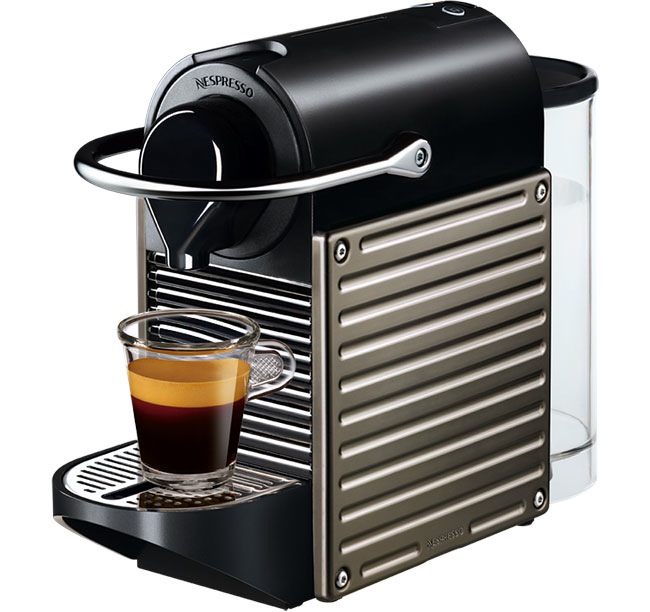 Two coffee volumes: espresso and lungo, both reprogrammable.
24 ounce water tank.
Foldable drip tray.
Made is Switzerland.
Light indicator for water level.
Backlit buttons.
Measures: 12.83-Inch length by 4.33-Inch width by 9-1/4-Inch height
Click here to learn more about the Nespresso Pixie, read the customer reviews and buy it.
Nespresso CitiZ: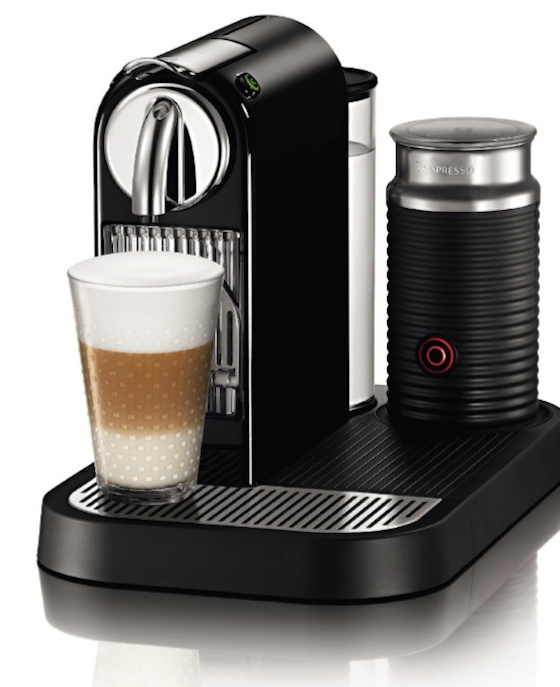 Built-in milk frother excellent for making Cappuccino or Lattes.
33 ounce water tank. The largest of all Nespresso machines, which means less refill trips.
Two reprogrammable coffee sizes: espresso and lungo.
Foldable drip tray for accommodating different cup sizes.
Measures: 14.6 x 9.3 x 10.9 inches
The Nespresso CitiZ is also available as a stand-alone machine without the built-in frother.
Click here to learn more about the Nespresso CitiZ, read the customer reviews and buy it.
Should You Get A Nespresso Machine with Milk Frother?
When it comes to Nespresso machines and milk frothers, you'll have three options:
You can get the machine bundled with Aeroccino, Nespresso's electric milk frother.
You can get it with a built-in milk frother, like the Nespresso CitiZ or Nespresso UMilk.
Or you can get it without the milk frother.
Do you have to get the milk frother? That depends on what you prefer to drink, of course. If you like Cappuccinos, Lattes and other milk based drinks, the milk frother will be an excellent addition to your machine.
Does it matter if the machine has a built-in frother or not?
Whether it's bundled or built-in, both are the exact same frother. Here's the only difference it makes, with the built-in frother, you're getting the frother powered up with the same plug as the machine. Where with the bundled frother, you'll need to plug the frother on its own. So a built-in frother will save you some space with it comes to power management. Otherwise, both work in the exact same way.
The Bottom Line – What Nespresso Should You Buy?
Here's what we think…
If the machine will be used more than one person, you'll want the largest water reservoir for less refill trips. That'd be the Nespresso CitiZ.
If you want more coffee volume options, automatic memorization of your preferred beverage, you'll love the Nespresso U.
If you're limited on counter-space, the Nespresso U is a great pick as well for its repositionable water reservoir.
If you care where your machine is manufactured, you'll love the fact the Pixie is made in Switzerland.
And of course, if you're looking for a built-in Aeroccino frother, the CitiZ is the machine for you.
What About Nespresso UMilk? How Is It Different from Pixie, CitiZ or U?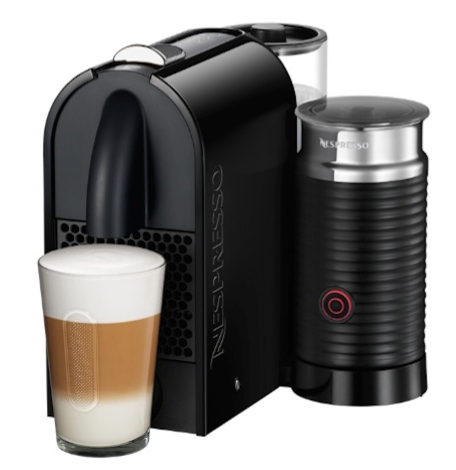 The UMilk is basically Nespresso U with a built-in milk frother, much like the CitiZ. We can't seem to find it either on Nespresso's or Amazon's website (US websites, at least), so we're guessing it might have been discontinued for some reason. We highly recommend that you go for a Nespresso U with an Aeroccino milk frother instead. It is exactly the same deal, possibly less expensive. The only difference is that you'll need to separate plugs for the machine and the frother.
Your Nespresso Questions Answered….
– What Is The Smallest Nespresso Machine?
The Pixie and Inissia are the smallest when it comes to size.
– What Is Nespresso VertuoLine?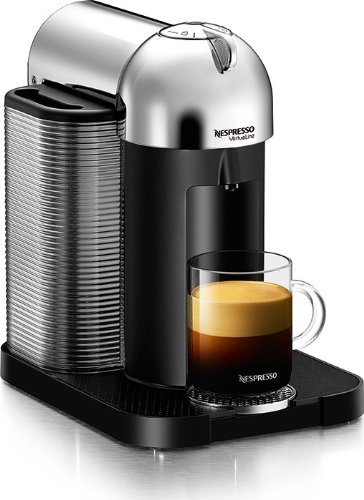 It's a new Nespresso machine, a totally new system, that brews both coffee and espresso. You can learn more about it here.
– What Is Nespresso Lattissima?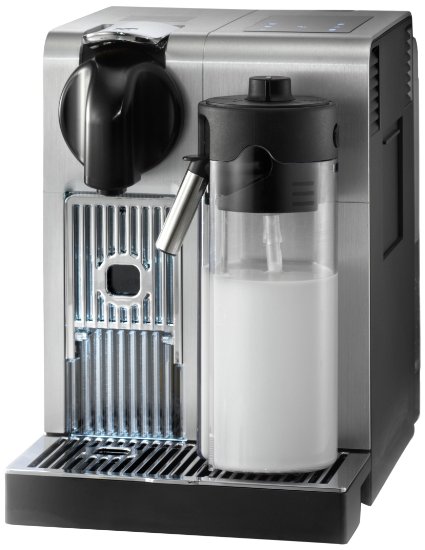 It's a Nespresso powered espresso machine by DeLonghi (Made by DeLonghi, Uses Nespresso capsules). Learn more about it here.
– Which Nespresso Capsules Are Best For Latte or Cappuccino?
Here's a suggestion that works for both Latte, Cappuccino or any milk based drink:
This pack includes 50 capsules, 10 of each flavor, that creates a delicious balanced taste when combined with milk.

and if you've got a bit of a sweet tooth, you'll love this pack of flavored Nespresso capsules: Caramelito, Ciocattino and Vanilio.
– Which Nespresso Accessories Should I Buy?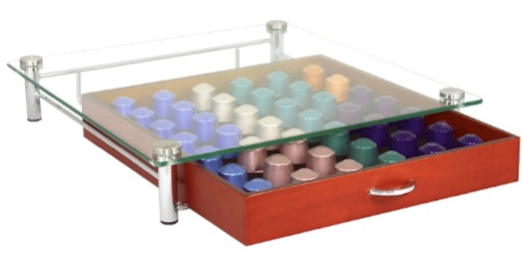 One thing you'll definitely need is something to organize your capsules. See our suggested Nespresso Drawers and Storage here.