I know, we've been talking about Nespresso machines nonstop! What can we do, we just love it! Hoping you've already got your machine, our focus today is on organizing your capsules. We've already covered how you can organize your K-Cups, and now we'll cover the best organizers for Nespresso Capsules. As the Nespresso capsules are different in size, they'll require different organizers than K-Cups' if you want to hold them neatly in place.
Have a look at our picks for best Nespresso capsule holders:
Mind Reader Anchor Capsule Holder: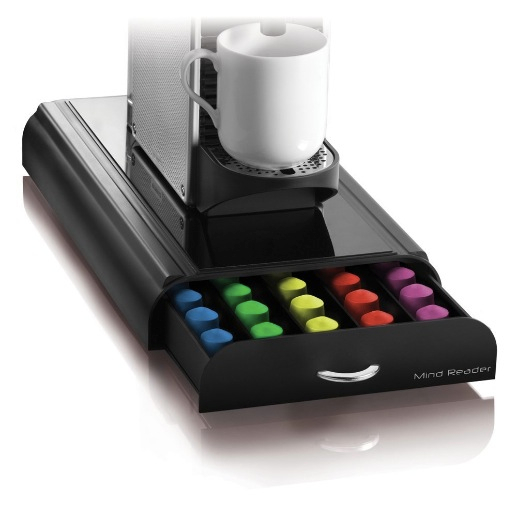 Just like we picked this for the K-cups, the Nespresso capsule version is just as great. It holds up to 50 capsules, and you can place your machine on top of it.
Click here to read the customer reviews for this capsule holder.
Nefty Nespresso Capsule Drawer: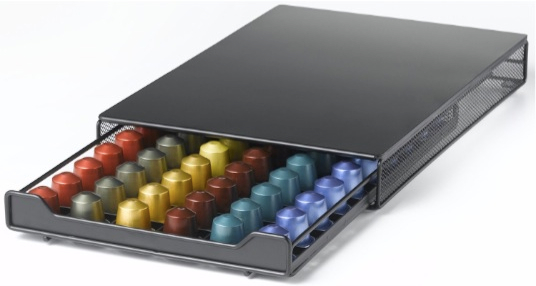 This metal drawer can hold up to 60 capsules and can hold your machine on top as well. And if you choose not to place the machine on it, you can easily stack another drawer unit on top to maximize your storage space.
Click here to read the customer reviews on this organizer.
Swissmar Capstore Storage Rack:

This one is for you if you prefer to put your capsules on display. The Swissmar tower can hold up to 40 capsules, and it rotates so you can access from all sides.
 Click here to read the customer reviews for this capsule rack.
DecoBros Crystal Glass Capsule Drawer: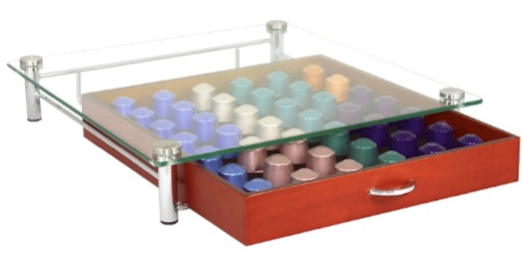 This is an elegant option for storage that holds up to 42 capsules, and gives you a quick look at all available capsules through the glass top. The drawer is made from Cherrywood veneer, the tempered glass on top is strong enough to hold your Nespresso machine.
Click here to read the customer reviews for this unit.
Best Wall-Mounted Nespresso Capsules Storage:
Swissmar Mountable Storage Unit for Nespresso Coffee Capsules: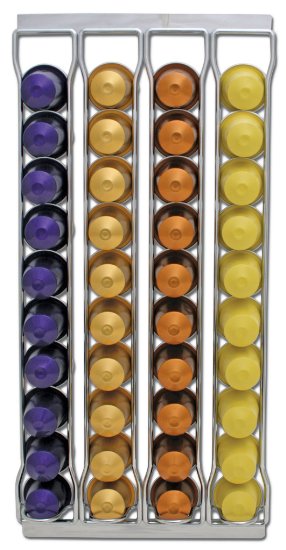 Does not require any holes, includes two strong adhesive strips.
Holds up to 40 Nespresso capsules.
Chrome wire frame with stainless steel finish.
Swissmar CAPstore Wave 20 Nespresso Capsule Magnetic Storage Rack:
Made of lightweight plastic construction.
Each unit holds up to 10 capsules.
Can be wall mounted using magnets or adhesive.
Tavola Swiss CAPstore: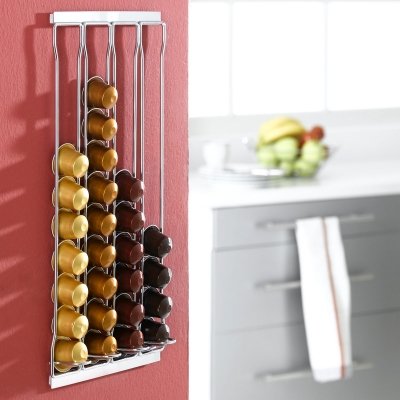 Swiss made – stainless steel.
Lightweight and easy to mount.
Adhesive included.
Best Holders For Nespresso VertuoLine Capsules:
Since VertuoLine has its own line of capsules, they have a different shape and therefor, their own capsule holders. Here are some recommendations:
Nifty Drawer for Nespresso VertuoLine Capsules: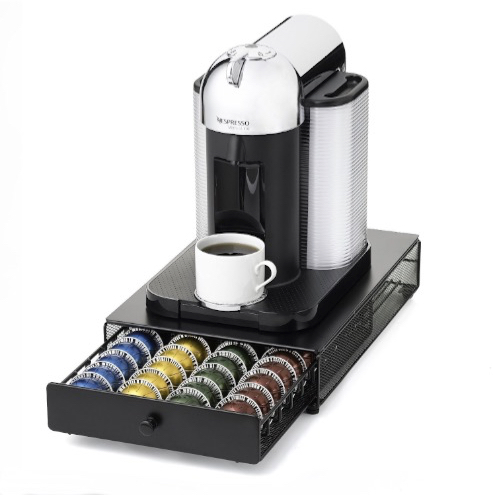 Drawer design holds up to 40 capsules. The flat top of the drawer can be used to hold your VertuoLine to save some counter space. So far, this holder has the biggest capsule capacity.

Prepara Vertuoso Capsules Holder:
If you prefer a carousel design, this makes a nice alternative to the drawer. However, it holds less capsules, only 20.