In an effort to bring down the amount of paper cups used for takeout coffee, many companies have started designing eco-friendly reusable coffee cups to match the look and feel of a paper cup. On top of these are two Australian brands, JOCO and KeepCup. In this post, we'll be discussing these two brands and which one to go for.
What Is a Reusable Coffee Cup? Why Can't I Just Use a Travel Mug?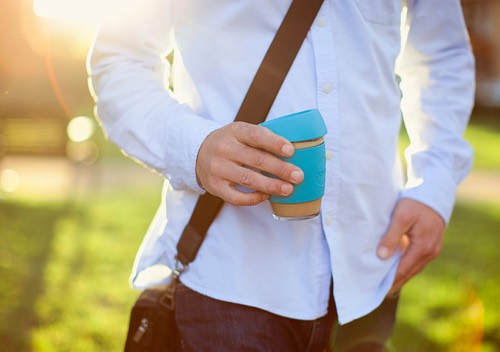 There's a big difference between using a reusable coffee cup and a travel mug, especially if you happened to be a fan of gourmet coffee drinks. Reusable coffee mugs such as a JOCO or Keepcup are designed to feel like your usual paper cup, only better and more stylish. They're made to be barista friendly, made in sizes that allow your barista to make you the perfect Cappuccino or Latte, even with special latte art. [photo source]
A reusable coffee cup should come with a silicone sleeve (to replace the brown paper one), and a spill-proof top lid.
Features of the JOCO Cup:
Reusable glass coffee cup.
Available in 8oz, 12oz and 16 oz.
Protective silicone sleeve.
Spill-proof lid.
Dishwasher safe and Microwave safe.
Available in 13 colors.
Features of Keepcup:

Available in 5 sizes: 4oz, 6 oz, 8 oz, 12oz and 16oz.
Made of BPA-free plastic.
Lightweight and unbreakable.
Spill-proof lid.
Silicone sleeve.
Available in many color combinations, with the ability to design your own.
Click here to learn more about the Keepcup, read the customer reviews or buy it.
Joco Cup or Keepcup? Which Should You Buy?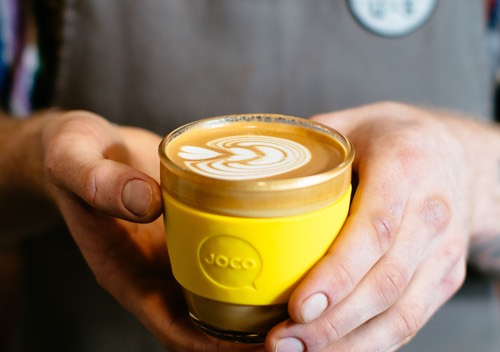 [photo source]
Both Joco and Keepcup make wonderful reusable coffee cups and each has its pros and cons:
Material of the Cup:
At first, we were leaning towards the JOCO cup for its stylish and timeless glass material that it's made of. Although the plastic of Keepcup is BPA-free and very safe to consume, glass looks and feels better. However, many people would appreciate the lightweight and unbreakable plastic body of Keepcup.
Then, we found that Keepcup now makes glass cups as well, so that's another great option to consider.
Design:
Both cups are barista certified and available in many sizes. However, the JOCO cup has one feature over the Keepcup. JOCO has a cyclonic base that pulls the sugar or any additive to your coffee to the center when you stir, this contributes to a better tasting cup of coffee or tea, without any goo at the end.
The Silicone Lid:
Although both cups have spill-proof lids, we prefer Keepcup's as it has a seal to close the drinking hole to prevent any possible leaks.
Temperature Retention:
It is worth mentioning that neither JOCO or Keepcup are insulated, so don't expect them to keep your coffee hot longer than it should. When it comes to this, they work like your average cup in keeping the temperature.
Bottom Line:
For the most part, both cups are quite similar in what they do as well as the material they're made of. If there's one thing to pay attention when picking your cup, that would be the lid and style of sip hole on it. The KeepCup has a sliding cover for its sip hole while the JOCO doesn't. Also, the KeepCup's lid is more securely attached to the cup than JOCO's which feels like it's barely attached to the cup. KeepCup's lid has a snap to it and you can hear it click on putting it on the cup, which feels more secure.