For a long time, the answer to this question has been a solid no. However, things have changed… now you can actually use K-Cup pods using a Ninja Brewer… but not all of them. So read on for more details…
Which Ninja Coffee Maker Can Use K-Cup Pods?
Let's start with the model that can actually brew K-Cup pods. This would be the Ninja DualBrew coffee maker, which is Ninja's first dual machine that can brew coffee using both ground coffee or K-Cup pods.
Sale
If you're in the market for a new coffee maker and have settled on the Ninja brand, the DualBrew is a fantastic machine worth considering. Actually, if you want to brew K-Cup pods, this is the only one to consider from Ninja.
This dual coffee maker from Ninja is quite versatile, in terms of what you can brew and the serving sizes. The fact that it can accommodate K-Cup pods means you can also brew hot chocolate, tea or any other beverage that comes in a pod. If you're brewing anything other than coffee though, always make sure to rinse in between beverages.
Here are the serving sizes you can brew when using ground coffee:
Small Cup, Cup, XL Cup, Travel Mug, XL Travel Mug, ¼ Carafe, ½ Carafe, ¾ Carafe, or Full Carafe
When using a K-Cup pod, you can brew sizes:
6, 8, 10 and 12 oz.
There are three brew styles to choose from: classic, rich and over ice.
You can set your machine to auto brew, up to 24 hrs in advance. But that would work for the ground coffee options only.
The DualBrew includes a removable K-Cup adapter, a coffee scoop and a glass 12-cup carafe.
You can read our full post on the Ninja DualBrew and how it compares to the DualBrew PRO here.
Do you have a Ninja Coffee Bar?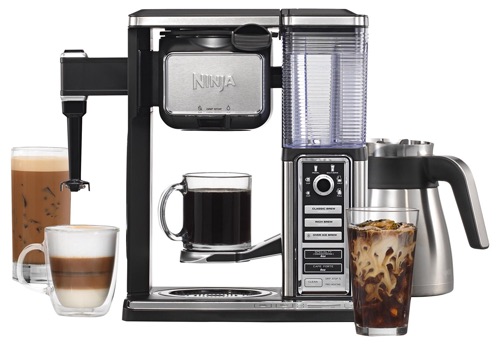 The Ninja Coffee Bar model is an earliest model of Nina's coffee makers. If you already have this machine, then the answer is no, it does NOT use K-Cups. The Ninja Coffee Bar uses ground coffee only to brew all its sizes, from single serve to full carafe. The coffee maker comes with a scoop that is labelled with the right amount for your required coffee brewing. If you want a single-cup, then simply fill your filter basket with the right amount of coffee ground for a single-cup. As for water, the Auto iQ technology of the machine draws only the needed amount of water depending on your size selection, automatically. So even if you have a full water reservoir, it will draw the water needed for a single-cup only.
Need a K-Cup Brewer?
If you prefer to use K-Cups rather than coffee ground, then we highly recommend Keurig's coffee brewers:
Keurig K-Duo – another dual coffee maker that can do both full carafe and single-serve cups.
Keurig K-Mini – a compact, single-serve only machine.