Keurig is known for its single serve K-cup coffee machines. But since then, it has expanded to a new type of single-serve machine that offers a new at home coffee experience. The Keurig Rivo 500 Cappuccino and Latte System is definitely worth your consideration.
What Is The Keurig Rivo 500 Cappuccino and Latte System? How Is It Different Than Other Keurig Coffee Machines?
The Keurig Rivo 500 is a single-serve ESPRESSO machine, and that's mainly how it's different than other Keurig machines, which are single-serve COFFEE machines. The Rivo 500 prepares espresso, cappuccinos and lattes with a touch of a button. It includes an automatic milk frother that prepares hot and yummy frothy milk that pours right into your shot of espresso, to make a delicious cup of gourmet coffee in a few minutes.
Can The Keurig Rivo 500 make espresso and ice coffee? It sure can! Although it's called "Cappuccino and Latte system" it performs everything an espresso machine does, only automatically with a push of a button.
Features of the Keurig Rivo 500:
A single-serve espresso, cappuccino and latte system.
Powered by Lavazza. Uses especially made coffee capsules by Italian brand Lavazza.
Detachable milk tank and frother prepares hot or cold milk froth with a push of a button.
Two coffee sizes: Espresso and Lungo
Three frothing settings: cappuccino, latte and cold froth.
What Type of Capsules (pods) Does The Keurig Rivo 500 Use?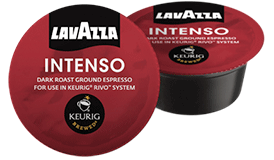 The Rivo 500 system used special pods called Lavazza Rivo Coffee Packs. There's definitely different than Keurig's K-Cups, so please don't try to brew those with a Rivo machine, it won't work.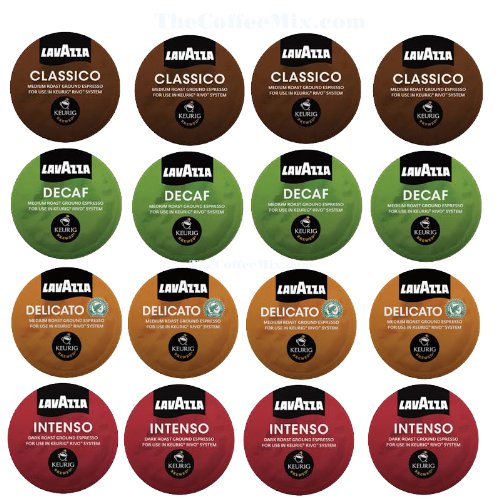 The pods are available in four varieties: Classico, Delicato, Intenso and Decaf. All pods are espresso pods, remember the Rivo 500 is an espresso machine. The pods can be purchased from Keurig's website, Amazon.com and other retail stores.
Who Should Buy The Rivo 500 Cappuccino and Latte System?
If you're looking to enjoy coffee house style gourmet coffee drinks, this will be your favorite machine. You can create any variety of espresso and milk drinks with ease, in very little time and with practically no-mess and clean up required.
If you'd rather enjoy a cup of regular coffee, then this isn't the machine for you. We'd highly recommend you look at our top-rated single-serve coffee makers.
Common Questions about the Rivo 500 by Keurig:
Can You Make Regular Coffee With the Keurig Rivo?
Right now, the Keurig Rivo only makes espresso and espresso based drinks. Your best shot at a regular coffee would be to prepare Americano, which is a shot or two of Espresso with hot water to fill the rest of the cup. If you're looking for a single-serve machine that prepares regular coffee, check out the new Nespresso VertuoLine , CBTL Kaldi or a K-Cups Keurig Machine.
Can the Rivo use K-Cup coffee pods?
No, it uses it's own Rivo coffee pods made by Lavazza.
Can You Use Your Own Coffee with Keurig Rivo?
No. Unlike K-Cups, the Rivo does not have refillable coffee pods that allows you to use your own coffee ground.
Can You Make Hot Chocolate or Tea with the Rivo 500?
There are no hot chocolate or tea capsules (the CBTL Kaldi has those). You can use the automatic milk frother to prepare hot creamy milk, and then you can add chocolate syrup, shavings or powder separately.
Where Can I Buy the Keurig Rivo Cups/Packs?
They can be purchased online at Amazon.com. They're also available at Lavazza's online store.
Keurig Rivo vs. Vue, What's The Difference Between Them?
There's quite a difference between the two systems:
Keurig Rivo is an espresso machine, so it's meant to make espresso and espresso based drinks like Cappuccino and Latte.
Keurig Vue is a single-serve coffee maker which is also able to brew tea, hot chocolate and other packaged drinks.
The coffee pods these two systems use are entirely different in design and brand:
The Rivo uses special espresso pods made by Lavazza.
Vue, on the other hand, has a large variety of coffee pods from different brands like Starbucks, Green Mountain, Dunkin' Donuts and more.
You can learn more about Keurig's Vue system here
What Is The Difference Between Keurig Rivo vs. Nespresso?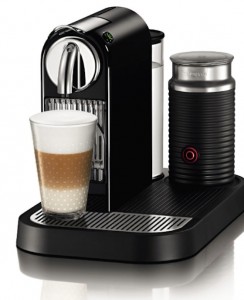 Both the Rivo and Nespresso (pictured above is the CitiZ with built-in frother) are single-serve espresso systems with the ability to make you delicious espresso based drinks with a push of a button. But how do you choose between them? There's probably one factor that will make all the difference for you: the available coffee capsules for each system.
Nespresso only uses Nespresso capsules, and it's available in a range of around 20 or more variety.
Since Nespresso is a popular system, there's also a wide range of Nespresso-compatible coffee capsules, those are capsules made for Nespresso machines but by other brands. There are also refillable capsules that you can use with any coffee you want.
As for Rivo, the variety of coffee capsules available is still small. There are no refillable pods or compatible pods. So you should only get a Rivo if you're a fan of Lavazza coffee.