When it comes to Keurig single-serve machines, you'll find many options to choose from that you might actually get confused as to which is the right machine for you.
A question that always pops up when Keurig is mentioned is, what is the difference between a Keurig Vue brewer and a Keurig K-Cup brewer. Since these two are top sellers, we've decided to answer this question this today's post.
Differences and Similarities Between the Keurig K-Cup and Keurig Vue Brewers:
Note: as Keurig Vue has been discontinued, all of its features are available on the Keurig 2.0 brewers and more! You can click here to learn more about them.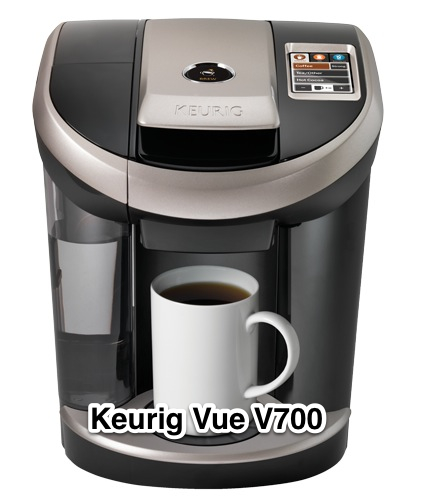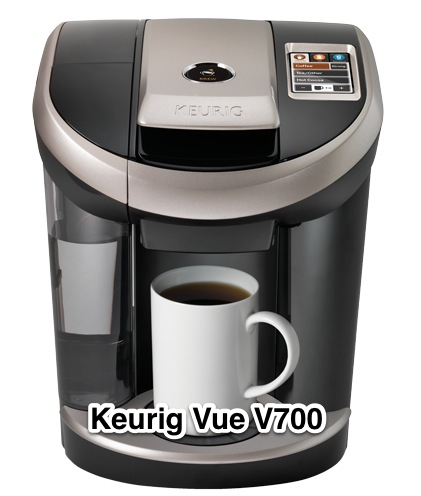 There's actually quite a difference between the two machines, so let's start with how they're similar:
Both are single-serve coffee makers.
Both use coffee pods or capsules to brew a single serve of coffee, tea, hot chocolate or other hot drinks.
Both can be reprogrammed to customize your drink to your liking.
And that's pretty much where the similarity stops. Details of both machines' features make quite a difference between the two…
Type of Coffee Pods: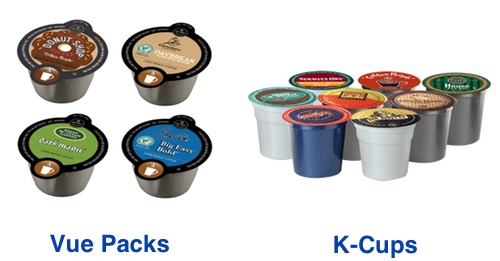 Keurig K-Cups brewer uses K-Cups, the first pods Keurig has made. A Vue brewer uses a totally different pod called a Vue pod. It's an updated design of the K-Cups.
K-Cups and Vue pods are available from almost all same brands; Tully's, Folgers, Starbucks, Gloria Jean's, Green Mountain and many more. So you'll have a wide variety to choose from whether you choose K-cups or Vue.
Control Buttons: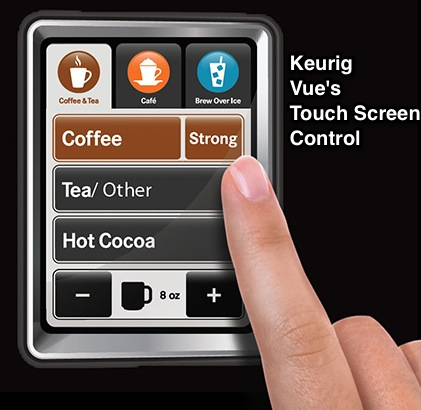 Keurig Vue has a simple to use programmable color touchscreen.
Most Keurig K-Cup brewers have your average LCD display to program the machine.
Features:
Keurig Vue offers up to 8 size options and strength and temperature controls.
Most Keurig K-Cup brewers offer only up to 5 cup size options. No temperature control.
Majority of other features are similar in the two machines, that includes: energy saving mode, brewing time (under 1 minute), removable water tank, hot water dispenser and rinse cycle.
Largest Cup Size:
The Vue can accommodate cup size up to 18 oz (travel mug).
K-Cup brewers can accommodate cups up to 12 oz.
Why You Should Buy a Vue Brewer Instead of a K-Cup Brewer:
If you like your coffee really hot, Vue brewer prides itself as a machine that makes really hot coffee. And you have full control over temperature, so it's all up to how you're feeling at the time.
Unlike K-Cups, Vue pods are recyclable. So there's no guilt of contributing to landfill after you've enjoyed your cup of coffee. You can learn where to recycle your Vue packs here: http://www.vuerecycling.com/
Better control panel: the color touch screen makes programming the machine an absolute breeze.
More cup sizes: choose from up to 8 sizes. Need your coffee to go? Your Vue will accommodate your travel mug without any trouble. Set your coffee to brew extra hot and you'll enjoy your to-go coffee for a longer time.
While we do love other Keurig machines, we know that what you want at the end of the day is the best of the best. The Vue is the latest brewing technology from Keurig. It gives you better customization, easier way to use the machine and hotter, more delicious coffee.
you can learn more about other Keurig K-Cup brewers here.