When seeking a convenient and reliable coffeemaker to use at home it is essential to ensure the product provides quality coffee, meets consumption needs and is user friendly. A programmable coffee maker affords users the luxury of free time that would otherwise be spent preparing that essential morning brew as well as producing coffee with consistent quality. With such a broad variety of coffee makers available on the market here are three Cuisinart coffee makers that have constantly received solid top ratings. They're seemingly similar to each other, but there are a number of features that set each coffee maker from the other. Here's our quick comparison of them:
Cuisinart DGB-650BC Grind and Brew Thermal 10-Cup Automatic Coffeemaker:
Stainless Steel design is easy to maintain and blends into surroundings
Automatic bean grinder with grind off option for pre ground coffee
Double wall thermal carafe keep coffee hot and fresh much longer than other coffeemakers
Fully programmable from easy to use large control panel
All standard features included – brew pause, gold tone filter and charcoal water filter
Ideal for people on different schedules with coffee kept hot and fresh for hours at a time ensuring minimal wastage
Includes measuring scoop and instruction book
available from: 1stInCoffee.com

Cuisinart DCC-2600 Brew Central 14-Cup Programmable Coffeemaker: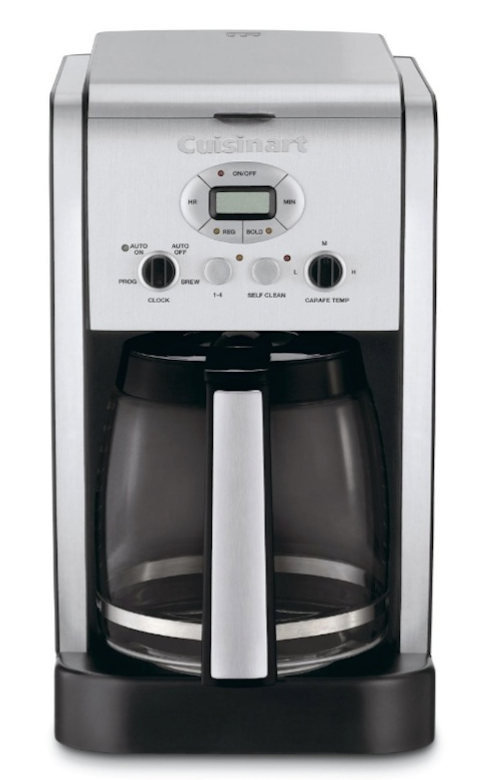 Contemporary design to blend in with any surroundings
14-Cup capacity is ideal for entertaining guests
Fully programmable with extra features such as strength selector
Self-cleaning function keeps the coffeemaker in peak condition
Extra convenience with easy to view water level window and glass carafe
All standard features included – brew pause, gold tone filter and charcoal water filter
Includes instruction book and 3-year warranty
available from: 1stInCoffee.com

Cuisinart DCC-1200 Brew Central 12-Cup Programmable Coffeemaker: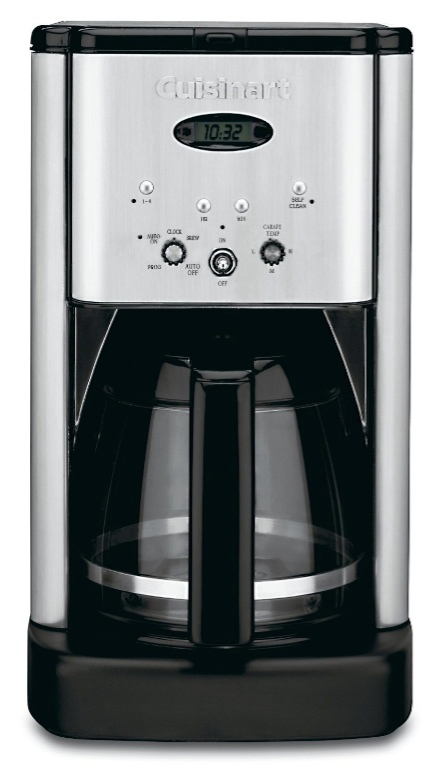 Stylish and modern design with metallic finish, ideal for modern apartments/flats.
Ergonomic handle, drip-less spout and knuckle guard ensure ease of use
Made for convenience with 24 hour programmability, auto shutoff, temperature control and variable heater plate
Time to clean monitor even lets you know when it's time to decalcify
Brew pause feature allows you to enjoy a cup of coffee before brewing has completed, ideal if you're in a rush
Features such as gold tone filter and charcoal water filter eliminate impurities
Includes measuring scoop and instruction book
Click here to learn more about this coffee maker, read the customer reviews and buy it.
The Difference Between Cuisinart DGB-650BC vs. DCC-2600 vs. DCC-1200 Coffee Makers:
Each coffeemaker listed above has defining features that sets it apart from the others, before purchasing consider:
Coffee Freshness – The Cuisinart DGB-650BC is the only grind-and-brew coffee maker in the list. That means it has a built-in automatic coffee grinder that allows you to grind fresh coffee beans right before brewing. You also have the option to use pre-ground coffee.
Longevity of Coffee – If you're constantly making new batches of hot coffee then consider the DGB-650BC. The thermal feature of the DGB-650BC maintains fresh coffee for hours longer than the other two models, ideal for minimal wastage and a feature unique to this coffeemaker.
Convenience – All the coffeemakers listed have standard programmability but if you seek that extra bit of convenience, touches on the DCC-2600 such as a water level window, a glass carafe and extra capacity provide that further ease of use over the standard options on the DCC-1200 and DGB-650BC.
Style – If the appearance of your coffeemaker is just as important as the coffee it produces then the DCC-1200 is perfect for the style and fashion conscious, if your coffeemaker should blend into its surroundings consider the DC-2600 or DGB-650BC.
These three coffeemakers are all packed with varying features to suit different lifestyles, from capacity to enhanced features to thermal abilities, each machine has a unique element. However, they all share a common goal to create a convenient way to make a quality cup of coffee.