Espresso cup sets are a must have in every coffee lover's home. While the cups are practically small in size, they still require some storage space. Many cup sets are not stackable and rather lots of space to keep them. So we've picked out the best espresso sets that look and feel great and are quite space-saving as they come with their own storage rack, so you only have to give up on a small counter-top space.
Click on the photo or Buy It Here link to find more info, read customer reviews and buy it.
Here are the best rated espresso cup sets with racks:
Harold Import stackable porcelain cup and saucer set: 9 piece set with storage rack, includes saucers. Buy it here.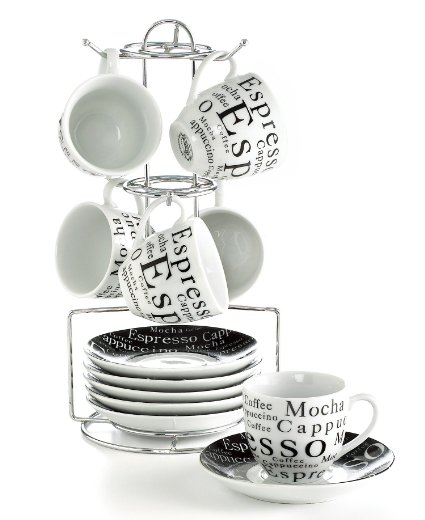 Gibson Set: includes 13 pieces (with saucers) and storage rack. Buy it here.
Lorren Home Trends Cup Set: 13 piece set including saucers, with storage rack. Buy it here.
Present Time Fower Patchwork Ceramic Set: Includes 6 cups, 6 saucers and a storage rack. Buy it here.
Classic white Imusa Espresso Set: 4 cups, 4 saucers and chrome wire rack. Buy it here.