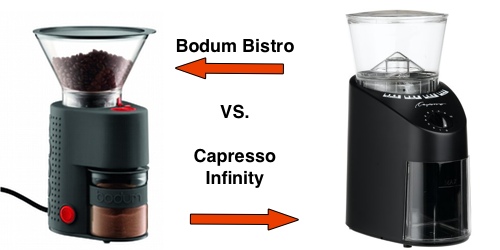 Both the Bodum Bistro and Capresso Infinity are part of our list of best conical burr grinders to buy. The two grinders are seemingly similar, but each has its own features that sets it apart from the other. So, here's a quick comparison between the two grinders.
Bodum Bistro Burr Or Capresso Infinity Burr Grinder?
We'll break this comparison by pinpoint features to make it easier for you:
Grind Settings: Bodum Bistro offers 14 settings, while the Capresso Infinity offers 16 settings.
Grind Type: Both offer conical burr grinding.
Bean Container Capacity: 220 g for the Bodum Bistro, and 8 1/2 ounces for the Capresso Infinity, which is about 226 g.
Ground Container Capacity: 11 oz for the Bodum Bistro, 4 ounces for the Capresso.
Container Material: Both grinders have a plastic bean hopper. The Bodum Bistro has a Borosilicate glass ground container that eliminates jumping static coffee after grinding, it also has a silicon lid. The Capresso has a plastic coffee ground container, no lid.
Grind Timer: Both grinders have auto-timers.
Colors: The Bodum Bistro is available in 4 colors (black, white, green and red). The Capresso Infinity is available in black or silver.
Which Should You Buy? The Bodum Burr or Capresso Infinity Grinder?
Both grinders almost perform identically. We're leaning towards the Bodum Bistro Burr Grinder for the following reasons:
It has a larger bean catcher capacity (11 oz vs only 4 oz for the Capresso).
The Borosilicate glass is more helpful than you might think. It leads to less clean-up after grinding, that's always a plus!
The silicone lid on the coffee ground container is a great addition to save the coffee for a longer time.
You can click here to learn more about the Bodum Bistro Burr grinder and read the customer reviews.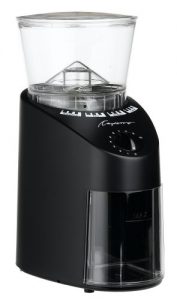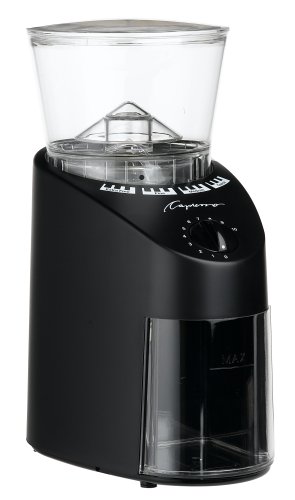 But, if you need more grind settings, you'll want the Capresso Infinity. It seems to be the only advantage to the Bodum Bistro. And even though it has a large bean container, the lack of proper capacity in the ground container makes it less useful.
Click here to learn more about the Capresso Infinity and read the customer reviews.
Also available from: 1stInCoffee.com

Bodum Bistro Burr, Capresso Infinity vs. Cuisinart CBM-18N Conical Burr grinder, What's The Difference?
The Cuisinart grinder includes some great features:
18 grind settings.
1/2 lbs bean hopper.
LCD display for easy selection.
Cup number selector.
Removable grind catcher.
Overall it has some great features. But the Bodum Bistro seems to have better material and design, thanks to the Borosilicate glass catcher, you won't have coffee ground flying around. The lid on the Bodum's catcher is great, too, which none of the other grinders seem to have.
Click here to learn more about the Cuisinart Grinder, read the customer reviews and buy it.
How To Use The Bodum Bistro Burr Grinder:
How To Use Capresso Infinity Grinder:
How To Use Cuisinart Coffee Burr Mill: