You'll never know what convenience truly is until you've tried brewing your coffee using a single-serve machine. A truly innovative way to brew delicious coffee drinks at home with a single touch of a button, single-serve machines are something you'll definitely want to consider.
Should You Buy a Single-Serve Espresso Machine?
Here's the thing about single-serve espresso machines; while they're truly great, quick, and mess-free which is a major plus… they're not for everyone. If you're an advanced coffee drinker, you prefers to customize the grind/temperature or other features of their espresso, you'd prefer a manual pump espresso machine over a single-serve.
As single-serve machines use pods, the coffee has already been ground and freshly sealed.  You'll have the option to customize the volume of your coffee, and you'll have the choice of many different coffee blends/strength. Choosing a single-serve espresso machine will also mean committing to one brand of coffee, since most machines use their own coffee pods exclusively.
So, before you decide on a single serve machine, you'll need to check the following:
Do you like the selection of coffee blends it has?
Are the coffee pods easily available to you?
Does it give you the option to customize your coffee?
Now we've covered that, let's have a look at the best single-serve espresso machines currently available…
Nespresso VertuoPlus Espresso and Coffee Maker: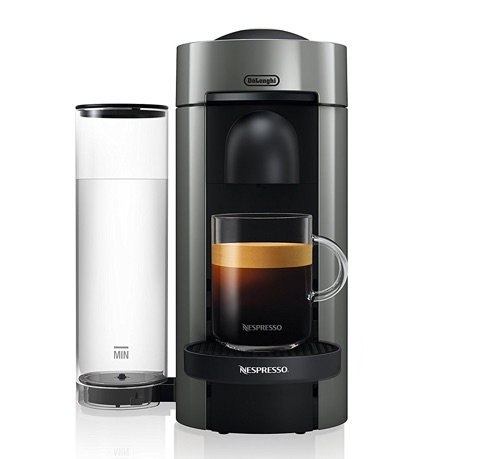 Nespresso VertuoPlus belongs to Nespresso's VertuoLine machines that are able to brew both espresso and coffee. These machines use differently designed capsules available for espresso and coffee drinks. Unlike espresso machines that use pumps to force water through the capsules, VertuoPlus uses Centrifusion technology that rapidly spins the capsules while saturating it with water, which ensures better extraction of the coffee. You can read our full post about Nespresso VertuoPlus here.
Nespresso CitiZ Espresso Machines: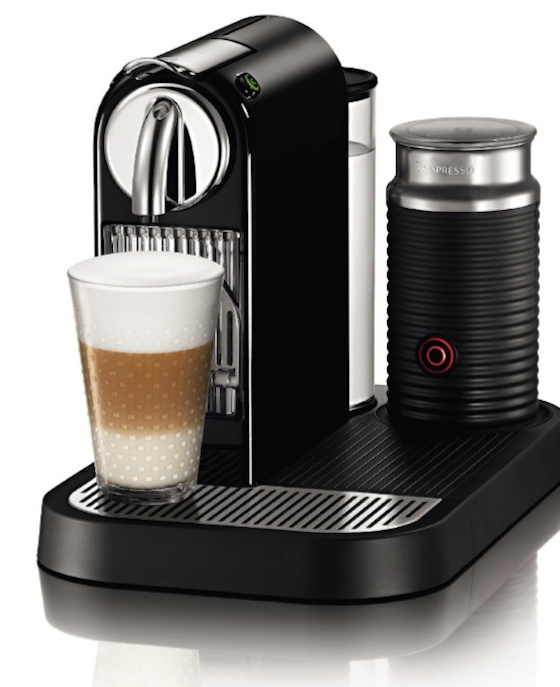 Nespresso is currently one of the hottest single-serve espresso machines available in the market. It has the most diverse range when it comes to machines and coffee capsules. It's perfect for making espresso as well as other coffee drinks like Cappuccinos, Lattes or Macchiatos. However, you will need to bundle it with an electric milk frother, which comes built-in in some models like the Nespresso CitiZ pictured above. The CitiZ is an OriginalLine Nespresso machine, which means it uses the original design of Nespresso capsules, it is also compatible with capsules from brands other than Nespresso.
Mr Coffee Cafe Barista Espresso Machine: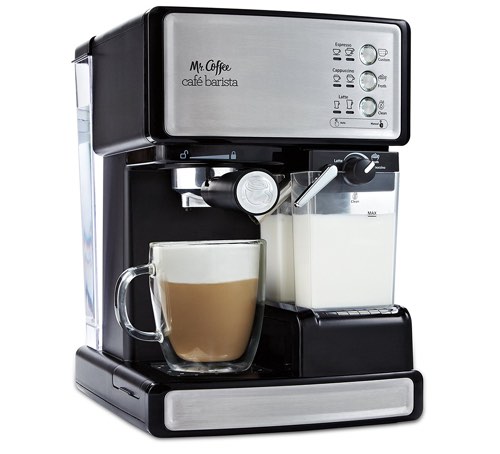 If you're not crazy about the idea of using capsules and prefer to use your favorite coffee ground instead, this machine from Mr Coffee makes an excellent choice. It is still a simple push-button operation, but you'll manually load up and tamp your coffee ground to extract the coffee. The milk frother is built-in, it heats, froths and pours the milk into your cup automatically. The control buttons have the options to select espresso, cappuccino or latte and customize the sizes.
Ninja Coffee Bar Single-serve Coffee Maker: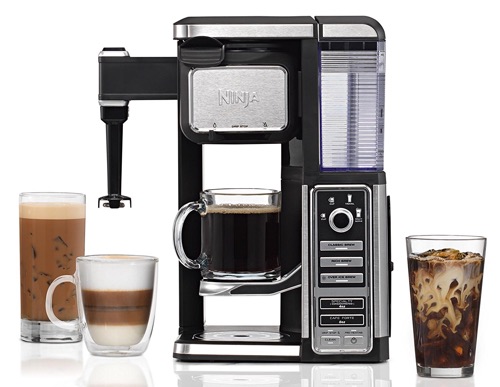 The Ninja Coffee Bar single-serve is another great option for someone who wants to do it pod-free and use coffee ground instead. This system does it all, it makes regular coffee and classic coffee drinks like cappuccino, latte and more. But, it's important that we note that the Ninja Coffee Bar does not make an authentic shot of espresso like machines we featured above. Instead, it makes a strong and short brew of coffee that resembles a shot of espresso. The built-in frother makes it easy to create froth for your coffee creations. You can read a detailed post about Ninja Coffee Makers here.
Which Of Those Machines Should You Go For?
As we said in the beginning of this post, if you're going to choose a single-serve espresso maker that uses pods/capsules, make sure that you like the machine's selection of capsules.
If you want something that can make both espresso and a regular cup of coffee, choose between the Nespresso VertuoPlus or Ninja Coffee Bar. However, the Nespresso VertuoPlus limits you to using their capsules, and Ninja Coffee Bar on the other hand, uses coffee ground, so you're free to use whichever coffee you like.
Mr Coffee Cafe Barista is somewhat in the middle. It does not limit you to any kind of coffee capsules, but it can only make espresso and espresso based drinks. It does not make a long cup of coffee.
Nespresso CitiZ is another great option for making espresso and espresso based drinks only. Although it uses capsules, the choice of capsules here is a lot more than Nespresso's VertuoLine, since this machine can work with Nespresso-compatible capsules available from many brands.
Need More Information? Read The Following Posts: