An electric water kettle is a must-have in any kitchen, and that's  a given. But if you're an avid coffee or tea drinker, your average water kettle won't cut it for you. As you know, each coffee or tea drink requires water boiled at a different temperature to bring out the best flavor possible. For example:
French Press coffee requires water to be at 200-degrees. Green tea requires it at 175-degrees, black tea at 212-degrees.
The average electric water kettle does not allow you to customize the temperature of water to your preferred drink. What you need is a 'Variable-Temperature Kettle', that's a kettle that gives you different temperature options that are perfect for each drink. This type of kettle usually has a dedicated button for each drink, and can sometimes allow you to set your own temperature. It can also hold your water temperature for a set amount of time until you're ready to use it.
Here's our recommendation for the best variable-temperature electric water kettles:
Breville BKE820XL Variable-Temperature 1.8-Liter Kettle: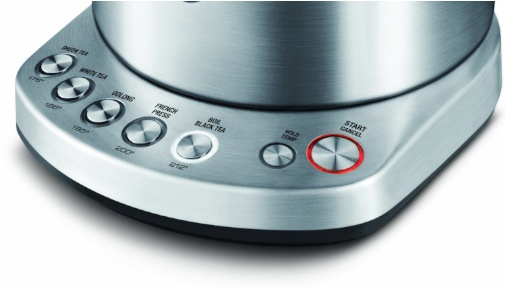 1500watts water kettle with 5 pre-set temperatures for coffee and tea drinks.
1.8 liter capacity.
Hold Temperature buttons holds temp. of water for up to 20 minutes.
Water level indicator on both sides of kettle.
Removable scale filter.
Brushed stainless steel body.
Cordless pot.
Boil-dry protection.
 Click here to learn more about this kettle, read the customer reviews and buy it.
Cuisinart CPK-17 PerfecTemp 1.7-Liter Stainless Steel Cordless Electric Kettle: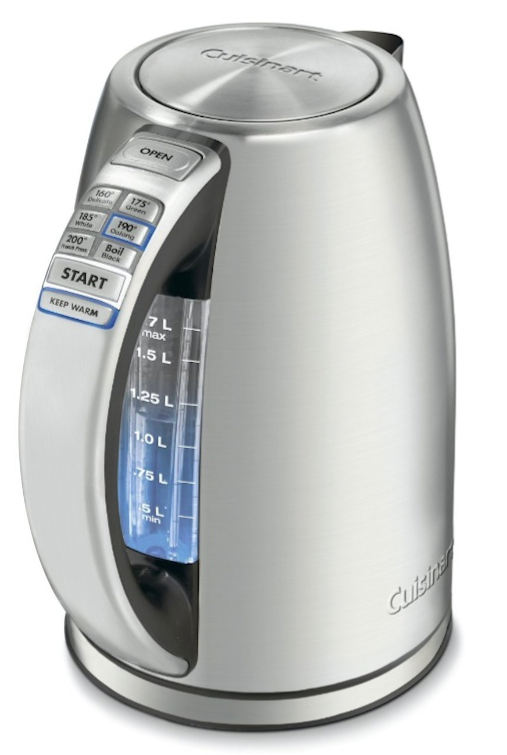 1500watts water kettle. 1.7 liter capacity.
6 pre-set temperature buttons.
Blue LED water level indicator.
Keep Warm button holds temperature for up to 30 minutes.
Cordless pot.
Boil-dry protection.
Click here to learn more about this Cuisinart Kettle, read the customer reviews and buy it.
Kitchenaid KEK1722SX Stainless Steel Digital Display Electric Variable Temperature Water Kettle :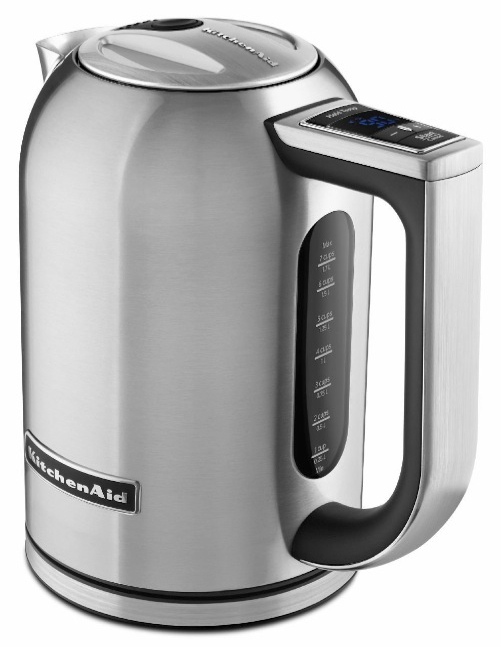 Digital display allows you to set your own desired temperature.
Keep warm button holds temperature up to 30 minutes.
1.7L capacity.
Sleek stainless steel design, more functionality with less buttons.
Illuminated water level indicator.
Available in different colors.
What Is The Difference Between Breville BKE820XL and Cuisinart CPK-17 PerfecTemp?
Here's our full comparison between these two.
So, What is Boil-dry Protection?
Two of the kettles listed above have Boil-dry protection as one of their main features. So, what is this feature?
Boil-dry protection is a safety features that turns the kettle off automatically if it doesn't have the minimum required level of water in it.