Starbucks Verismo V:
Verismo V is a single serve brewer by Starbucks that makes coffee, espresso and latte right at home. It uses pods made exclusively by Starbucks that are available in their famous blends. The Verismo is a system that was first introduced back in 2012, and the Verismo V is the new and totally redesigned machine that promises to brew a better cup than its previous model.
Features of Starbucks Verismo V:
Single serve brewer with dual pressure that allows it to extract espresso at high pressure or coffee at lower power.
Coffee cup size: 10 oz.
Quick start up time of 15 seconds.
With the use of the Verismo milk frother (sold separately), you can easily make your favorite coffee drinks like latte or cappuccino.
Water reservoir capacity: 77.7 oz.
Starbucks Verismo V Pods: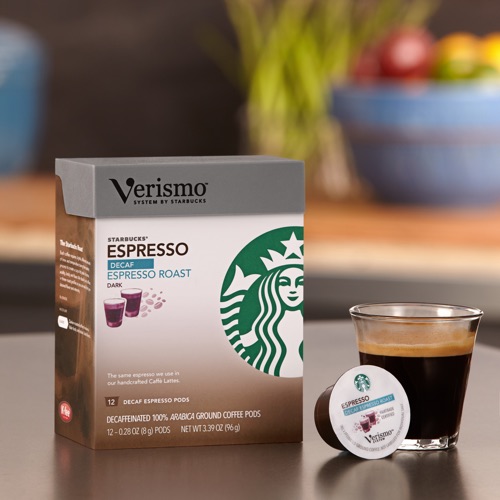 Verismo can only brew pods made by Starbucks for Verismo. The pods are available in a wide range of Starbucks blends, either for coffee or espresso. Each box contains 12 pods. There are also milk pods available that you can brew directly into your cup. However, these pods won't make you an authentic cup of Cappuccino or Latte. For that, it is recommended that you pair your brewer with an electric frother, either Verismo's or any other brand that you'd prefer.
There are no refillable pods available for Verismo. Also, as of the time of writing this post, there are no other brands that make pods compatible for Verismo. So, then buying a Verismo brewer, you're committing to drinking Starbucks pods only.
Who Should Buy the Verismo V?
If you're a Starbucks fan, this is a must-have for you, without a doubt. You will be saving a lot of money by investing in this system and brewing your own coffee at home. When brewing a Starbucks at home, your cost should be around $1 per cup. That's about half the price of what you would pay at the shop.
Keurig 2.0 Coffee Brewer: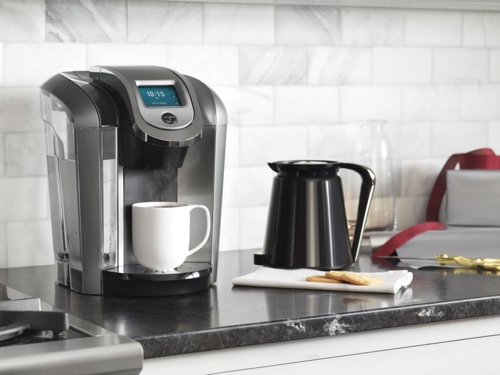 Keurig is probably the most popular single-serve brewer right now. Keurig's brewer can make you a variety of drinks like coffee, tea, hot chocolate and more. Keurig uses K-Cup pod only, however, K-Cup pods are made by so many different brands like Green Mountain, Starbucks, Dunkin' Donuts, Folgers, and so many well known coffee brands.
Features of Keurig 2.0 Brewer:
There are 3 models available for Keurig 2.0 brewers, usually the difference between them is in the size of the water reservoir, touchscreen display and cup sizes. But here are some general features you'll find in all models:
Single serve brewer for making coffee, tea, hot chocolate and more.
Can brew a variety of cup sizes (4 to 10 oz cup) (12 oz to 18 oz travel mug) as well as a full carafe (up to 30 oz).
Automatic K-Cup pod recognition automatically optimizes the settings for you (you can reprogram it).
Easy to use touchscreen display for programming your machine.
Strength control setting allows you to make a bolder cup of coffee.
Auto on/off option.
Keurig 2.0 K-Cup Pods: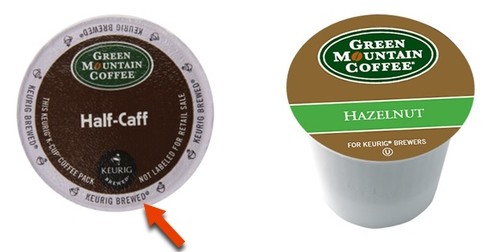 Keurig 2.0 brewers use K-Cup pods different than the old K-Cups. The new K-Cups have a special labeling on the rim of the pod that allows the machine to read what pod you've inserted. Like we've already mentioned, these pods are available for many large coffee companies, so you're more than likely to find your favorite coffee in the form of a K-Cup. And if you can't find it, you have to option of using a refillable pod filter that not only allows you to use your favorite ground, but also save on K-Cup purchases.
Who Should Buy a Keurig 2.0 Brewer?
If you're looking for a brewer with the most variety of drinks, then Keurig is your answer. Unlike other single serve brewers that force you to stick to their brand of coffee, Keurig brings so brand to the table. You'll find pods from brands like Green Mountain, Folgers, Dunkin' Donuts, Starbucks, Caribou. You'll also be able to brew coffee, tea, hot chocolate, flavored coffee, hot apple cider and more. The large sizes a Keurig can brew is also a very big advantage over other brewers.
Read our comparison between Keurig 2.0 brewers by clicking here.
Nespresso Evoluo VertuoLine Espresso and Coffee Maker: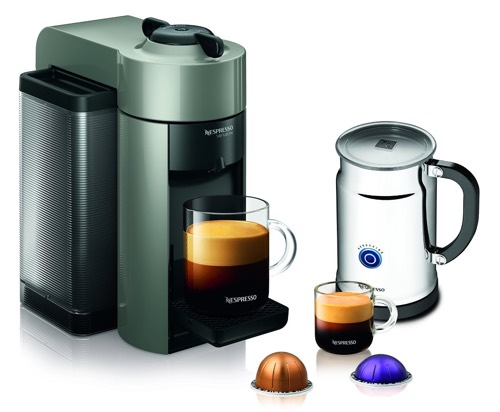 For this post, we're adding Nespresso's VertuoLine to the comparison rather than OriginalLine Nespresso makers, to make the comparison fair.
Nespresso has always been known for its high quality espresso and espresso drinks. But with the introduction of their VertuoLine machines, Nespresso can now make espresso as well as coffee. VertuoLine brews Nespresso capsules only, that are even different than Nespresso's OriginalLine capsules. VertuoLine capsules are available for espresso and coffee in a number of blends and strengths.
Features of Nespresso VertuoLine Evoluo:
Brews espresso and coffee drinks.
Automatic capsule recognition for blend-specific brewing optimization.
Uses patented Centrifusion technology for brewing instead of pump pressure. The machine spins the capsules rapidly while blending the coffee ground with water to produce the perfect crema.
Brews two up sizes: espresso (1.35 oz) and coffee (8 oz).
Used capsule drawer holds up to 12 capsules before needed to discard them.
Can be bundled with Nespresso Aeroccino to create delicious espresso based drinks (cappuccino/latte).
Available in different colors.
Nespresso VertuoLine Capsules: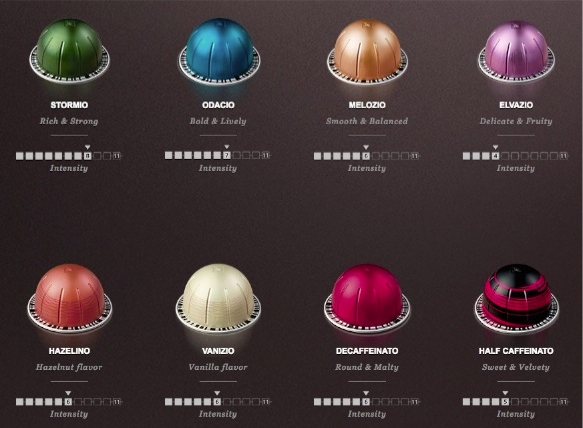 As we've just mentioned, Nespresso VertuoLine uses capsules that are entirely different than Nespresso OrignalLine's. They've been fully redesigned to be used with the new Centrifusion brewing technology. VertuoLine's capsule include over 12 varieties with the occasional release of limited edition capsules.
Who Should Buy Nespresso VertuoLine Evoluo?
If you've ever tried Nespresso's coffee, then you know it is really as high quality as they say. Especially when it comes to espresso drinks. If you like your Cappuccino and Latte, you'll love the cup a Nespresso machine can produce. The coffee on the other hand, while it is good, it is different than a traditional cup of coffee and a totally new experience. Due to Centrifusion technology, where the capsule spins at 7,000 rotations per minute while blending the coffee ground with water, the coffee comes out quite foamy and different in taste than a traditional cup of drip coffee.