Features of Gaggia MDF Burr Grinder: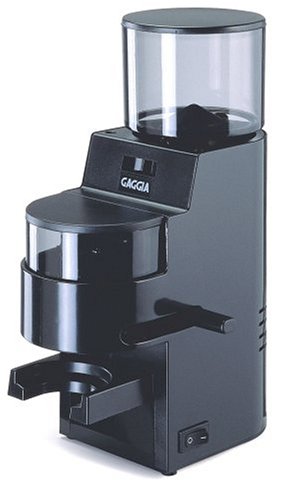 Commercial-grade Burr grinder with 50mm tempered-steel burrs.
34 grind settings.
120-watts motor.
10 oz bean hopper and 8 oz ground container.
Automatic dosing allows for pre-measured amount of coffee to dispense into the portafilter.
Pull level dispenses coffee directly into portafilter.
Plastic housing.
Features of Rancilio Rocky Burr Grinder: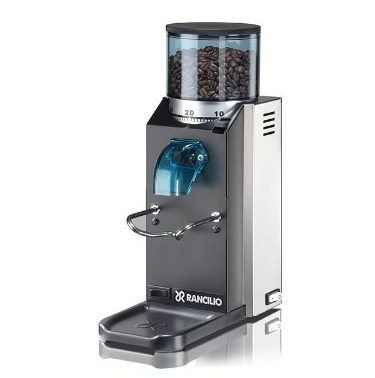 Commercial grade 50mm steel burr grinder.
55 grind settings.
166watts motor power.
Grinders directly into portafilter.
8 oz bean hopper capacity.
Bean hopper is blue tinted for UV protection, which guarantees keeping the beans fresh.
What's The Difference Between Gaggia MDF vs. Rancilio Rocky?
The comparison between the Gaggia MDF and Rancilio Rocky isn't fair enough, to be honest, since Rocky costs almost double the price of the Gaggia MDF, and that certainly reflects in their features:
Both grinders have the same commercial-grade 50mm steel burrs.
Gaggia MDF gives you 34 grind settings. Rancilio Rocky comes with 55 settings.
Power wise, the Rancilio Rock has a more powerful 166-watts motor while the Gaggia MDF has a 120-watts motor.
The Gaggia MDF has a 10 oz bean hopper and the Rocky has an 8 oz hopper. However, the Rancilio Rocky has a blue tinted hopper with UV protection, which ensures keeping your beans fresh.
The Gaggia MDF has plastic housing. The Rancilio Rocky has a stainless steel housing with some plastic parts.
Which One To Buy?
You might think that because the Rancilio Rocky has more power and grind settings then it should be your go-to choice. But that's certainly not the case…
Keep in mind that these two grinders both have the same commercial grade burrs, so you're getting the same quality of a grind.
What coffee brewing method do you usually use? The extra grind settings on the Rancilio Rocky might be useful for someone who regularly makes espresso, so fine-tuning the grind will result in better shots. For other brewing methods, 34 grinds might just be enough.
Your budget will make a big difference in your decision, too. The Rancilio Rocky is way more expensive than the Gaggia MDF, which is fairly priced for the home consumer.
Video Reviews:
Review of Gaggia MDF:

Review of Rancilio Rocky Grinder: