If you're a fan of Pour-Over coffee and want a beautiful setup to put on display on your kitchen counter, here's the good news: you don't have to spend a fortune for the best setup! We found some great pour-over drippers by Japanese brand Osaka that look simply beautiful, made from quality materials and are worth their money, for sure!
Osaka "Lake Mashu" Pour-over dripper with Wood Stand Set: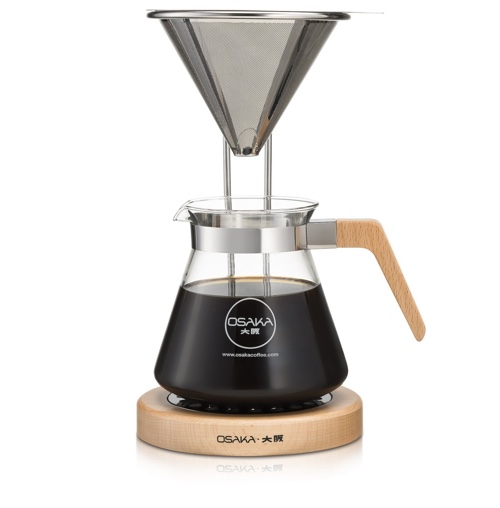 The Osaka Lake Mashu consists of a stainless steel cone filter, a stand with a wooden base and a 4-cup glass carafe. The carafe is made from borosilicate glass, which is resistant to thermal shock, it also does not absorb any odors, chemicals or residue. And while it can make a max of 4 cups, it has markings for 2 cups (9 oz) 3 cups (13.5 oz) and 4 cups (18 oz), with a full capacity of 20 oz. You can choose your favorite wood color: natural, Mahogany or black.
Osaka "Kaiyukan Gold" Tripod Pour Over Set:

This set has a different feel and aesthetic than the previous set, but it's still as beautiful with it's luxurious gold and brown tones! The set includes a gold stainless steel cone filter, a gold stand, a wooden base and a 20 oz carafe accented with cold metal and a brown wooden handle. The glass carafe is marked for 2 cups, 3 cups or 4 cups. Unlike the previous set, it is available only in one shade of wood.
Osaka Mount Zao Pour Over Coffee Station: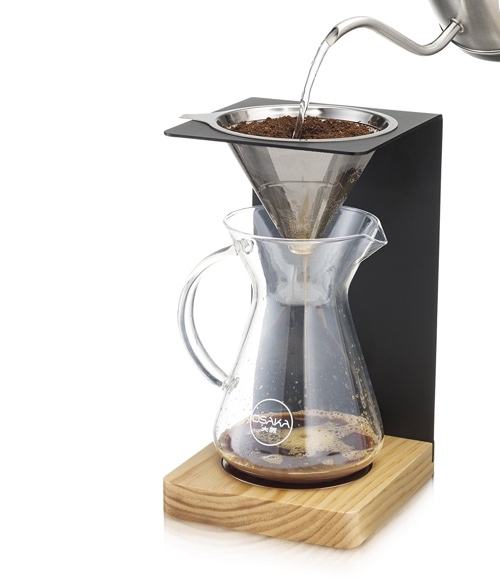 This set comes with an entirely different aesthetic, perfect for someone who wants the more classic pour-over look. The Mount Zao set includes a base with a metal stand, a stainless steel cone filter, and a 20-oz all-glass carafe.
Why Choose Osaka Pour-Over Home Set?
There are many pour-over sets available to buy, but here's why these Osaka sets won our hearts:
Beautiful designs that reflect the traditional Japanese style combining natural wood with metal.
The stainless steel cone filters mean you don't ever have to buy a paper filter again.
They are very reasonably priced, making them a great set either for personal use or as a gift.