With its VertuoLine release, Nespresso has finally made its coffee loving customers happy by making a machine that makes both Espresso and Coffee. The VertuoLine is a completely redesigned espresso and coffee maker, that even uses different capsules than other Nespresso machines (known as OriginalLine). Nespresso has also released the Evoluo machine, which is another espresso and coffee maker just like the Vertuoline.
Today, we'll look at the difference between these two machines to help you decide which is the best choice for you.
Features of Nespresso Evoluo: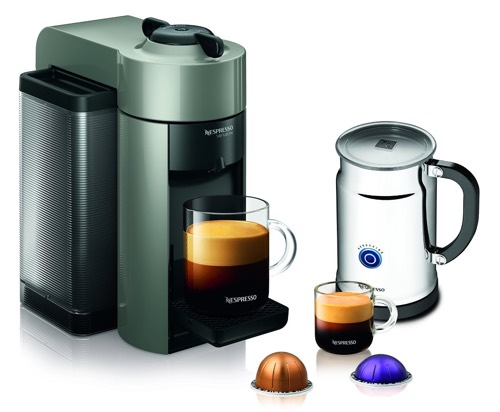 Uses Centrifusion technology to spin the coffee/espresso capsule rapidly to brew. (does not rely on pump pressure like other espresso makers).
Automatic coffee pod recognition, equipped with a laser bar code reader that reads the type of capsules you've inserted automatically.
Automatically adjusts settings to fit the type of pod and blend you're brewing.
Brews two cup sizes: espresso and coffee. Both are reprogrammable to your taste.
Used capsule drawer holds up to 17 capsules before needing to discard.
Fast heat-up time of 15 seconds.
Compatible with VertuoLine capsules only.
Available Models – Evoluo vs. Evoluo Deluxe:
Nespresso Evoluo is available in two models: Evoluo and Evoluo Deluxe.
What's the difference between them?
Evoluo Deluxe is larger in size when it comes to the water tank capacity (54 oz vs. 40 oz for the Evoluo) and used capsule drawer.
Both are identical in looks and both are available in Red or Grey.
Comparisons
What Is The Difference Between Nespresso Evoluo and Nespresso VertuoLine?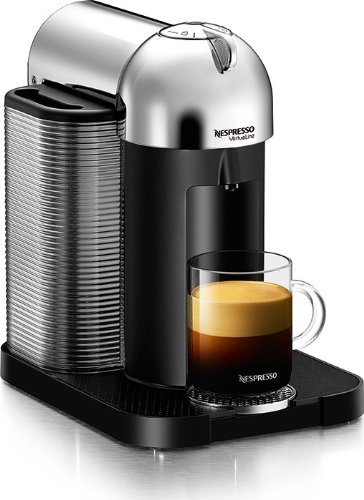 The easiest way to explain the difference between them is to call the Evoluo the next generation or the upgraded version of the Vertuoline.
Both machines are basically the same. Both use the same brewing technology and both are able to brew espresso as well as coffee.
However, Nespresso took all the complaints about the VertuoLine and fixed them with the Evoluo.
The Evoluo is able to brew hotter coffee than the VertuoLine. So when it comes to temperature, Evoluo performs better.
The Evoluo's redesign allows it to fit more cup sizes with its foldable and removable drip tray.
The Vertuoline model is now the oldest in the the vertuo line of products. I don't recommend buying it, at all. Any initial issues that came with the VertuoLine machine has been fixed in later models, and that is the Evoluo or VertuoPlus.
Evoluo vs. VertuoPlus, What's The Difference?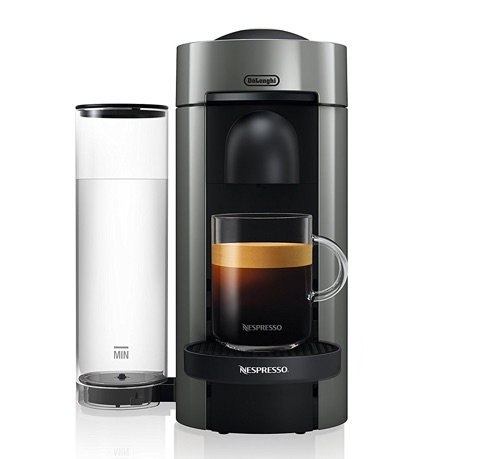 VertuoPlus is another machine in the VertuoLine line of Nespresso machines. It works like Evoluo, using the same technology and brewing the same VertuoLine capsules. But the VertuoPlus has an updated design:
It has a water tank that swivel. You can keep the tank behind the machine, to its right or left.
It has a motorized head. Lights press on the head after you place your capsule and it will automatically lower and close.
There's a single button on the machine, no need to choose your type of capsule (espresso or coffee) as the machine will automatically detect the capsule you inserted and adjust accordingly.
You can learn more about Nespresso VertuoPlus by reading our full post about it here.
Which One Should You Buy?
You're definitely better off buying the Nespresso Evoluo. You get everything the VertuoLine has to offer, but with the first VertuoLine, there was a lot of complaints that the coffee wasn't hot enough, and the Evoluo fixes that.
If you'd like to make milk based coffee drinks like Cappuccino or Latte, we highly recommend that you bundle up your machine with the Aeroccino milk frother.
Frequently Asked Questions
Can You Use Original Nespresso Pods in Vertuoline?
Are There Nespresso Tea Pods For VertuoLine?
No, Nespresso does not make tea pods either for OriginalLine or Vertuoline. Some third party brands offer tea capsules for OriginalLine machines, but none are available for Vertuo machines.
Where Are Vertuo Pods Sold?
They are sold by Nespresso, either on their website or through their boutiques. Some are also available on Amazon.
Can The Temperature on a Vertuo Machine be Changed?
No, brewing temperature is set to a default by Nespresso and it cannot be controlled.
How Are Cup Sizes Selected on a Vertuo Machine?
Cup sizes are automatically set and recognized by the machine. When you insert a certain pod, mug size pod for example, the machine will read the barcode on its rim and recognize the exact cup size it is supposed to brew. There's no need for you to manually select a cup size.
Do Vertuo Machines Make single or double espresso shots?
Both! You can make a single shot by using the espresso pod or make a double-shot by using the double espresso pod.
Do Vertuo Machines Dispense Hot Water?
No, unfortunately, you can't use the machine without the pod inside, making it difficult to dispense hot water on its own.