If you happened to love milk based drinks, delicious frothy coffee or hot chocolate, you'll absolutely love having an electric milk frother.
How Is an Electric Milk Frother Different Than a Handheld Frother?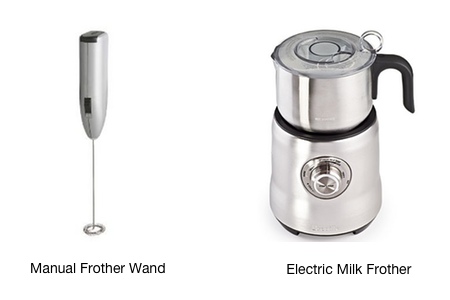 You might wonder, why should you spend (comparatively) a lot of money on an electric milk frother instead of going for a $3 frothing wand? Well, there's a LOT of difference:
With a frothing wand, you'll still need to heat the milk first then froth it. Two tasks.
With an electric milk frother, you pour your milk, push a button and it will heat it then either steam it or froth it for you.
A frothing wand will never give you the same thickness an electric milk frother will give you. A frothing wand will give you a froth full of air and bubble that is not as delicious or nearly enjoyable as the foam from an electric milk frother.
If you want to learn everything there is about electric milk frothers, check out the full guide here.
What Is The Best Milk Frother To Buy?
There are many options to choose from, but we've got the best two choices for you here.
Breville BMF600XL Milk Cafe Milk Frother
Latte frothing disc for smooth and silky milk. Please review the Product Videos under the images before use.
Cappucino frothing disk for thick and creamy froth
Hot chocolate maker, by simply adding drinking chocolate powder, flakes or syrup to the warming milk
On-board disc storage
Product uses induction heating, you can simply place the jug in the dishwasher for easy cleaning.
The Breville electric milk frother is BY FAR the best one out there. It offers many features that other frothers don't have like:
Adjust temperature of milk.
Makes hot drinks instantly by adding the ingredients into the frother. Add chocolate powered, chocolate shavings or any drink ingredient you like.
Other features include:
Makes hot or cold froth, with a push of a button.
Two frothing discs, Latte disc for smooth steamed milk, or Cappuccino disc for thick frothy milk.
On-board disc storage.
Uses induction heat.
Jug is dishwasher safe.
The Breville Milk Cafe Frother is the best electric frother for latte as it allows you to choose the optimal temperature for it as well as other drinks. It's also perfect to use with any type of milk like soy, almond or rice.
Watch How The Breville Milk Cafe Works:
The second best choice would be Nespresso's Aeroccino 4 milk frother
Nespresso Aeroccino4 Milk Frother, One Size, Chrome
2 types of hot foam, hot milk and cold foam, the Aeroccino4 offers you a wide choice to prepare even more coffee and milk recipes at home in a simple way
Dishwasher proof (Max 70° C)
One single whisk for all preparations
Although this frother is not a variable temperature frother like Breville's, but it still has a lot of great features to make it a great pick.
Aeroccino 4 gives you a few froth selections: hot foam or hot light foam, hot milk or cold foam. The selections are clearly marked by a button for each choice that sits on the base of the frother. Unlike Nespresso's older frother, this one has an upgraded ceramic coating and it is dishwasher safe. Also, it will create different foam types without the need to change whisks, a single whisk will do them all.
Also, the exterior of the frother has been updated and it's now stainless steel. It also has an elegant handle that makes it easier to hold.
Breville Milk Cafe vs. Nespresso Aeroccino 4
We prefer the Breville Milk Cafe for a few reasons:
Its induction base makes the heating element more advanced than the Aeroccino.
Ability to make hot chocolate by adding cocoa right into the jug.
The ability to select your desired temperature.
It has a larger capacity, enough to make 3 cups at a time. While the Aeroccino will make about a full large cup at a time.
What Is The Difference Between Nespresso Aeroccino 4 vs. Aeroccino 3?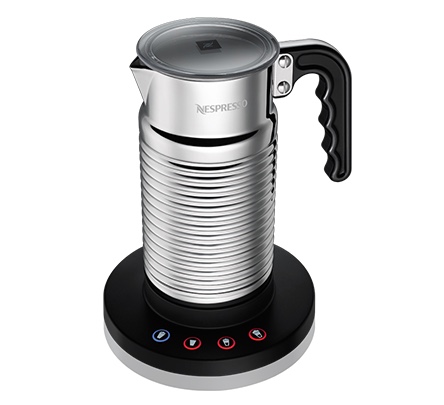 Aeroccino 3 is the previous model from Nespresso. You'll find that it comes bundled with most of Nespresso's machines, although other times you could get lucky and get the Aeroccino 4 instead of the 3.
Although the 3 model is older, it's not quite outdated, but it is limited. You can make hot or cold foam, and you can switch between dense foam or hot milk by removing the whisk. It is NOT dishwasher safe and cannot be submerged in water. The exterior is plastic and the interior is non-stick teflon, which is more sensitive to scratches and sometimes it peels off. Read the full comparison between aeroccino 4 vs 3 here.
Here's Another Detachable, Dishwasher Safe Milk Frother
Sale
Secura Detachable Milk Frother, 17oz Electric Milk Steamer Stainless Steel, Automatic Hot/Cold Foam and Hot Chocolate Maker with Dishwasher Safe, 120V
The Milk Frother and Hot Chocolate Maker is perfect for creating thick and rich froth for coffee, lattes, cappuccinos, and for making hot chocolate.
Larger capacity creates up to 250ml of creamy milk foam, or up to 500ml of hot chocolate milk. This is double the capacity of most other milk frothers.
Frothing whisk makes hot or cold froth in minutes and makes hot chocolate. Heating whisk is for heating only heating milk. The heating whisk is conveniently stored in the bottom of the base.
The removable milk jug features a convenient spout for easy pouring without splashing.
Stainless steel milk jug is dishwasher safe and can be easily removed from the base for cleaning.
If you found Breville's Milk Cafe frother to be a bit too high for your budget, here's a pick that is more budget friendly and has nearly the same features.
Secura offers something better than most generic frothers. This one has a detachable jug with stainless steel coating, just like Breville's. So it is dishwasher safe and has more robust coating.
You can add your ingredients to the milk as it heats and froths, and you can select between hot or cold foam. It includes two whisks, one for frothing and another one for heating only, so it will lightly stir the milk as it heats.
When it comes to capacity, it has a 250ml maximum capacity.
Where does it differ from Breville's Milk Cafe? it is not variable temperature. So you cannot customize the temperature of your milk, if that's important to you.
FAQ:
Do Milk Frothers Heat Milk? Does a Handheld Milk Frother Heat Milk?
Yes, they do, if you're using the electric kind. You'll pour in cold milk and the milk frother will heat it, mix it and froth it. A handheld frother will not do the same, though. You'll have to heat your milk first then use the frother to froth only.
What Does a Milk Frother Do?
If you're not familiar with electric milk frothers and what they do, let's start by answering this question:
When you order a latte or a cappuccino at your favorite cafe, they use their professional espresso machines to prepare it. These machines have a component called a 'Steam Wand' which a barista will use to heat and froth milk for your coffee drink. Milk Frothers are a home-friendly alternative to an espresso machine's steam wand. This simple appliance, which looks a lot like an electric water kettle, will heat and froth the milk for you to create your own delicious coffee drink at home. All you have to do is press a single button and it will do the rest. Most frothers will give you the option to create either dense foam or just heat the milk with a light froth. Some also create cold froth for iced drinks.
Why You Need an Electric Milk Frother
Hot frothy milk with a touch of a button! It's that simple. Not into froth? You can still have nice thick steamed milk for any milk-based drink. If you're not a fan of milk based drinks, then you most likely do not need one, but if you do make them on a regular basis, a milk frother will make preparing your coffee drinks a breeze.
What Else Can You Do With a Milk Frother?
Hot chocolate and Matcha drinks are a popular choice after coffee drinks when it comes to frothy milk. Some milk frother models allow you to add ingredients to the milk as it froths, which gives you a nicely blended and frothy beverage.
Can You Use Creamer, Heavy Cream or Half and Half in a Milk Frother?
While some manufactured advice against it, you can totally do that. The froth results will vary from one diary to another, just like when you use milk alternatives, but it will froth. The one thing I'd recommend though is that you wash or at least let the frother soak right after use. Although all electric frothers have nonstick coating, how it will react to residue will differ. Your best bet is to not let it stick and dry and wash the frother immediately.
What Is The Difference Between a Milk Steamer and a Milk Frother?
Traditionally, steamed milk is milk that you heat and texture using a steam wand, which is usually available in an espresso machine. However, commercially, the name Milk Steamer has been synonymous with an electric milk frother or heater. When looking up the words 'milk steamer' the same results for milk frother will appear. Based on that, we're saying that milk frother and steamer are the same thing.
If you get an electric milk frother, it will include two whisks:
– One whisk for creating steamed milk: that is hot milk only slightly whisked, perfect for lattes.
– Another whisk for creating frothy milk, that is milk highly whisked until it is very foamy. This type of milk is traditionally used for Cappuccinos.
Can I Use Any Type of Milk with an Electric Milk Frother?
Yes, absolutely. You can use regular milk or any milk alternative including almond milk, coconut milk or rice milk. However, the texture of the froth will change depending on the type of milk you use since each type of milk has different percentage of fat, which effects the froth texture.