What Is a Grind and Brew Coffee Maker?
a Grind and Brew or, also known as Bean to Cup, is a coffee maker that has an integrated bean grinder. When brewing coffee, the machine will grind the coffee beans on demand and brew it right away, resulting in a fresh and aromatic coffee brew while saving you the trouble of grinding your coffee beans using a separate grinder.
There are a number of Grind and Brew coffee makers on the market with prices that range depending on the capacity of the machine and its additional features.
In this post, we'll look at the best grind and brew coffee makers, which ones we think are best for the money and we'll share info on cleaning and maintaining them.
Which Grind and Brew Coffee Maker Is Best for The Money?
Breville Grind Control Coffee Maker: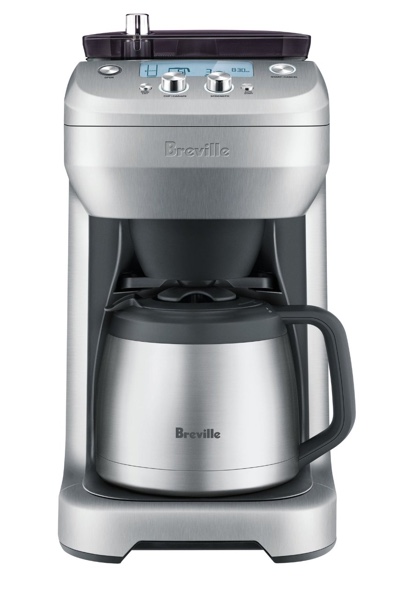 The Breville Grind Control is considered an high-end when it comes to grind and brew coffee makers. It is considerably more expensive than other machines, but it is fully packed with features that no other machine has. These features allow you to fine-tune the settings to your preference so you get a cup of coffee that is exactly to your taste.
It has 6 adjustable grind settings. These settings are further calibrated for light or dark roast beans.
Brew a full carafe or a single cup.
Choose from 8 coffee strength settings.
Pre-brew temperature control.
Programmable auto-start for brewing coffee at your selected time.
Built-in grinder with stainless steel burrs for a consistent grind.
Ability to use pre-ground coffee.
Brushed stainless steel housing makes the machine durable and easy to clean.
LCD displays settings, water level, single serve/carafe options, count down timer and more.
Thermal carafe included.
Bean hopper capacity: 0.5 lbs
Carafe capacity: 12-cups.
What The Breville Grind Control Gives You That Other Machines Don't?
The ability to brew a single cup (in different sizes, including a 20 oz travel mug). This isn't an option that's available on grind and brew coffee makers.
The ability to calibrate the grind settings for the type of roast is something totally new. Matching the settings to your type of roast (light, medium or dark) ensures a truly superior cup of coffee.
The stainless steel burrs and exterior of the machine makes it durable, easy to clean and maintain and gives it a sleek and modern look.
Click here to learn more about the Breville Grind Control, read the customer reviews and buy it.
Read More On the Breville Grind Control:
See How The Breville Grind Control Works in Video:
Cuisintart DGB-700BC Grind and Brew Coffee Maker:
This Cuisinart grind and brew coffee maker is more on the affordable price when compared to the Breville Grind Control. It has everything a grind and brew should have, so if you're not looking for the high-end specifics, this Cuisinart should be a great option for you.
It has a built-in conical burr grinder.
12-cup class carafe capacity. Warmer plate keeps it hot.
Select from 2, 4, 6, 8, 10 or 12 cups.
Brew-pause feature allows you to pause the brewing process before it ends.
Ability to turn grinder off and using pre-ground coffee.
Strength selector allows you to adjust the flavor of the coffee.
8 oz (0.5 lbs) bean hopper capacity.
What The Cuisinart Grind and Brew Gives You That Other Machines Don't?
This grind and brew by Cuisinart is comparable to other drip coffee makers, but its built-in conical burr grinder gives it an edge over them. For an affordable price, you get a much better brewing experience, automatic coffee grinder and brewing, and the ease of use as it works just like other coffee makers.
Read More on Cuisinart Grind and Brew:
Watch the Cuisinart Grind and Brew in Action:

Looking for more options for a grind and brew? See more machines here.
Which Grind and Brew Has the Quietest Grinder?
It is hard to comment on the loudness of the grinders as it could be subjective to each person. What sounds like a quiet grinder to me could be loud to you.
What we can comment on is that the built-in grinders on these coffee makers aren't especially louder than any regular coffee grinder. Because the grinders start automatically, it could be annoying to have them start automatically while you're still asleep for example. So our advice to be to set them to start at a time when you're awake.
How To Clean Grind and Brew Coffee Makers:
We recommend that you look at the user manual that comes with your coffee maker for specific instructions on how to clean your machine.
Generally though, cleaning a grind and brew coffee maker isn't that hard of a task:
It consists of pulling out the grinder basket and lid, and the filter basket.
Rinse them with soap and water.
Clean thoroughly and allow parts to dry completely before placing them back in the machine.