If you're a fan of Siphon or Vacuum coffee brewing but found the method to be a little too complicated for you to do at home, then this Kitchenaid brewer has a lot to offer you. KitchenAid's Siphon coffee brewer offers you fully automated Siphon coffee brewing that results in an authentic and delicious coffee brew. Keep on reading to learn more about this great brewer.
Features of the KitchenAid Siphon Coffee Brewer: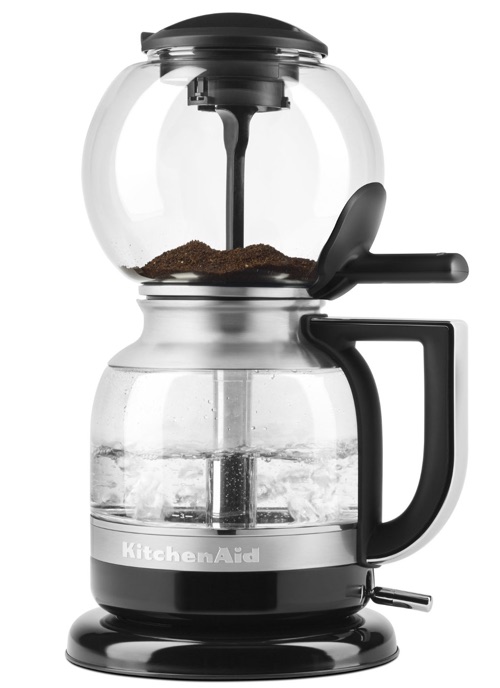 Automatic Siphon coffee brewing through vacuum technology.
Brews 3 to 8 cups.
Works just like the traditional method, without the hassle on your part.
Made of premium glass construction with some stainless steel accents.
Magnetic lock keeps the carafe and brewing unit securely locked together.
Set includes: a stand to hold the brewing unit, a lid to cover the carafe once coffee is ready to serve. Coffee brush and scoop, 360 rotating base, reusable stainless steel filter and a pack of cloth filters.
Click here to learn more about the KitchenAid Siphon brewer, read the customer reviews and buy it.

How Does The KitchenAid Siphon Brewer Work?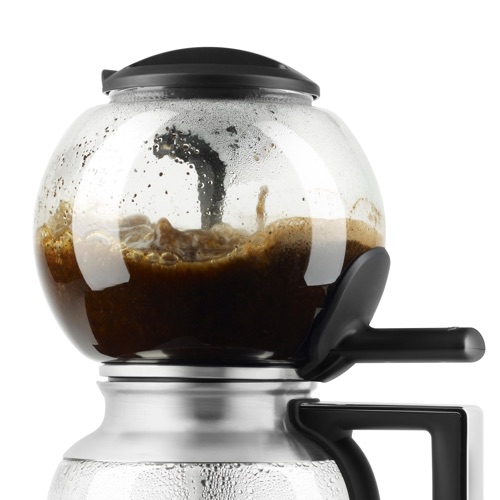 One of the best things about Siphon brewing is watching the process take place. It is a very theatrical process that is entertaining to watch. Here's how it works:
The brewing unit at top is where the coffee ground goes.
The bottom carafe is where your water goes.
When switched on, the vacuum will start to suck the water up into the top chamber.
Some coffee brewing magic happens at this point….
Then, watch the coffee gets pushed down into the bottom carafe, while the coffee ground remains on top.
Confused? It is something you have to watch for yourself… watch the following video:
What Are the Pros and Cons To Using KitchenAid's Siphon Coffee Maker?
Pros:
If you're a fan of Siphon brewing, you'll find this KitchenAid VERY simple to use in comparison to traditional Siphon brewers.
Unlike traditional Siphon, you don't need a burner to heat the water. The machine does it with a switch of a button.
The carafe is great for serving coffee right away.
Cons:
It's a little difficult to clean, it is NOT dishwasher safe.
Unlike drip coffee makers, there's no burner that keeps the coffee hot. But this goes for all Siphon coffee makers.
Who Should Buy The KitchenAid Siphon Coffee Brewer:
If you're a fan of Siphon brewing, or if you're looking to experience a new way of enjoying coffee, you'll love this brewer. The coffee brew isn't you average drip machine's, it tastes lighter and cleaner, so you'll definitely be trying something new here. However, you have to be dedicated to the messy cleanup process afterwards, which is our only complaint about Siphon brewing.
Click here to learn more about the KitchenAid Siphon brewer, read the customer reviews and buy it.