When it comes to coffee gear, it's without a doubt that Breville offers some really top performing coffee and espresso makers for the barista at home. We've talked about the Breville YouBrew coffee maker with built-in grinder, which happens to be a a top seller and comes highly recommended. But if you're looking to make more coffee drinks, namely, gourmet espresso based coffee drinks, we'll be reviewing a fantastic Espresso machine by Breville called the Barista Express.
Features of Breville Barista Express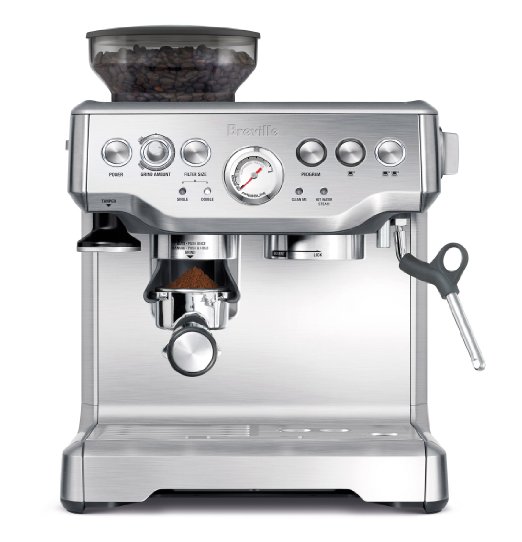 Features:
15-bar pump pressure espresso maker.

1600W Thermo coil heating system

.
Full stainless steel housing.
Built-in conical burr grinder.
Sealed bean hopper with 1/2 lbs capacity.
67 oz (2 Liters) water reservoir.
Built-in tamper.
Portafilter cradle for hands-free grinding.
Click here to learn more about the Barista Express by Breville.
Customize your Espresso experience:
Having an espresso maker with a built-in grinder is the best way to make a truly fresh and aromatic cup of coffee. The Barista Express will grind as much coffee you need to brew the perfect shot of espresso. But that's not all:
You can adjust the coffee grind amount.
You can adjust the type of coffee grind you want, from coarse to fine.
Choose the size of filter you're using (single or double – both included with the machine) and the grinder will automatically dispense the required amount of coffee ground for that size.
When using an external coffee grinder, what you'd normally have to do is hold the portafilter underneath until it fills up with coffee ground. With the Barista Express, the built-in cradle will do this for you, giving you hassle-free, mess-free, hands-free coffee grinding operation. The built-in tamper comes quite handy as well.
Now, let's talk about the amount of coffee you can brew! The Barista Express is set with two size pre-sets for a single or double espresso shots. But since it's YOUR machine, you can program the machine to brew the volume you want it to with its manual options as well as re-program the pre-sets.
Cappuccinos, Lattes, Macchiato and even Tea…. The Barista Express Can Make It Happen: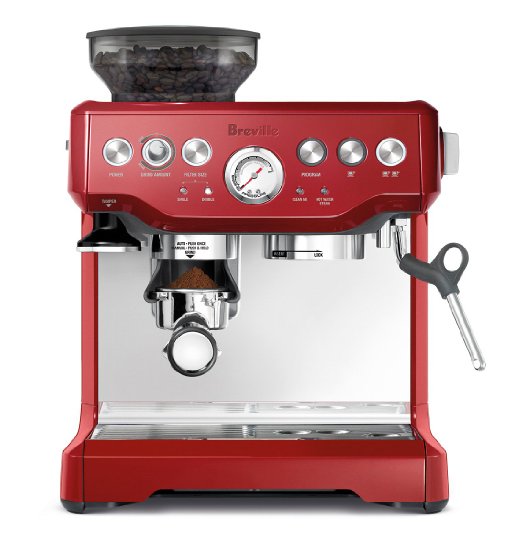 Your Barista Express is equipped with a nice 360-degree swivel steam wand for milk heating and frothing. Making anything from a Cappuccino, Latte or Macchiato and everything in between them, Coffee House style, will be a breeze. Fancy yourself a cup of tea instead? The machine is also equipped with a hot water dispenser that will provide you with hot water on the fly!
Watch How The Barista Express Works:

Comparisons
Breville Barista Express: BES870XL vs. BES860XL, Is There a Difference?
So you've noticed there are two Barista Express machines and wondering if there's a difference between them. Here's a quick comparison:
The Barista Express BES870XL is a newer model of the BES860XL, it features:
a redesigned bean hopper, but the same capacity.
More power at 1600W vs. 1450W for the BES860XL.
The BES870XL includes a hot water dispenser, more control over temperature, auto shut-off, dosing tool – all of which the BES860XL lack.
The BES870XL is available in three colors: stainless steel, red and black.
Since both machines are at the same price, you're better off buying the newest model, which is the BES870XL.
BES870XL Barista Express vs. BES840XL The Infuser: What's The Difference?
The Infuser is another great creation from Breville, a solid espresso maker that is close in features to the Barista Express, but makes a lower cost option. Here's the difference between them:
The Barista Express includes a built-in grinder, while the Infuser does NOT.
The Barista Express features a larger water tank (67 oz vs. 61)
So the main difference here is the Barista Express' built in conical burr grinder that the Infuser lacks. Apart from that, you should be getting the same quality of espresso, but only provided you can get the same quality grind that the Barista Express can provide you with.
Watch How The Breville Infuser Works:
Grinder used in the video is the Breville Smart Grinder and cup is the Bodum Pavina.
What Will Be Included with My Purchase of The Breville BES870XL Barista Express?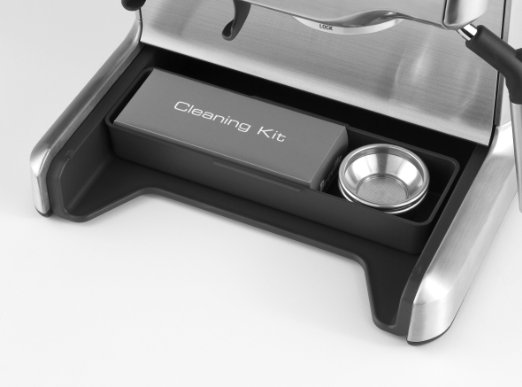 You'll receive:
Single and double wall filters for the portafilter.

Patented Razor™ dose trimming tool

Coffee Scoop
Stainless steel frothing pitcher.
Cleaning Kit: includes discs, tablets and cleaning brush,
Water filter as well as filter holder.
How To Make Coffee Using The Breville Barista Express or Infuser:
Many people wonder if their Barista Express will be able to make a regular cup of coffee. While any espresso maker is not able to make coffee in the traditional sense, like a drip coffee, what it makes is Americano (2 shots of espresso + hot water) which is close enough. Since the Barista Express has a hot water dispenser, you'll be able to do it entirely using your espresso machine. Have a look at this video: