Braun has been working towards creating better coffee makers for the home user to take their experience to the next level. With the release of MultiServe, it's evident that Braun is no longer doing only the 'basic' drip coffee maker anymore.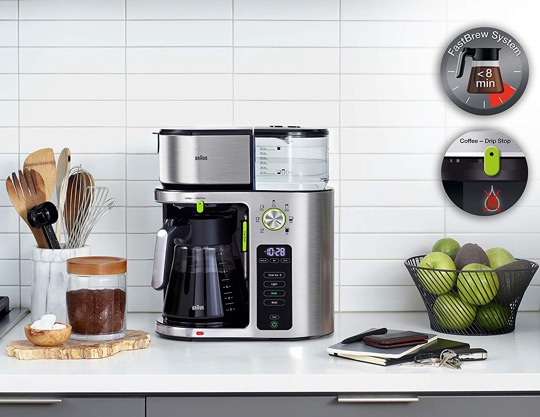 Braun MultiServe is a coffee brewing station that offers multiple serving sizes for every mood and occasion. From single serve, half or full carafe, travel mug size and more. The machine is also pre-set with multiple brew settings to make it even easier for you to prepare your coffee to your liking with a press of a button.
Features of Braun MultiServe Coffee Maker: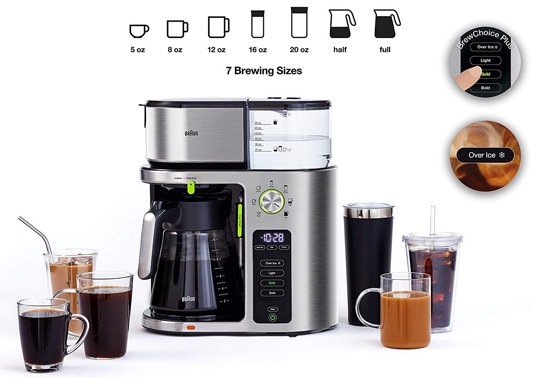 Brew Choice Plus: choose from different coffee brewing settings: Light, Gold Standard, Bold or Over Ice.
Multi-sizes: Dial your choice of serving size: single-cup (5, 8, 12, 16, 20 oz), half carafe or full 10-cup carafe.
Pod-free system. Use your favorite ground coffee.
Specialty Coffee Association Golden Cup certification ensures coffee brewing at optimal temperature to meet the association's standards.
TempSensor System: three sensors monitor temperature through out brewing process to achieve SCA brewing standard and keep coffee at the perfect temperature.
Freshness Indicator: visible indicator to let you know your brewed coffee is fresh.
Removable 50 oz water reservoir.
Includes glass carafe and gold-tone mesh filter.
Programmable digital clock with auto-brew settings.
Click here to learn more about Braun MultiServe, read the customer reviews and buy it.

Watch How It Works:
Braun MultiServe vs. Ninja Specialty Coffee Maker, What's The Difference?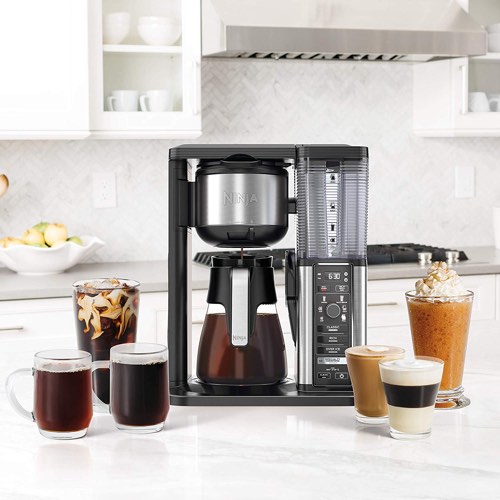 If you're familiar with Ninja's popular Specialty Coffee Maker (also known as Ninja Coffee Bar System), you've probably noticed by now how similar it is to Braun's MultiServe.
The Ninja System is also a pod-free system that offer multiple sizes from single cup up to a full 10-cup carafe. Brewing programs include: Classic, Rich, Over Ice and Specialty. So far, they're pretty much alike… but there's one difference:
Ninja CM401 Specialty 10-Cup Coffee Maker, with 4 Brew Styles for Ground Coffee, Built-in Water Reservoir, Fold-Away Frother & Glass Carafe, Black
4 BREW STYLES: Select from one of the four, versatile brew styles: Classic, Rich, Over Ice, or Specialty Brew.
SPECIALTY BREWS: Brew a super-rich coffee concentrate that you can use to create delicious lattes, macchiatos, cappuccinos, and other coffeehouse-style drinks.
MAKE ICED COFFEE: Brew fresh over ice for flavorful iced coffee that's never watered down.
6 BREW SIZES: Brew anything from a single cup or travel size to a half or full carafe in your coffee maker. 6 sizes include Cup, XL Cup, Travel Mug, Multi-Serve Travel Mug, Half Carafe & Full Carafe.
NO PODS REQUIRED: Use your favorite grounds to create a single-serve coffee—no reusable pod required.
The Ninja Coffee Bar has a built-in milk frother that allows you to create delicious milk froth for making coffee drinks like Cappuccino or Latte. But does the Ninja coffee maker make espresso? No, it doesn't. But it makes something close enough. The 'Specialty' program creates a 4 oz coffee concentrate to replace espresso for specialty coffee drinks. This gives you the choice to make more coffee recipes than Braun's MultiServe, which does not have a milk frother or a coffee concentrate setting.
The Ninja Coffee Bar is also available with an option of glass or thermal carafe, which (as of now) the Braun MultiServe doesn't have.
Read our previous review of the Ninja Coffee Bar here and Ninja Hot and Cold Brewed system here.