What Is The Hamilton Beach FlexBrew Single-Serve Brewer?

The FlexBrew single-serve (like the Hamilton Beach FlexBrew coffee maker) is a convenient coffee maker that makes a single cup at a time. It allows you to use either ground coffee or K-Cups to brew your coffee, that is not a common option in single-serve brewers that prefer to use their own coffee pods usually. So this is a fantastic option for anyone looking to brew a single-cup at a time using ground coffee or K-Cups. And the fact that it's K-Cups compatible, it means that you'll also be able to brew all sorts of other drinks like tea, hot chocolate, gourmet coffee drinks and more!
Right now, there's a number of models available for the FlexBrew Single-Serve, the top rated ones are: 49999A, 49997 and 49995. In this post, we'll be looking at the specific features that make each model different.
Looking for the difference between FlexBrew vs. Keurig? Click here.
General Features of the Hamilton Beach FlexBrew Coffee Maker: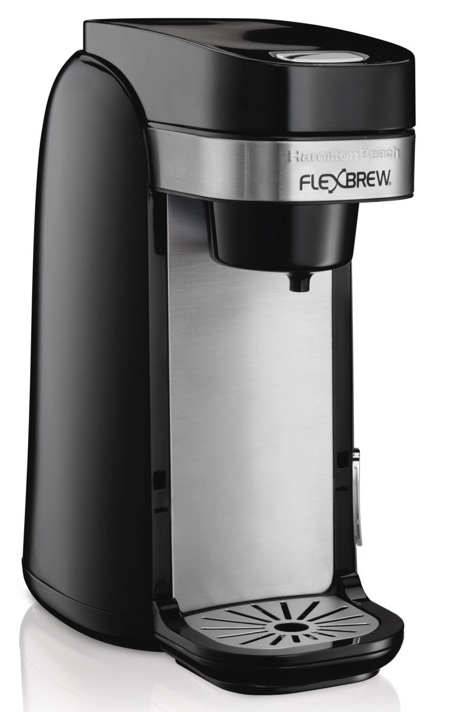 Single serve coffee maker compatible with ground coffee, soft pods (e.s.e pods) and K-Cups.
Fits standard mugs as well as travel mugs.
Stainless steel body.
Dishwasher safe parts.
Automatic shut-off when brew is finished.
Includes basket for coffee ground or K-Cups.
FlexBrew 49999A vs. 49997 vs. 49995, What's The Difference and Which Is Best?
All three machines look almost identical, very slight difference in design makes no change in the machine works. But there are a few difference in features between the 49999A and 49995 (which are the same) and the 49997.
Brew Capacity:
The 49999A and 49995 give you 10 oz of coffee max.
The 49997 give you 10 oz using single-serve pods or up to 14 oz using ground coffee.
Brew Adjustments:
No adjustments on the 49999A and 49995.
the 49997 allows you to choose between regular or bold flavor by adjusting the extraction/brew time.
There's no difference beyond these points.
Which One To Buy?
Choosing between these three is quite simple:
If you'd like to choose your brew strength and want more coffee volume, then the 49997 is your machine.
Otherwise, either the 49999A or 49995 will do. These two are the same in all features.
Should You Buy a FlexBrew Single Serve Brewer or a FlexBrew Coffee Maker?
The Hamilton Beach FlexBrew coffee maker gives you even more options are brewing your coffee. On the left side, it brews a full pot of ground coffee. But if you want to make a single-cup only, you'll be able to do that on the right side, which works exactly like the FlexBrew single-serve brewers. So it's two coffee makers in one. It also features a timer that automatically brews coffee at a set time, but this is done for the full pot only as the single-serve sized cannot be programmed.
The FlexBrew coffee maker is as you'd expect more expensive and it's obviously larger in size, so it requires more counter space. Whether you should buy it or not depends fully on your needs:
Do you often drink more than one cup of coffee per day?
Do you often entertain guests and need to brew a lot of cups at once?
Do you live in a household with many coffee drinks?
Do you want to wake up to coffee ready and waiting for you to drink?
If the answer is yes, then it would make a lot of since that you buy the FlexBrew coffee maker instead of the single-serve brewer.
Hamilton Beach 49976 FlexBrew – Updated Model of 49983A: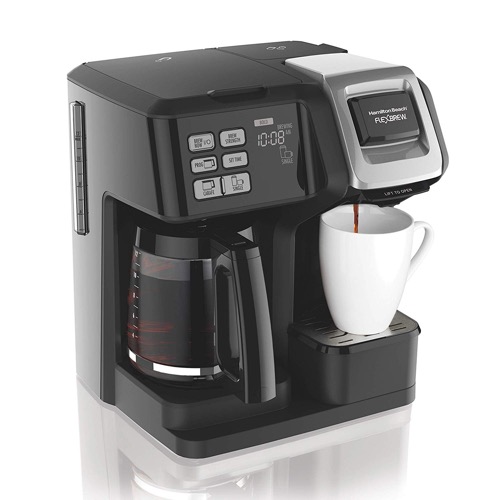 the Hamilton Beach 49976 works exactly the same way as the older model of FlexBew. You can brew up to 12-cups of coffee in the full pot side, or a single serve cup of multiple sizes, using either a K-Cup pod or ground coffee. It's programmable, with 2 brew strength to choose from .
The only difference is the design. The newer version has an updated look and more organized control panel.
It's available in your choice of a glass carafe or thermal carafe.
FlexBrew vs. Keurig, Which One Is Best To Buy?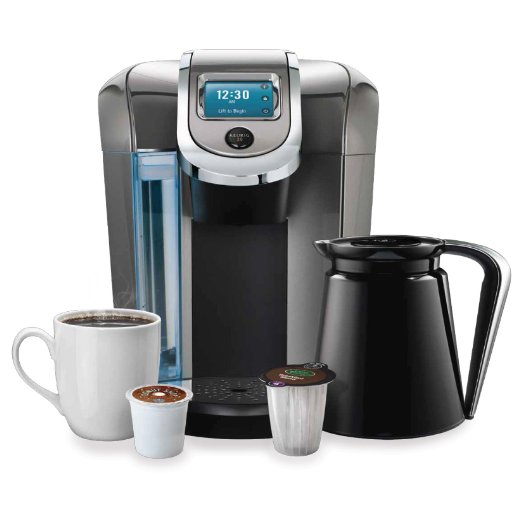 If you're torn between the FlexBrew single-serve or a Keurig, here are a few pointers to help you out:
Both the FlexBrew and Keurig can accommodate K-Cups and ground coffee. However, the FlexBrew does NOT need a refillable pod in order to brew ground coffee like the Keurig does. The FlexBrew comes with its own basket. Also, the FlexBrew can accommodate E.S.E pods, too.
When it comes to cup sizes, the Keurig can offer a lot more than the FlexBrew. With the Keurig, you'll be able to brew several cup sizes as well as a carafe (if you opt for the Keurig 2.0 brewer). Using a FlexBrew, you can adjust the volume of your cup depending on the model you choose.
On the FlexBrew Single-serve, there is no water reservoir that holds more water than you will use (some of the older models may have a reservoir), you actually have to fill up the coffee maker with water every time you want to brew. The Keurig has a generous-sized water reservoir that holds up water for multiple uses.
As for design and programmability, the Keurig has an LCD display that gives you more freedom to adjust the programability to your liking. The FlexBrew doesn't have an LCD display.
Click here to learn more about the Keurig 2.0 and the difference between all models.
Watch Video Reviews of the FlexBrew Coffee Makers:
Review of the FlexBrew 49995 Brewer:
Review of the Hamilton Beach 2-Way FlexBrew: