So apparently you've reached a level where regular coffee just isn't doing its thing? Don't worry, you're not alone! There are enough people in this world that need extra strong coffee that now high-caffeine coffee is a real thing. That is coffee with DOUBLE the amount the caffeine of a regular cup. It's not for the faint of heart, so try only at your own risk!
Whether you're looking for whole beans, ground or k-cups, we'll be listing the best rated ones below.
Best High-Caffeine Whole Bean and Ground Coffee:
Death Wish Coffee:
Death Wish Coffee prides itself as the world's STRONGEST coffee. It has DOUBLE the amount of caffeine a regular cup has, yet it tastes clean and smooth. Their beans are also organic and fair-trade, which only adds goodness to the deal.
Click here to learn more about Death Wish Coffee, read the customer reviews and buy it.
Coffee-Bitch-Slap Coffee:
Interesting name, to say the least! This coffee is extra strong yet extra smooth. Featuring a fair-trade blend of African and Latin American beans, it's roasted locally in small batches to ensure freshness in every bag.
Click here to learn more about Coffee-Bitch-Slap Coffee, read the customer reviews and buy it.
Shock Hyper-Caffeinated Coffee:
Sleep is overrated! Shock coffee features a blend of highly caffeinated light, medium and dark roast beans. It contains 50% MORE caffeine than other coffees, so although it's high in caffeine, it is still less than Death Wish, for example. It's a great option if you only want a bit more caffeine in your coffee.
Best High Caffeine K-Cups:
Note: None of these versions are compatible with the new Keurig 2.0 brewers. If you're an owner of a Keurig 2.0, you can buy the Eco-Fill or Ekobrew reusable K-Cups for 2.0 brewers and use the ground coffee listed above.
Death Wish K-Cups: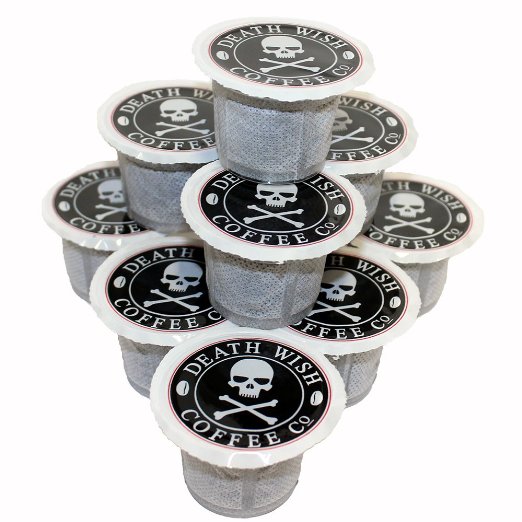 The K-Cups version of the Death Wish coffee we mentioned above.
Starbucks PLUS K-Cup Pods:
Starbucks PLUS K-Cups contain TWICE the caffeine compared to Starbucks regular coffee k-cup pods. It is available in dark roast, medium roast and blond roast.
Valhalla Java Single Serve Capsules for Keurig K-Cup Brewers: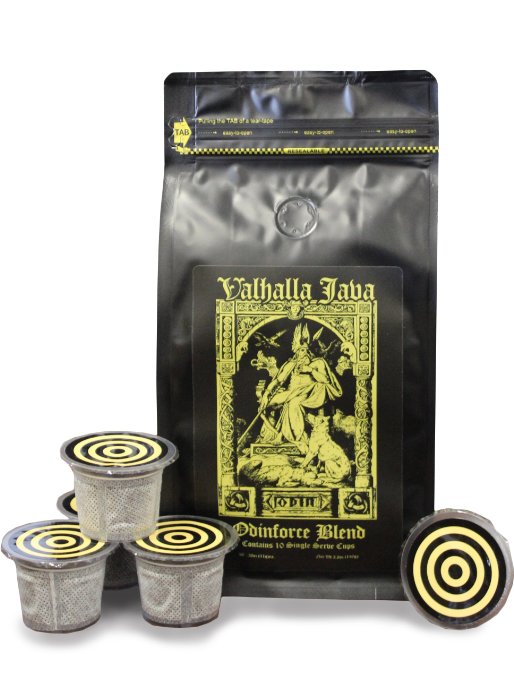 Each K-Cup of Valhalla Java includes 20% more coffee per capsule and double the caffeine amount.
And here's one more option for an extra caffeine kick:
SToK Caffeine Black Coffee Shots:
Add this single-serve shot of coffee to your cup of coffee and it will spike it up with an extra 40mg of caffeine. That's an equivalent to a shot of espresso! Note that this isn't a shot of coffee you have to brew, it's a creamer-like container that already contains a coffee shot that you'll simple pour into your cup of coffee of an added amount of caffeine.