"Pour-Over" is a manual coffee brewing method that is preferred by many people around the world. It works almost the same way french press does, but instead of pushing the coffee ground down, the coffee is filtered through a funnel, dripping from the top to the bottom of the brewer.
Pour-over is a relatively easy and quick method, though slightly messy, it does require precision when it comes to measuring coffee ground and an exact time to brew or else it could get really bitter and not as good. That's why anyone who uses this method for brewing their coffee requires a digital scale with timer, it makes the process a lot easier.
In this post, we're including two of the top rated coffee scales that include a built-in timer, perfect for pour-over coffee making.
Best Coffee Scales with Timer:
Hario Coffee Drip Scale/Timer:
A simple to use, battery-operated scale that measures in 0.1 gram increments, which makes your coffee weight reading more consistent. It's part of the perfect Hario V60 Pour Over setup which includes: the Hario V60 ceramic dripper, the acrylic drip stand  and the Hario Drip Scale with timer.
Bonavita Electronic Scale with timer: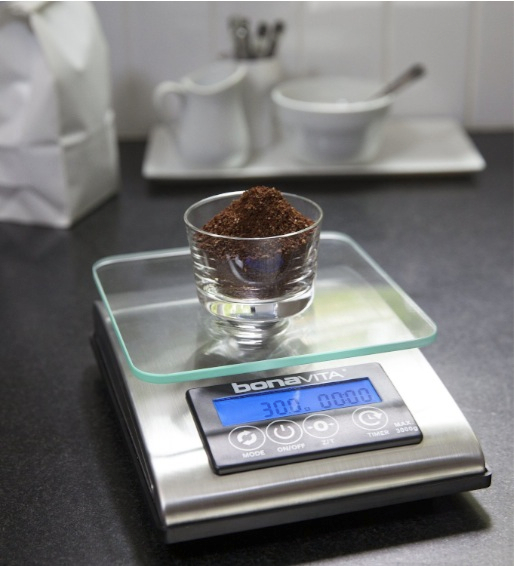 This Bonavita scale uses batteries or electric power to operate. It holds up to 3KG max, weights in 0.1 gram increments, can read in different measuring units (grams, KG, ounces, lbs…) and can give you 1 millisecond time reading. This is the perfect scale for someone who is looking for true precision. It can be bundled with the Bonavita Porcelain Coffee dripper and Bonavita coffee dripper stand for a great Pour-over setup.