We've previously compared two conical burr grinder models: the Bodum Bistro vs. the Capresso Infinity. In this post, we're comparing the Capresso Infinity to another popular grinder, the Breville Smart Grinder.
What Is The Difference Between The Breville Smart Grinder and the Capresso Infinity:
When it comes to performance, there's actually quite a difference between these two, the Breville Smart Grinder being the best choice. Both are conical burr grinders but the Breville, although more expensive, gives you a lot more options:
The Breville smart grinder has 25 grinding options for every coffee brewing method, from espresso, french press, drip, pour-over, percolator and more.
It has a backlit LCD screen for easy settings and programmability and customization. You can choose your grind settings, how many cups you want to brew, the coffee strength and more.
Auto-dosing option.
It has the option to hold a portafilter for quick and easy grinding.
Air tight bean hopper keeps the coffee fresh until ready to use. It holds up to 1 pound of coffee.
The body of the grind is stainless steel, making it more durable and very easy to wipe clean.
As for the Capresso Infinity grinder: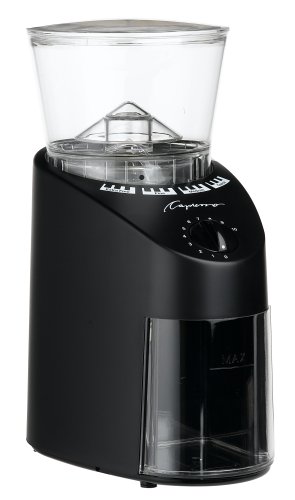 It has 16 grind settings.
Bean hopper holds up to 8 and a half ounces of coffee. The ground container holds up to 4 ounces.