What is a Cold Coffee Brew?
Cold brew is a type of coffee brewing method where the coffee is brewed in room temperature over a long period of time, over 12 hours.
Cold brew is NOT the same as iced coffee. With Iced coffee, you brew hot coffee and add ice to it. But with Cold brew, the hot water is replaced with cool water and the coffee is left to brew over a period of minimum of 2 hours and up to 12 or even 24 hours. The outcome of a cold brew is coffee concentrate that you dilute with water or milk.
What Are The Benefits of Cold Brewing?
Because cool water is used in the process of cold brewing, it brings out properties of the coffee ground that are different than what hot water brings. It leaves out the bitterness and acidity of the coffee and gives you a nicer profile of flavors. The coffee concentrate stays fresh for up to 2 weeks in your fridge. Cold Brewing requires a special type of brewer to help with the process. In this post, we'll look at the best cold brew coffee makers you can buy.
What Is The Best Cold Brew Coffee Maker?
OXO Grips Cold Brew Coffee Maker:
Simple to use cold brewer.
Rainmaker evenly distributes water over coffee ground.
Brew-Release switch allows you to stop or start the dripping process easily.
Removable, ultra-fine mesh filter.
Included carafe holds up to 32 oz of coffee.
Stopper lid with silicone to keep the coffee sealed and fresh in the carafe.
Components of the brewer all stack up for easy storage.
Click here to learn more about the OXO Grips Cold Brew Coffee Maker, read the customer reviews and buy it.
Toddy Cold Brew Coffee Maker: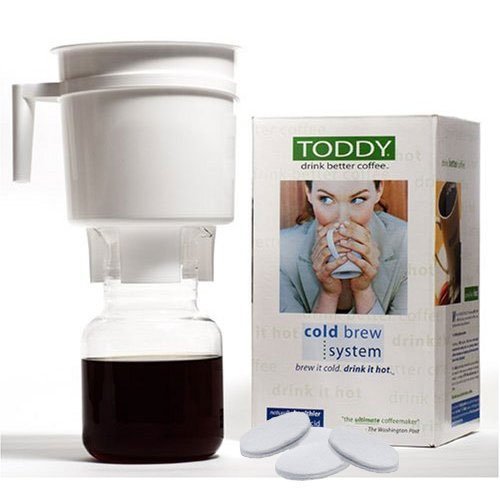 Brewing set includes: brewing container, glass decanter with lid, 4 reusable filters, rubber stopper and recipe book.
Carafe holds about 7 cups of coffee.
Rubber stopper seals the coffee in the decanter to keep fresh in the fridge.
Click here to learn more about the Toddy Cold Brew Coffee Maker, read the customer reviews and buy it.
Yama Glass Cold Drip Maker: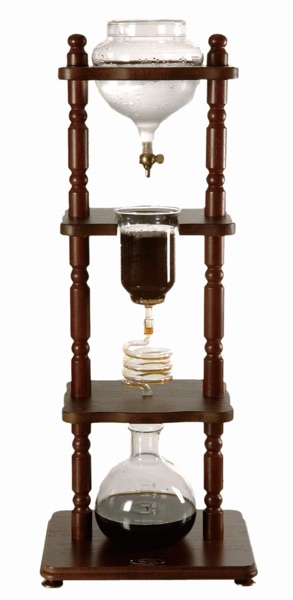 A beautiful piece of equipment with glass and wood frame.
Theatrical brewing process that is enjoyable to look at.
Add coffee ground in the middle chamber, ice cold water on top, and watch the coffee drip down to the carafe slowly.
Includes a permanent ceramic filter.
Brews up to 8 cups of coffee.
Click here to learn more about the Yama Glass Cold Drip Coffee Maker, read the customer reviews and buy it.
Which Cold Brew Coffee Maker Should You Buy?
The OXO Grips Cold Brewer is great in size and perfect for anyone on a budget, as it's not expensive. The brewing chamber has a lid and so does the carafe, so freshness is ensured by airtight lids. Also, it has a simple switch for releasing or stopping the brew.
The Toddy Cold Brewer is a bit tedious to use. It has a stopper that you have to remove manually, and unfortunately, the brewing chamber doesn't seem to have a lid on it, we don't like the idea of leaving the coffee to brew overnight uncovered.
The Yama Glass Dripper is an expensive tool. What you get in return is beautiful craftsmanship, a lot of enjoyment of watching the brewing process take place, and most importantly, with the Yama Glass you can enjoy a brew in as quick as 3 hours.
Watch How They Work:
Yama Glass Cold Dripper:

Does Cold Brew Have Less Caffeine, Less Acidity?
Cold brew coffee certainly has less acidity, and it is noticeably less bitter than regular coffee. But it does not have less caffeine.
Does Cold Brew Have to Be Refrigerated?
Yes, in order to keep your cold brew fresh for up to 2 or 3 weeks, it has to be sealed and kept in the refrigerated.
How To Make Japanese Style Cold Coffee: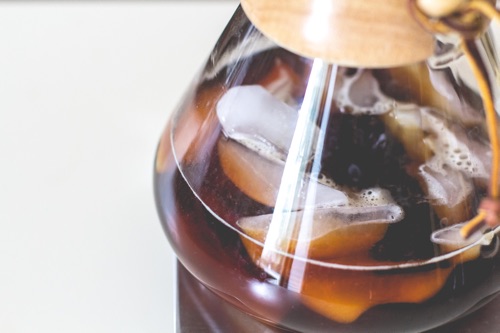 [image credit: offbeatandinspired.com]
Japanese Iced Coffee isn't exactly the same as cold brew. Also, it isn't the same as your average iced coffee. It is actually a different method of brewing cold coffee, and it is quick and simple.
In Japanese Iced Coffee, a Chemex is used to brew pour-over coffee (or a Hario dripper), but you'll only use half the amount of hot water normally used to brew, and replace the rest with ice cubes that will sit in the Chemex or server. What will happen is, you'll get hot coffee that is immediately met with ice so it cools down instantly. This ensures that all the flavors and aromas of the coffee are locked in and not lost in the brewing process.
So what do you need for Japanese Iced Coffee? If you already have pour-over equipment, then you already have everything you need. If not, here are some suggestions:
Watch How Japanese Iced Coffee Is Made: